Featured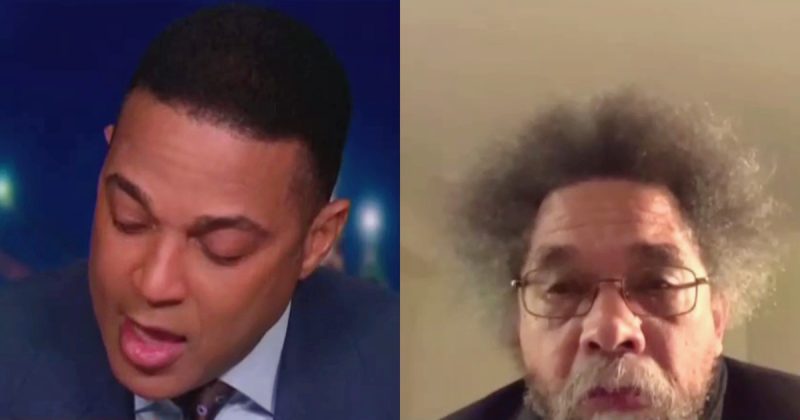 Don Lemon Breaks Down Sobbing During Cornel West's Searing Commentary on George Floyd and Police Violence. By Tommy Christopher / Mediaite
Dr. West appeared on Thursday night's CNN Tonight after another day of testimony in Chauvin's trial, which has featured heart-wrenching descriptions of the events from witnesses, many of whom expressed despondency at being unable to assist Mr. Floyd. "What is this trial saying about us as a country, especially when it comes to how we all see race?" Lemon asked West.
The professor and activist began by telling Lemon that "it takes us to the most fundamental question that has always set at the center of not just America, but the 400 years that you would my ancestors have been here, which is, do we have the will to stay in contact with the rich humanity of black people, to stay in contact with the beauty of black people, the intelligence of black people, the tenderness of black people, the soulfulness of black people." Watch here 
Related: Key takeaways from 1st week of Derek Chauvin trial in the death of George Floyd. By Meredith Deliso / ABC News
Political / Social
---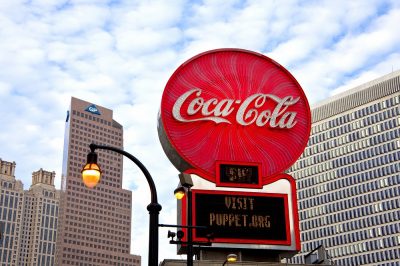 Companies Condemn Georgia's Restrictive Voting Law Amid Pressure Campaign From Advocates. By Sanya Mansoor / Yahoo News
Corporations in Georgia and across the U.S. are taking forceful stances against the state's new election law—which includes several voting restrictions—following weeks of pressure from voting rights advocates to speak out. Activists have aimed their efforts at large Georgia-based companies in particular, such as Coca-Cola and Delta Air Lines, who initially only offered vague statements affirming voting rights as the legislation sped through the state legislature. But on Wednesday, the CEOs of both companies publicly rebuked the new law, calling it "unacceptable," Read more 
Related: Kemp admits on tape that law restricting access to voting has "nothing to do with potential fraud." By David Edwards / Salon 
Related: Georgia sports teams and major companies such as Coca-Cola and Delta Air Lines condemn new state voting law. By Hannah Denham and Jena McGregor / Wash Post 
Related: Dell, American Airlines, AT&T weigh in on restrictive voting bills in Texas. By Alisa Wiersema / ABC News 
---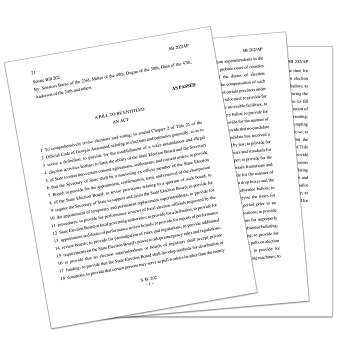 What Georgia's Voting Law Really Does. By Nick Corasaniti and Reid J. Epstein / NYT

The New York Times analyzed the state's new 98-page voting law and identified 16 key provisions that will limit ballot access, potentially confuse voters and give more power to Republican lawmakers. Go page by page through Georgia's new voting law, and one takeaway stands above all others: The Republican legislature and governor have made a breathtaking assertion of partisan power in elections, making absentee voting harder and creating restrictions and complications in the wake of narrow losses to Democrats.  Read more
Related: Corporate America is wading into the voting rights brawl. Here's why. By Jane C. Timm / NBC News
---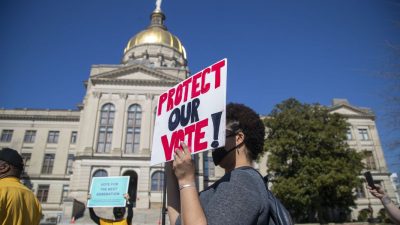 Republican Lawmakers Introduce Hundreds Of Bills To Restrict Voting Rights Nationwide. By Sarah Ruiz-Grossman /HuffPost

Related: Map: See where lawmakers have introduced bills that would make it harder to vote. By Janie Boschma, Fredreka Schouten and Priya Krishnakumar / CNN
---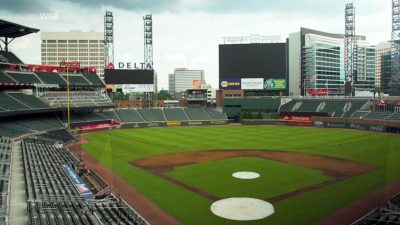 MLB moves All-Star Game out of Atlanta following voting law controversy. By Mark Osborne and Quinn Scanlan / ABC News
Major League Baseball has moved this year's All-Star Game out of Atlanta following controversy generated by Georgia's restrictive new voting law. "Over the last week, we have engaged in thoughtful conversations with Clubs, former and current players, the Players Association, and The Players Alliance, among others, to listen to their views," Commissioner Rob Manfred said in a statement. "I have decided that the best way to demonstrate our values as a sport is by relocating this year's All-Star Game and MLB Draft." Read more 
Related: Biden Says He Would Support Moving All-Star Game Over Georgia Voting Law. By Zolan Kanno-Youngs / NYT 

Related: Atlanta Mayor says the MLB moving All-Star Game from Georgia 'is likely the first of many dominoes to fall' in pushback against new voting law. By John L. Dorman / Insider
---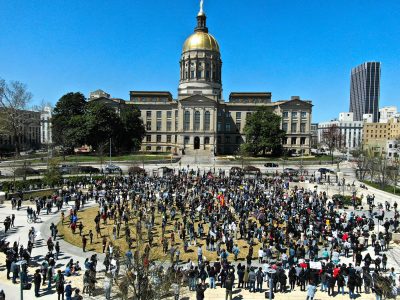 Amid Awakening, Asian-Americans Are Still Taking Shape as a Political Force. By Sabrina Tavernise /NYT

When Mike Park first heard about the recent shootings in Atlanta, he felt angry and afraid. But almost immediately, he had another thought. "We can't just sit back," he said. "We can't sit in our little enclave anymore." Shown is A Stop Asian Hate rally in Atlanta last month after six women of Asian descent were fatally shot there. Asian-Americans are banding together after recent attacks, but they do not align with one political party. Read more 
Related: Asian Americans are least likely to report hate incidents, new research shows. By Kimmy Yang / NBC News
Related: Why It's Taken Us So Long to Talk About Anti-Asian Racism. Sway/ NYT Podcast
Related: Four graphic novels that illuminate anti-Asian racism through personal experience. By Michael Cavna / Wash Post
---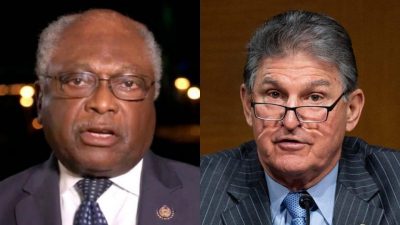 Jim Clyburn 'Insulted' By Joe Manchin's Position On Voting Rights Bill. By Paul Blumenthal / HuffPost

---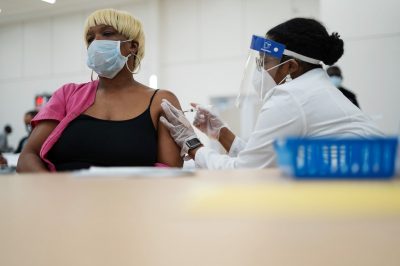 Getting Vaccinated While Black. By Jimmie Briggs / Vanity Fair
According to a recent Kaiser Family Foundation analysis of 40 states that report racial and ethnic data on patients who have received at least one dose of the COVID-19 vaccine, white Americans have been vaccinated at nearly twice the rate of their Black and Hispanic counterparts. Vaccination, like so many other aspects of American life, has not only emerged as a racial-justice issue, but as a matter of life and death. Read more
Related: Younger Latino men are Covid's biggest victims in this state as families grapple with loss. By Nicole Acevedo / NBC News
---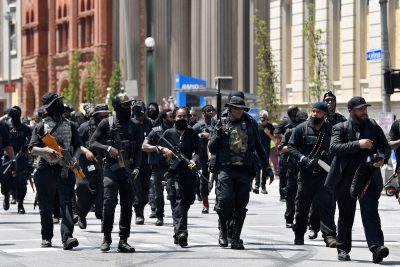 A Black Army Rises to Fight the Racist Right. By Graeme Wood / The Atlantic
A man calling himself Grandmaster Jay has raised a disciplined, heavily armed militia. It has yet to fire a shot at its enemies, but it's prepared for war.  Grandmaster Jay's group, the NFAC, is a Black militia whose goals, other than to abjure Fucking Around, are obscure. It has a militarylike structure, fields an army of hundreds of heavily armed men and women, subscribes to esoteric racist doctrines, opposes Black Lives Matter, and follows a leader who thinks we live in a period of apocalyptic tribulation signaled by the movements of celestial bodies. Its modus operandi is to deploy a more fearsome Black militia wherever white militias dare to appear. Read more 
---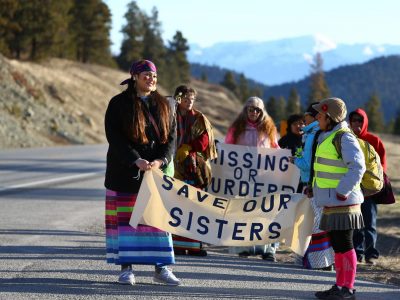 The Interior Department Is Finally Getting Serious About Missing, Murdered Native Americans. By Ryan Grenoble / HuffPost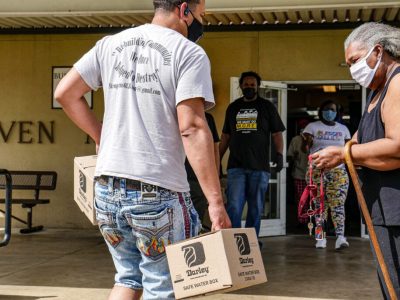 How Black Mississippians found their power during Jackson's water emergency. By Frances Madeson / Daily Kos

With a largely white Republican state leadership withholding resources to the Black and Democrat majority city, Jackson has long struggled with how to pay to repair its dilapidated water infrastructure, which even before the burdens of climate change was inadequate. Activists, residents and some journalists see the state's decades of disinvestment as a long-term strategy of economic warfare to blight, condemn and ultimately seize the water system as a means of regaining political control of the city. In response, grassroots activists are taking matters into their own hands. Shown are activist distributing water to Jackson residents.   Read more 
---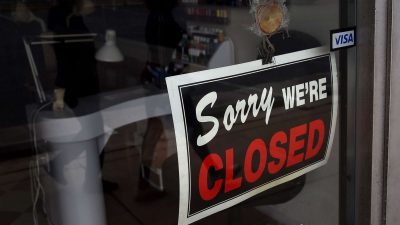 Minority Entrepreneurs Struggled to Get Small-Business Relief Loans. By Stacy Cowley / NYT
After Congress created the program in last year's CARES Act, President Donald J. Trump's administration — especially his Treasury secretary, Steven Mnuchin — put a priority on getting money to needy businesses fast. The government relied on banks to make the loans, creating an obstacle for borrowers who didn't have established banking relationships. Some banks favored their larger and wealthier clients, which pushed ordinary customers to the back of the queue. "Mystery shopper" studies found that Black applicants were consistently treated worse than white counterparts. Read more 
---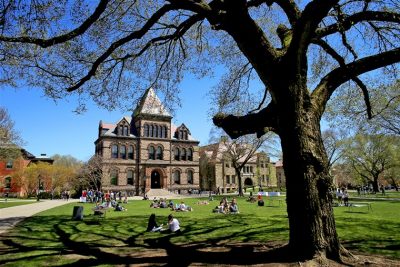 Why Brown University students say it's time for the school to offer reparations. By Randi Richardson / NBC News
Brown released a report in 2006 detailing the history of enslavement of its campus. The action taken following the report includes erecting a slavery memorial and establishing centers committed to doing more research. But students say the next step is reparations. Carroll, a senior studying political science, said any reparation plans have to start with Brown seeking living descendants. "That hasn't been done and that's an important step I don't want us to skip," he said. "If the university finds specific people whose ancestry traces directly back to the university and Brown family slavery, then that is a conversation about preferential admissions, direct reparations, direct scholarships." Read more
---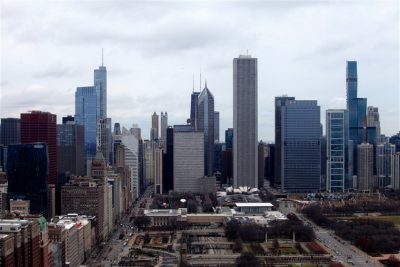 How Chicago's affordable housing system perpetuates city's long history of segregation. By Safia Samee Ali / NBC News

Government-backed affordable housing in Chicago has largely been confined to majority-Black neighborhoods with high concentrations of poverty over the last two decades, a design that has perpetuated the city's long history of segregation. As the neighborhoods faced rising divestment, gun violence and food deserts, the lack of affordable housing in other parts of the city restricted many people of color from leaving. But now, using its largest pot of federal housing funding, Chicago wants to chart a corrective path by aggressively pushing for more affordable homes in high-income, well-resourced areas, which housing experts say would unlock previously unavailable opportunities for communities of color. Read more 
Historical / Cultural
---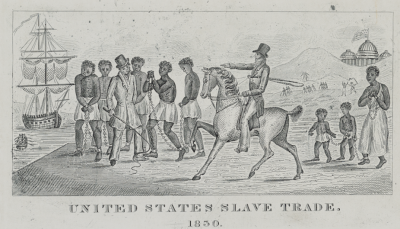 White mobs rioted in Washington in 1848 to defend slaveholders' rights after 76 Black enslaved people staged an unsuccessful mass escape on a boat. By Michael David Cohen / The Conversation

Long before the demonstrations over Black Lives Matter, long before the marches of the civil rights era, strife over racism convulsed the nation's capital. But those riots in Washington, D.C., were led by proslavery mobs. In the spring of 1848, conspirators orchestrated one of the largest escapes from slavery in U.S. history. In doing so, they sparked a crisis that entangled advocates for slavery's abolition, white supremacists, the press and even the president. Read more 
---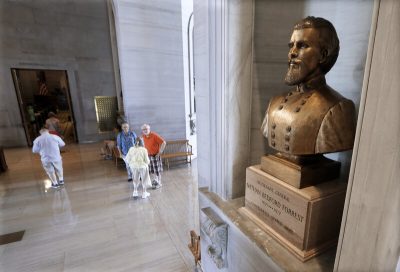 Nathan Bedford Forrest Day Still Observed In TN After Leg Stands Up For Slave Trader Again. By Matt Shuham / TPM
Tennessee will continue observing Nathan Bedford Forrest Day every year on the slave trader, Confederate general and Ku Klux Klan grand wizard's birthday, after yet another unsuccessful attempt to eliminate the day of observation once and for all. As the fightcontinues over the bust of Forrest currently sitting in the Capitol, the continued observation of his birthday was a reminder of the Klan leader's ongoing political presence in the state. Read more
---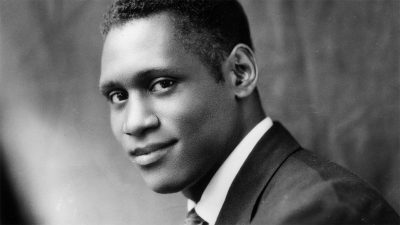 Why Paul Robeson's Voice Still Rings True Today. By Tayo Aluko / The Progressive 
What is America to me? / A name, a map, a flag I see / A certain word, 'Democracy' . . . 
The particular version of The House I Live In was sung by Paul Robeson. From the first time I heard his recording, I was struck by the sad irony of him singing such a patriotic song, a song so expressive of love for his country and its people, only for him to eventually be successfully painted as a communist bent on violently overthrowing the government. The words and music of the legendary activist and singer are more relevant than ever in the era of Black Lives Matter. Read more
---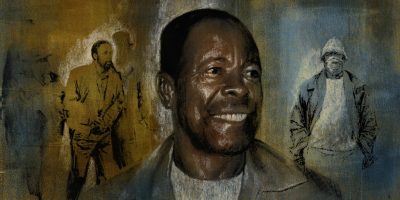 Elderly Black Panther Has Been in Prison for Five Decades. By Natasha Lennard / The Intercept
SUNDIATA ACOLI IS 84 years old and has been in prison for nearly half a century. When the state of New Jersey locked him up in 1974, Acoli was not sentenced to die behind bars; he has been eligible for parole for almost three decades. The much-loved father and grandfather has an exemplary disciplinary record and a stellar history of work and academic achievement while incarcerated. Read more
---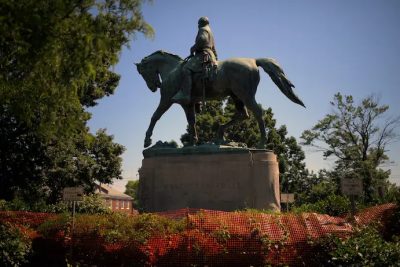 Virginia Supreme Court clears the way for Charlottesville to take down statue of Robert E. Lee. By Gregory S. Schneider / Wash Post
The Supreme Court of Virginia has cleared the way for the city of Charlottesville to take down the statue of Confederate Gen. Robert E. Lee that was the focus of 2017's deadly Unite the Right rally, and the ruling appears to open the door for statue removals around the state. Read more 
---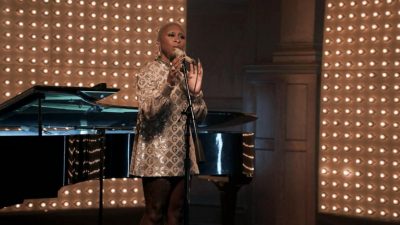 Watch "Cynthia Erivo gives stirring performance of 'Stand Up'" on YouTube
The Grammy-winning singer who starred in "Harriet" performed the lead single from the film's soundtrack on ABC's "Soul of a Nation." Watch here 
---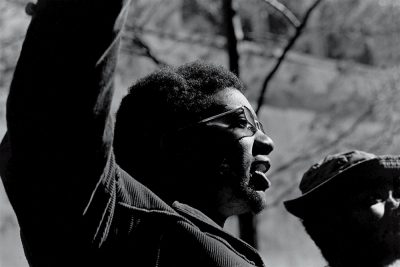 Why Hollywood is finally trying to tell slain Black Panther Fred Hampton's story. By P.R. Lockhart / NBC News
For some observers, "Judas and the Black Messiah," a Hollywood production that has already won major awards for actors like Kaluuya this season (Golden Globe for best supporting actor) as well as six Oscar nominations, including best picture, goes a long way toward helping to counter this narrative by providing a closer look at the Panthers and the ways that they were targeted by the federal government. But for scholars of Hampton's history and politics, the film, while a great display of his charisma and dynamic nature, falls short in actually telling his story or that of the Illinois Panthers. Read more
---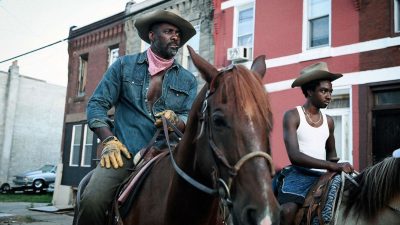 Concrete Cowboy' review: Dynamite teamwork of Elba and McLaughlin keeps you riveted. By Peter Travers / GMA

The way-cool sight of Idris Elba riding a horse on the streets of Philadelphia is bound to get you buzzed big time about what's unique and unforgettable in "Concrete Cowboy," the Black urban western (now on Netflix) that revels in the pleasures of the unexpected. Elba, who produced this clearly personal film with Lee Daniels, excels as Harp, an ex-con whose exasperated former wife (Liz Priestley) sends him a summer gift package from Detroit in the form of their hell-raising, 15-year-old son, Cole, played with seething resentment and aching vulnerability by Caleb McLaughlin, so good as Lucas on TV's "Stranger Things." Read more 
Sports
---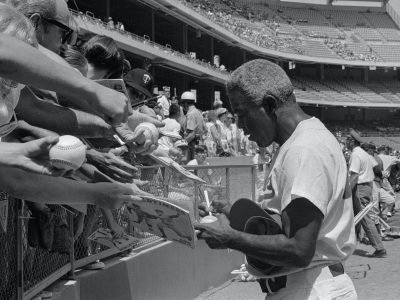 Did racism kill Jackie Robinson? By Tamra Burns Loeb, Alicia Morehead-Gee and Derek Novacek / The Conversation

Baseball great Jackie Robinson was a living, breathing example of athleticism and apparent good health, playing four sports at UCLA and becoming the first Black man to play in major league baseball. And yet, the athletic hero and civil rights champion died at age 53, almost blind, from a heart attack, with underlying diabetes and associated complications. When Robinson died on Oct. 24, 1972, few researchers studied health disparities. There was little understanding that social factors and stress greatly affect health, and that racism and discrimination contribute to poor health outcomes among communities of color. Fewer people paid attention to racial and ethnic gaps in life expectancy. Since Robinson's death, however, research has shown that enduring structural and everyday racism can have serious negative consequences for health. Read more 
---
Cleveland Indians ban Native American-themed face paint and headdresses at home games. By Des Bieler / Wash Post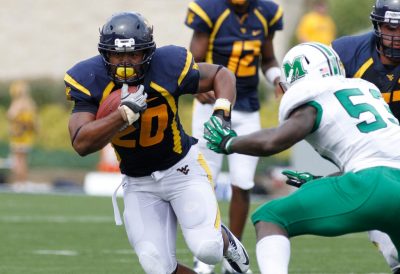 Supreme Court Seems Ready to Back Payments to Student-Athletes. By Adam Liptak / NYT
Justices across the ideological spectrum teamed up during Supreme Court oral arguments on Wednesday to voice skepticism about the N.C.A.A.'s position that it could bar relatively modest payments to student-athletes in the name of amateurism despite the antitrust laws. But some of the same justices also seemed worried about opening the floodgates to further challenges. Read more
Related: The NCAA earned some Supreme Court doubt over its control of student athletes. What now? By Will Leitch / NBC News
---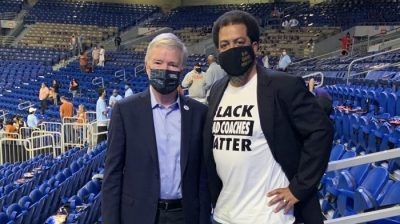 'Black coaches matter' gains momentum as a peaceful and powerful movement. By Jamal Murphy / The Undefeated
"In the Pac-12, right now there is zero percent head coaches of color, 42% of the assistant coaches are coaches of color, but 63.8% of the players are players of color … People have to take stances and it makes people uncomfortable, but in the end, that's how you're going to evoke change, asking people to think differently and think outside of the box," Richie continued. Shown is Lou Richie (right), with NCAA president Mark Emmert (left), after the NCAA HemisFair Regional Final game between South Carolina and Texas. Read more
---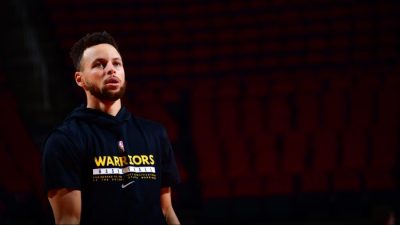 How Steph Curry plans to show solidarity with the Asian community in Atlanta. By Nick Depaula / The Undefeated
To help show solidarity with the Asian community, the Golden State Warriors guard worked with the Bruce Lee Foundation to create the hand-painted yellow and black customized sneakers that depict the martial arts icon and champion of equal rights. They plan to auction the game-worn sneakers in the coming weeks and will work with an organization to disburse all of the proceeds to the families of each of the eight victims. Read more 
---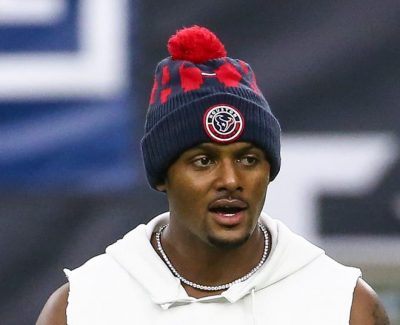 Deshaun Watson lawsuits: 18 therapists defend Texans QB's conduct. By Tom Schad / USA Today
The legal teams representing Deshaun Watson and the women accusing him of sexual misconduct continued their public posturing Tuesday night and early Wednesday, as two more women filed lawsuits against the Houston Texans quarterback. Watson's team, led by Rusty Hardin, issued a news release with on-the-record statements from 18 women who say they have previously had massage sessions with Watson and he never acted inappropriately. Read more 
Site Information
---
Visit our home page for more articles, book/podcast and video favorites. And at the top of this page register your email to receive notification of new editions of Race Inquiry Digest. Click here for earlier Digests.
About Race Inquiry and Race Inquiry Digest. The Digest is published on Mondays and Thursdays. 
Use the buttons below to share the Digest in an email, or post to your Facebook, Linkedin or Twitter accounts.