Featured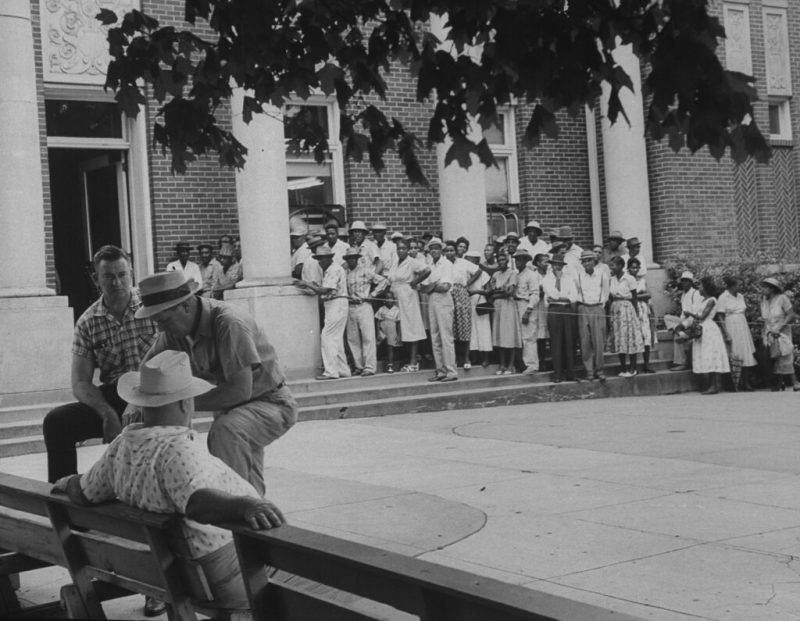 If It's Not Jim Crow, What Is It? Georgia's new voting law has to be understood in its own peculiar historical context. By Jamelle Bouie / NYT
One of the lessons of the South after Reconstruction is that democratic life can flourish and then erode, expand and then contract. Democracy is not a solid state, and we should be wary of politicians who would undermine any part of it for partisan advantage.
It took three decades of struggle, and violence, before Southern elites could reclaim dominance over Southern politics. No particular restriction was decisive. The process was halting, contingent and contested, consolidating in different places at different times. It was only when the final pieces fell into place that the full picture of what took place was clear. Put a little differently, the thing about Jim Crow is that it wasn't "Jim Crow" until, one day, it was. Shown are Black voters waiting to get into the Haywood County Courthouse in Tennessee to register to vote in 1960.  Read more 
Related: Georgia's New Law, and the Risk of Election Subversion. By Nate Cohn / NYT
Related: Georgia voter suppression hurts all state's poor, whites included. By William J. Barber II and Jonathan Wilson-Hartgrove / USA Today 
Related: Atlanta Mayor Signs Order Meant To Fight Georgia's Voting Restrictions. By Sanjana Karanth / HuffPost
Political / Social
---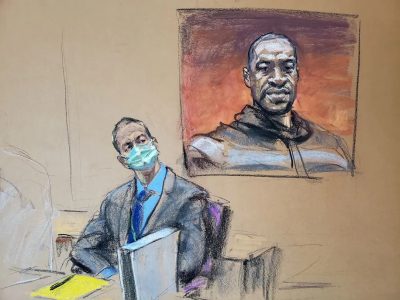 When to ignore race in the Derek Chauvin trial. By Paul Butler / Wash Post
The trial of Derek Chauvin is technically not about race but is, in fact, all about race. To ensure that justice is done, and that any conviction is upheld on appeal, the prosecution should ignore the racial symbolism of the case against the former Minneapolis police officer — even while the defense deals ugly race cards. Read more
Related: Expert witness subtly pokes major hole in Chauvin defense: How an alleged fake $20 ends in any force. By Lauren Floyd / Daily Kos
Related: Derek Chauvin trial is another media spectacle that causes trauma rather than healing. By Mary Retta / NBC News
Related: Lessons From Lynchings. There's a through-line from a noose on the neck to a knee on the neck. By Charles M. Blow / NYT
---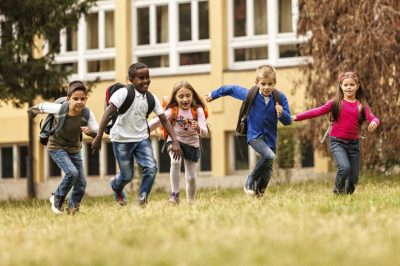 The Fear That Is Shaping American Politics. By Thomas B. Edsall / NYT

Why is the Republican Party so determined to constrain the franchise? One answer is provided by the changing demographics of the children in the nation's public schools, a leading indicator of shifts in the racial and ethnic makeup of the country. The changing racial and ethnic makeup of the schools, something visible to parents and to anyone who walks by at recess, is a leading indicator of the day (in roughly 2045) when non-Hispanic whites of all ages will drop under 50 percent of the U.S. population, soon to be followed by the day when whites become a minority of the electorate. Hispanics and Asian-Americans are driving the ascendance of America's minority population, while the Black share of the population will increase by a small amount. Read more 
Related: Welcome to Republicanistan: The GOP's Jim Crow pseudo-democracy. By Chauncey Devega / Salon
---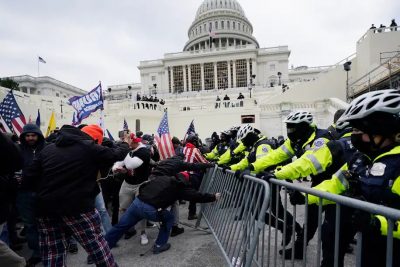 Does the FBI have the right culture to fight domestic terrorism? By Chuck Rosenberg / Wash Post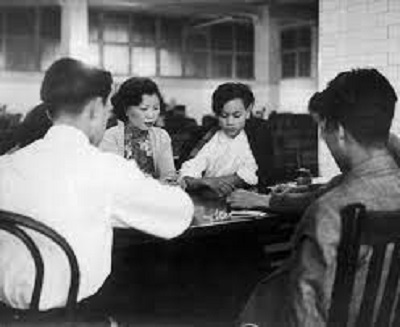 Why some Asian Americans are embracing their heritage by dropping their anglicized names. By Jessie Yeung / CNN

Like many Asian Americans, the 29-year-old Hmong American artist was always switching between two names: an Asian name and her "American" name. Jennifer, her legal first name, was what teachers and employers called her, and what she used in "White spaces," she said. But her middle name Tshab, which means "new" in the Hmong language, was what her family and close friends called her within their small community in Aurora, Illinois. Read more 
Related: Republicans leverage attention on anti-Asian hate incidents in bid to overturn affirmative action. By David Nakamura / Wash Post
---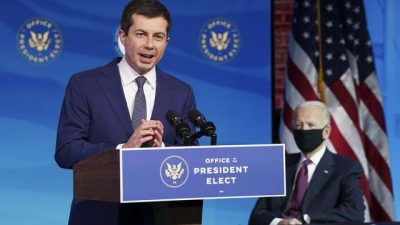 Buttigieg says racism built into US infrastructure was a 'conscious choice.'  By April Ryan / The Grio
Phase one of fixing the nation's infrastructure is not just about some of the obvious: repairing potholes, bridges, roads, airports, schools, creating new power grids, replacing lead pipes and expanding broadband. There are also efforts to correct America's racist wrongs. Equity is now being built into the soon to be updated black-and-white road maps of yesteryear. "If you think about it, much of this infrastructure was paid for and designed before the Voting Rights Act of 1965," former Obama Transportation Secretary Anthony Foxx tells theGrio. "That was a time before Black people were at the table." Read more 
Related: A Brief History Of How Racism Shaped Interstate Highways. By Noel King / NPR
---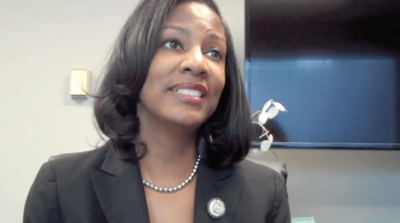 Tishaura Jones becomes first black woman elected St. Louis mayor. By Christopher Reeves / Daily Kos
Four years ago, Tishaura Jones barely missed in her attempt to become the mayor of St. Louis. Last night, in a special election, Jones broke that ceiling while the city itself struggles to find new footing post the pandemic. In 2017, Jones lost her race by only 900 votes. The 2017 race was a brutal one, where Jones felt, and many agreed, the election turned into a teardown of Jones' character. Read more 
---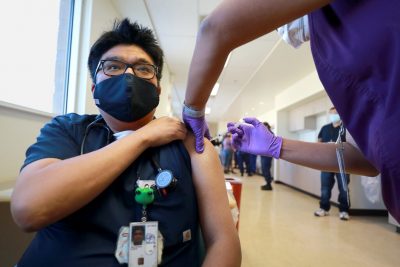 Navajo Nation Tames the Virus With a Big Vaccine Push. By  Melina Delkic and Madeleine Ngo / NYT
The Navajo Nation, which once had one of the worst coronavirus case rates in the United States, recently reached an extraordinary milestone: zero cases and zero deaths in a 24-hour period. The nation, which has over 300,000 enrolled members, is averaging about 11 new cases a day, far below its peak of 250 in late November, according to the latest data from the Navajo Department of Health. And it has vaccinated more of its population than any state, with more than half of its 170,000 residents living on tribal lands fully vaccinated. Read more 
---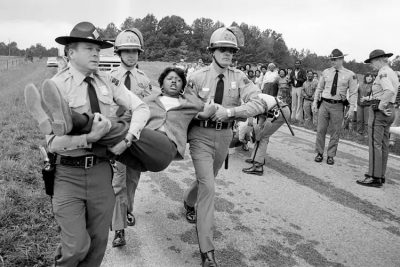 This is environmental racism.' How a protest in a North Carolina farming town sparked a national movement. By Darryl Fears and Brady Dennis  / Wash Post

Protests had erupted over North Carolina's decision to dump 40,000 cubic yards of soil contaminated with cancer-causing chemicals in a poor Black farming community in Warren County, and Chavis was a leader of the revolt. Ben Chavis was arrested and thrown in jail. When the cell door slammed shut, he gripped the metal bars and declared: "This is racism. This is environmental racism." The term stuck, and now — nearly 40 years after Chavis spoke the words that have come to define decisions by governments and corporations to place toxic pollution in communities of color — the issue has risen from the fringes of the American conservation movement to the heart of President Biden's environmental agenda. Read more 
---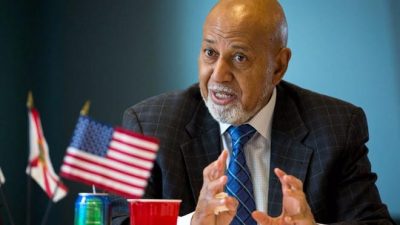 Alcee Hastings, longtime Florida Congressman, dies after cancer battle. USA Today

Longtime Congressman Alcee Hastings has died. He was 84. Hastings, a Florida Democrat, was diagnosed with pancreatic cancer in January 2019. He served in the U.S. House since 1995. Before serving in Congress, Hastings served as a federal judge. But in 1981, two years after he was appointed to the bench by President Jimmy Carter, Hastings was charged with bribery in a federal sting operation. Hastings was acquitted, but in 1988 was impeached by the U.S. House and removed from the bench a year later by the U.S. Senate. Hastings, a Democrat, then ran for Congress and consistently won re-election by wide margins, most recently last November. Read more 
---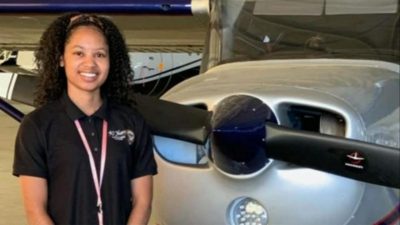 United rolls out ambitious new plan to train at least 2,500 women and people of color as pilots by 2030. By Errol Barnett / CBS News

United Airlines is announcing a new plan to train 5,000 pilots by 2030, CBS News' Errol Barnett reports. The airline, which is the only major one in the U.S. to own a flight school, says at least half of those trainees will be women or people of color. Across the American airline industry, less than 6% of all pilots and flight engineers are women. Only about 10% of them are Black, Asian, Hispanic or Latino Americans. Just 7% of United Airlines' pilots are women, which it says is one of the highest. Read more
---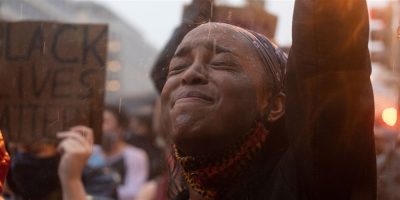 What is racial trauma? How Black therapists are helping patients cope. By Rheana Murray / Today

Last March, as businesses across the country closed and the death rate from the new coronavirus climbed into the thousands, Dr. Jennifer Mullan, a psychologist in New Jersey, suddenly found herself busier than usual. "I was working triple time," she said. "I was inundated with calls from people I usually see on a weekly basis saying they needed to be seen immediately." Her clients in New York City who don't have washers and dryers in their apartments were panicking because laundromats in the city had closed. Others were worried because they had been showing symptoms of the virus but were turned away when they sought help at doctor's offices. Read more 
---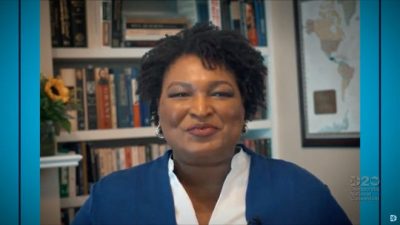 Historical /Voting rights are under attack across America but corporations can help. By Stacey Abrams / USA Today
In speeches I give to young activists and seasoned advocates, I urge them to speak up, show up and stand up. We can expect no less from the economic pillars of our communities. Now is the time for American business to pick a side: Stand with your employees, customers and shareholders, or with those who will take away their voices. We are watching. Read more 
Related: Voting rights: Why the GOP and corporate America are breaking up. By Zachary B. Wolf /CNN
Historical / Cultural
---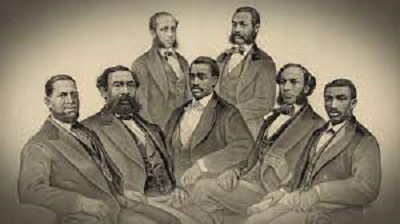 Georgia's Unique And Bloody History With Voter Disenfranchisement. By Ciara Torres-Spelliscy / TPM

After the American Civil War, even before the 15th Amendment was adopted, newly freed Black men in the south registered to vote and voted. They helped elect Grant President in 1868 and they sent Black men to Congress in 1870 & 1871 from Alabama, Mississippi, Florida, South Carolina and Georgia. During Black Reconstruction, Black men also served in Congress from North Carolina, Virginia, and Louisiana. This was on top of approximately 2,000 Black men who were elected to state and local offices during the time. In Georgia, 33 Black members of the General Assembly were the first to be elected to that state's legislature in 1868. Read more 
---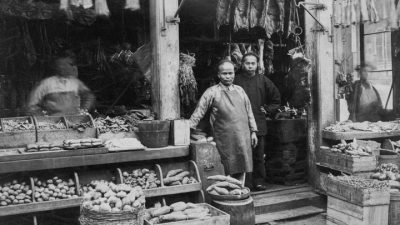 The California Klan's Anti-Asian Crusade. By Kevin Waite / The Atlantic
The Ku Klux Klan was on the rise in the spring of 1869. Vigilantes could measure their success that season by the carnage they left behind: marauded homesteads, assaulted politicians, a church burned to the ground. According to a local report, insurance companies considered canceling their policies, "owing to the Ku Klux threats." A school serving students of color was supposedly next on the Klan's hit list. Such havoc could describe almost any southern state in the late 1860s. But in this particular instance, it describes California. Read more

---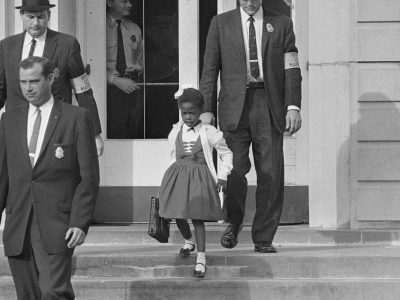 Originalism's racist roots in opposition to Brown v. Board of Education. By Mark Joseph Stern / Slate
In a groundbreaking article published in American Political Science Review, however, University of Chicago Ph.D. candidate Calvin TerBeek argues that modern originalism arose out of the backlash to Brown v. Board of Education, the landmark 1954 Supreme Court decision prohibiting public school segregation. TerBeek's research—which spanned 14 archival collections, thousands of newspapers and magazines, and interviews with key players—all points in one direction: Originalism has fundamentally racist roots. Read more 
---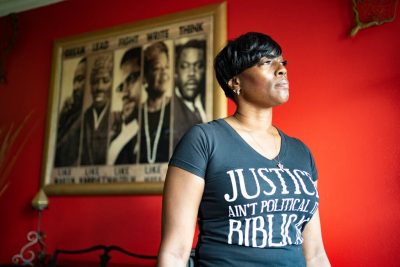 Crystal Mason Was Sentenced to Five Years Behind Bars Because She Voted. By Jesse Wegman /NYT
Whenever you hear Republican rants about widespread voter fraud supposedly undermining Americans' faith in the integrity of their elections, remember the story of Crystal Mason. Ms. Mason, a 46-year-old grandmother from the Fort Worth area, has been in the news on and off since 2016, when Texas prosecutors decided she was a vote fraudster so dangerous that justice demanded she be sentenced to five years behind bars. Read more 
---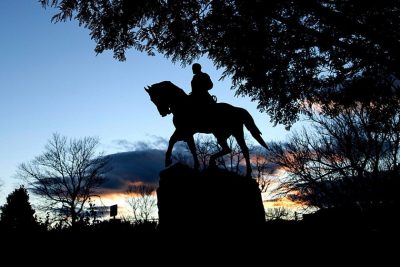 Charlottesville Confederate monuments coming down: Where America went wrong after the Civil War and what we can learn from Germany. By Jalane Schmidt / Slate
Charlottesville, Virginia, has finally received the green light to remove our spurned Confederate statues. After enduring years of legal delay and violent white supremacist attacks, on April 1 the Supreme Court of Virginia decided in favor of the city's effort to rid its downtown parks of Jim Crow–era propaganda art. It is a fitting time for this ruling: April is Confederate History Month in many Southern states, although increasingly progressive Virginia ended the observance some years ago. Read more 
Related: Jefferson Davis chair monument reported stolen; group demands ransom. By Kirsten Fiscus and Marty Roney / USA Today
---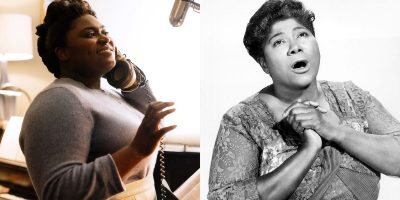 In Lifetime's joyful "Mahalia," Danielle Brooks' song and fury triumphs over a tepid script. By Melanie McFarland / Salon
Lifetime's "Robin Roberts Presents: Mahalia" proves Mahalia Jackson's story could span more than two hours quite easily. Scan her biography, listen to her voice, appreciate the fullness of her talent, and it isn't farfetched to say she'd be as worthy a candidate for a season of "Genius" as Aretha Franklin. Shown is Danielle Brooks in "Robin Roberts Presents: Mahalia." Mahalia premieres Saturday, April 3 at 8 p.m. on Lifetime.  Read more 
---
SAG Awards: Actors of color sweep film acting nods for the first time. By Wilson Wong / NBC News
For the first time, actors of color swept all four film acting categories at the 2021 Screen Actors Guild Awards. Actors Viola Davis and the late Chadwick Boseman won top screen acting honors for their leading roles in the film "Ma Rainey's Black Bottom." Meanwhile, Daniel Kaluuya took home the award for best supporting male actor in "Judas and the Black Messiah," and Yuh-jung Youn, a South Korean actress, won best supporting female actor for her work in "Minari."  The historic moment marked a number of other firsts: Boseman, who died of colon cancer in August, is the first posthumous winner in a lead actor role, and Youn is the first Asian actor to win a best acting SAG award. Read more 
Sports
---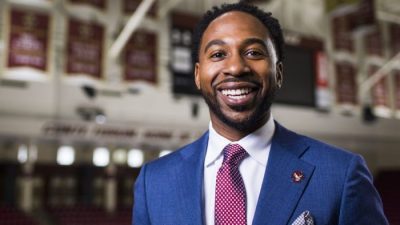 UCLA's Martin Jarmond: Change needs to happen quickly to fix college sports. By William C. Rhoden / The Undefeated

In the aftermath of a COVID-19-ravaged season, the college sports industry faces a long overdue reckoning as it attempts to reconcile its commercial, exploitive self with its benevolent self. Earlier this week, I met with UCLA athletic director Martin Jarmond. Jarmond, UCLA's first African American athletics director, laid out his vision for a reimagined college sports landscape, one that accommodates social activism, diversity, and gender and racial equity. Read more 
---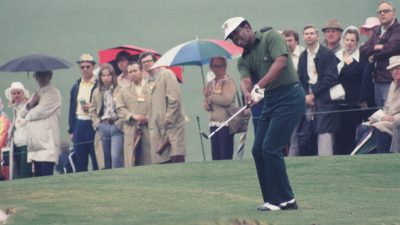 How racism prevented Lee Elder from being among golf's Big Three. By Farrell Evans / The Undefeated
In the parallel world of the all-Black United Golfers Association (UGA), where the best Black players shined before the PGA's Caucasians-only clause was struck down in 1961, Elder might have formed a big three with fellow Black golfers Charlie Sifford and Pete Brown. Before them, there were Ted Rhodes, Bill Spiller and Howard Wheeler. Had racism not kept these Blackplayers off the PGA Tour in the prime of their careers, they might have formed their own triumvirates to shape a century of golf in America. Read more
---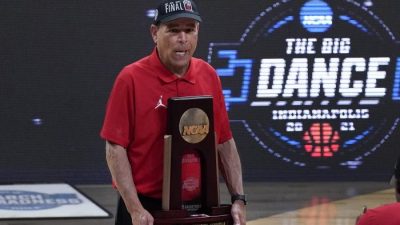 Kelvin Sampson recalls racism he fought growing up in North Carolina. By William C. Rhoden / The Undefeated
I've always been a fan of Houston head men's basketball coach Kelvin Sampson. The same way I was a fan of John Thompson, John Chaney, Nolan Richardson and George Raveling. Sampson has fought as those coaches fought, not merely for basketball victories, but for African American coaches to be treated fairly. Houston was eliminated from the NCAA men's tournament Final Four by Baylor on Saturday, but Sampson's career is much more than the sum of wins and losses. Read more 
Site Information
---
Visit our home page for more articles, book/podcast and video favorites. And at the top of this page register your email to receive notification of new editions of Race Inquiry Digest. Click here for earlier Digests.
About Race Inquiry and Race Inquiry Digest. The Digest is published on Mondays and Thursdays. 
Use the buttons below to share the Digest in an email, or post to your Facebook, Linkedin or Twitter accounts.