Featured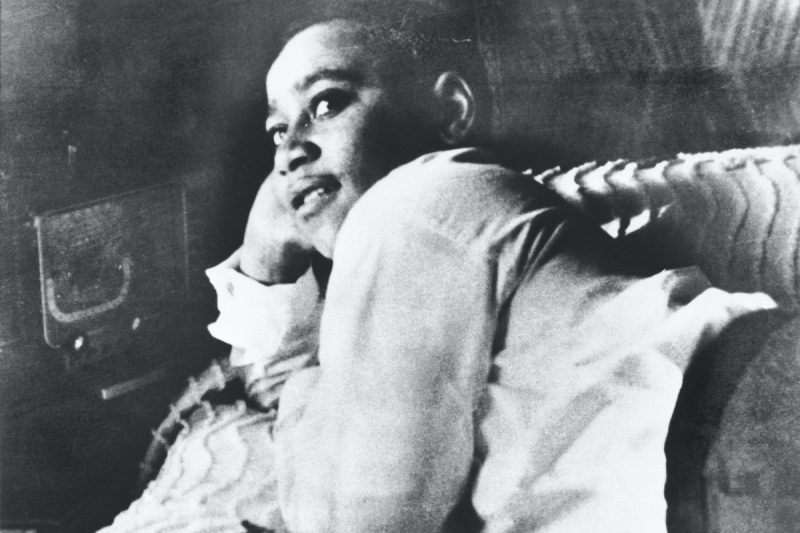 The Emmett Till Antilynching Act Will Protect All of Us. By Maya Wiley / The New Republic

Hate crimes of all kinds, and against all kinds of people, are still far too prevalent in American society. And they are massively underreported.
Hate is as much a part of our American experience as the struggle for equality that often provokes it. Justice, which has too often been far from blind, has failed too many victims of hate. But we have a beacon of light in dark times. President Biden has signed the Emmett Till Antilynching Act, which came to his desk with the all too rare bipartisan support we need more of where justice and democracy are concerned. It also comes at a time when it could not be more critical to our democracy to take a unified stand against hate. Read more 
Related: Yes, Lynching Is Still a Thing. By Charles M. Blow / NYT
Related: This Is Why It Took More Than 100 Years to Get an Anti-Lynching Bill. By Jamelle Bouie / NYT
Related: 'This Is a Crime Against the Laws of Humanity.' By Jamelle Bouie / NYT
Political / Social
---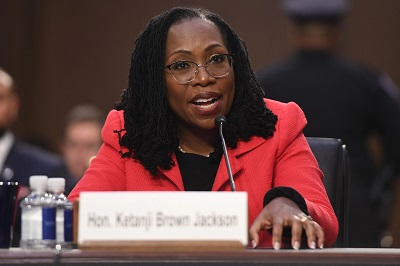 Ketanji Brown Jackson and the color blind society of Martin Luther King Jr. By Bev Freda Jackson / The Conversation
U.S. Sen. Chuck E. Grassley had a question for Ketanji Brown Jackson during her confirmation hearings to be the first African American woman on the U.S. Supreme Court. Grassley, the ranking member of the Senate Judiciary Committee, wanted to know if she agreed with Martin Luther King Jr.'s vision that one day America would become a nation in which people are judged "not by the color of their skin but by the content of their character." Read more 
Related: Ketanji Brown Jackson's Long Pause Explained Racism and Sexism in America.  By Elie Mystal / The Nation
---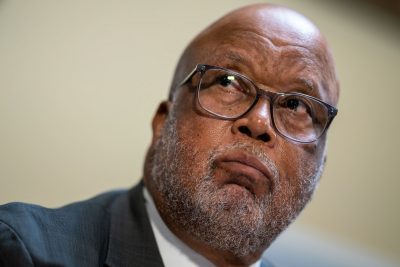 It's Bennie Thompson's Moment to Defend Democracy. By Grace Segers / The New Republic
The Mississippi congressman's long struggle for civil rights is culminating with his role atop the January 6 committee.

It was 1969, one year after the death of Martin Luther King Jr., and in Bolton, Mississippi, white Southerners' ugly backlash to the gains of the civil rights movement was a powerful force. Three Black men had been elected to the Board of Aldermen, after succeeding in registering the small town's significant population of Black voters with the help of federal registrars, as permitted by the Voting Rights Act of 1965. The town's white population revolted, and an unsuccessful lawsuit to prevent the three from taking office ultimately died in a federal court of appeals. One of those men, 21-year-old Bennie Thompson, had run for office because he wanted change for the town's Black residents. Read more 
---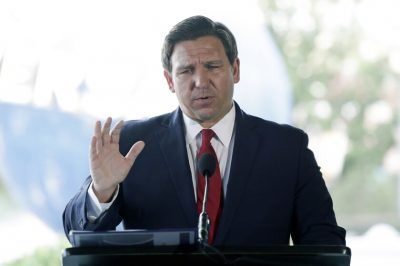 Federal Judge Strikes Down Portions Of Racist Florida Election Law. By Brandan Farrington / HuffPost
The judge said that the law unfairly targeted Black voters. It's one of several similar voter suppression measures passed by GOP-led states.

A federal judge struck down portions of a Florida election law passed last year, saying in a ruling Thursday that the Republican-led government was using subtle tactics to suppress Black voters. The law tightened rules on mailed ballots, drop boxes and other popular election methods — changes that made it more difficult for Black voters who, overall, have more socioeconomic disadvantages than white voters, U.S. District Judge Mark Walker wrote in his ruling. Read more 
---
What Can Biden Do Now to Protect the Ballot? We Asked Eric Holder and Six Other Voting Rights Experts / By The New Republic
As Trump's Big Lie festers among the Republican Party and political norms continue to erode, we at The New Republic are pretty concerned about the future of small "d" democracy, both in the U.S. and abroad. So we've started a series we've termed Democracy Watch, wherein we will regularly survey experts, writers, and generally interesting thinkers on a specific question about the state of democracy and what keeps them up at night. Major voting reform legislation, beyond perhaps changes to the Electoral Count Act, is going nowhere in the Senate. What further action should the Biden administration take to protect ballot access? Read more 
Related: Once again, Alabama is the battleground over Black voting rights. By Colby Itkowitz / Wash Post 
---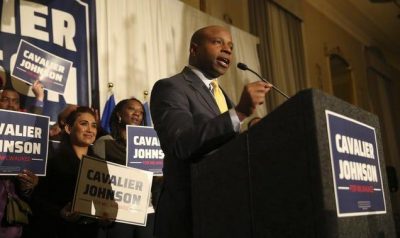 Milwaukee Chooses First Black Elected Mayor in 176 Years. By Cavalier Johnson / The Root
Milwaukee made history by choosing its first Black mayor in the city's history on Tuesday. Voters overwhelmingly cast their ballots for Cavalier Johnson, a 35-year-old former alderman who was already serving as the city's interim mayor. Johnson, a Democrat, will now serve out the remaining two years of former mayor Tom Barrett, who resigned in December after 18 years in the job to become the Biden Administration's ambassador to Luxembourg. The Milwaukee Journal Sentinel reported that Johnson overwhelmed his challenger, former Milwaukee Alderman Bob Donovan, by a 72% to 28% margin. Read more 
---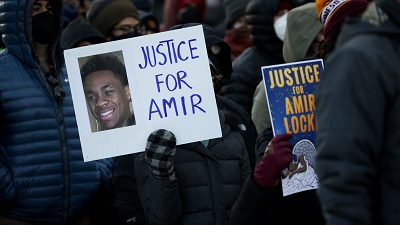 Amir Locke: No charges will be filed in fatal police shooting. By Omar Jimenez and Brad Parks / CNN 
The police officer who shot and killed Amir Locke, a 22-year-old Black man, while executing a warrant in a Minneapolis apartment will not face criminal charges, Hennepin County Attorney Michael Freeman and Minnesota Attorney General Keith Ellison announced Wednesday. Police killed Locke February 2 while they executed a warrant in which he wasn't named, and that didn't require police to knock and give any occupant a chance to open the door. This is a "disappointing day for the family," said Jeff Storms, a Locke family attorney, but also emphasized they are not without hope. "They just have a very strong belief that the incredible wrong that happened to Amir is going to save other people's lives," Storms told CNN. "They're not going to let the lack of criminal charges slow them down one bit." Read more 
---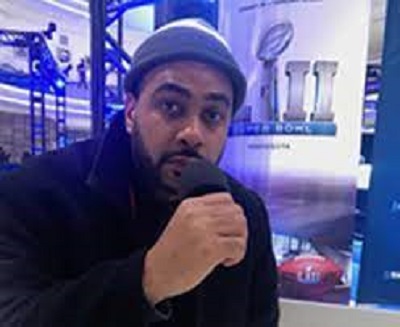 Watch "Prince Rogers Nelson & Minneapolis Public School Teachers Strike (A Black Perspective) Pt. 4." By Ralph Crowder / YouTube 
The Minneapolis Public Schools Teacher Union Strike documented at the beginning of it's second week has been a conversation between mainly two well funded organizations (Teachers Union & School District) which have a mission to serve all student populations. Black families/community have been a missing voice but most impacted by the systemic failure of Black students, many who are not reading at grade level. The city of Minneapolis continues to be in the National spotlight of concern… Watch here 
---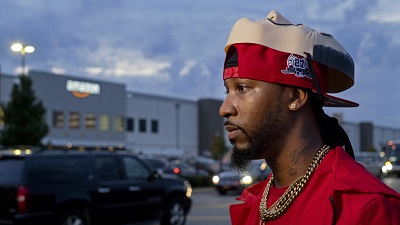 How Chris Smalls built a labor movement that led to Amazon workers' first union. By Andrea Hsu and Alina Selyukh / NPR

"He's not smart, or articulate." Those were the words used by a top Amazon lawyer to describe former warehouse worker Chris Smalls. Smalls had led a walkout at the start of the pandemic in 2020 to protest working conditions at the Staten Island, N.Y., warehouse where he worked. He was fired the same day. The memo that contained those biting words was leaked just a few days later. But the words would stay with Smalls. They became the fuel that would drive him to lead one of the most dramatic and successful grassroots union drives in recent history. Read more 
Related: After Amazon workers' union victory the Fed must stop tipping the scales for bosses. By Robert Reich / The Guardian 

---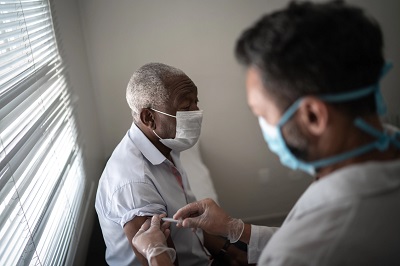 Black and Hispanic seniors are left with a less powerful flu vaccine.

Many people 65 and older opt for a costlier high-dose influenza vaccine. Those who get the standard vaccine are disproportionately members of ethnic and racial minorities.
Older minority patients, especially Black seniors, are getting the short end of the stick, say some advocates for eliminating racial disparities in health care. Blacks are about 20 percent less likely than Whites to get flu shots, although they are at higher risk of severe flu. Even those who get the vaccine are about 30 percent less likely to get the high-dose version. Read more 

---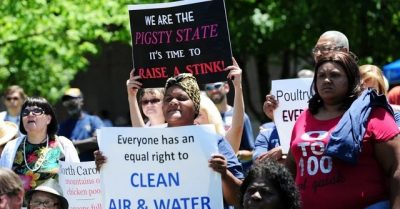 The environmental racism of North Carolina's hog farming industry, explained. By Jamie Berger / Vox
"The smell of money" — that's what pork producers have long called the revolting odor of pig waste that permeates the air in eastern North Carolina, where hogs outnumber people by as much as 35 to 1. But to many Black, Latinx, and Indigenous residents who live near the state's giant pig farms, the smell is more associated with nausea, anxiety, breathing problems, and racial discrimination. Read more 

---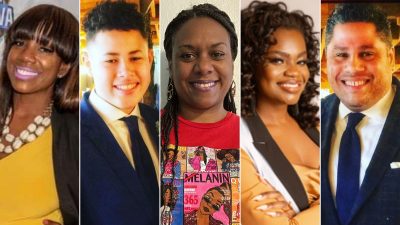 Latinos have many skin tones. Colorism means they're treated differently. By Rachel Hatzipanagos / Wash Post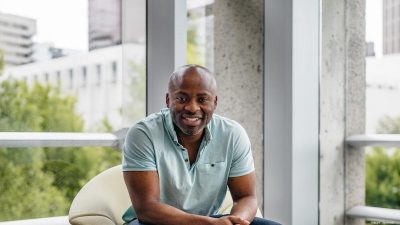 Nigeria-Born Tope Awotona Poured His Life Savings Into Calendly. Now He's One Of America's Wealthiest Immigrants. By Amy Feidman / Forbes
Tope Awotona, the 40-year-old founder and chief executive of Calendly, leans back in his chair and lets loose a loud guffaw. Nine years ago, Awotona started Calendly, pouring his life savings of $200,000 into it and later quitting his job selling software for EMC. Today, the company has 10 million users and counts Lyft, Ancestry.com, Indiana University and La-Z-Boy among its customers. Revenue last year passed $100 million, double what it booked the previous year. It could double againthis year. Read more 
Ethics / Morality / Religion

---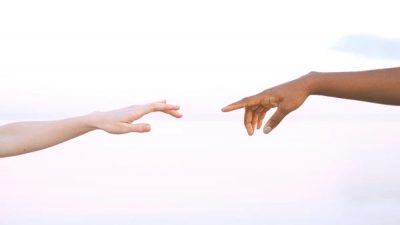 What Kind of Love is Needed to Heal Racial Divides? By Derwin Gray / Christianity Today
Only a costly love will heal our racial divide. Jesus was in a conversation with a Jewish religious scholar who was attempting to catch him in a trap: Then an expert in the law stood up to test him, saying, "Teacher, what must I do to inherit eternal life?" "What is written in the law?" [Jesus] asked him. "How do you read it?" He answered, "Love the Lord your God with all your heart, with all your soul, with all your strength, and with all your mind," and "your neighbor as yourself." "You've answered correctly," he told him. "Do this and you will live." (Luke 10:25-28) Jesus told the religious scholar, "Do this and you will live." But the Jewish religious leader, "wanting to justify himself," asked Jesus, "And who is my neighbor?" (Luke 10:29). Read more 
---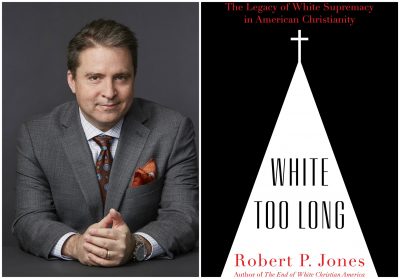 Moving lightly through this world: Reflections on the weight of white Christian innocence. By Robert P. Jones / Religion News
The persistent denial of our own culpability threatens to drown us all.
I also believe the ruptures of the last two years hold deeper lessons, especially for those of us who grew up identifying as white and Christian. The pandemic has exposed ways we've reflexively clung to all kinds of assumptions about the trappings and structures of pre-pandemic everyday routines; and the clarion calls for racial justice in the wake of George Floyd's murder have exposed the ways white supremacy still haunts our laws, our institutions and our lives. Moreover, the 2021 backlash to the Black Lives Matter movement — concretely expressed in the elevation of "white discomfort" as a novel definition of discrimination — has revealed the biggest encumbrance of all for white Christians: insistence on our own innocence. Read more 
---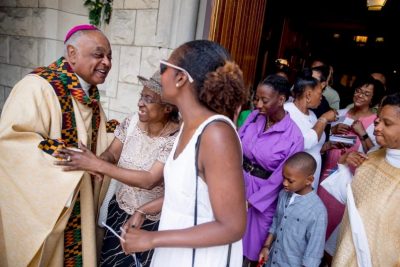 Young Black Catholics are still here and flourishing more than their peers. By Josh Packard Byron / Religion News
A new study found Gen Z Black Catholics are more traditionally religious than their Catholic peers of other racial groups.
 Recent studies have pointed out that young Black Catholics are attending religious services less than older generations, new data from Springtide Research Institute presents a different perspective: When compared to young Catholics of other racial groups, Springtide findings suggest young Black Catholics have a more promising future in the faith than their peers — though difficult experiences in predominantly white spaces present challenges. Read more 
---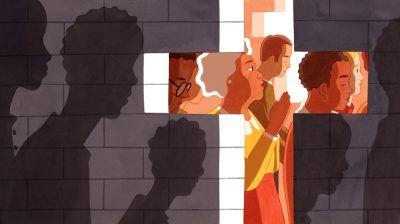 Churches played an active role in slavery and segregation. Some want to make amends. By Michela Moscufo / NBC News
Some churches across denominations are acknowledging that their wealth was often built off of enslaved labor and are committing parts of their endowments to reparations funds.
Two and a half years ago, Episcopal Bishop of New York Andrew M.L. Dietsche reminded a group of clergy of the ugly history of their diocese. Not only was slavery deeply embedded in the life and economy of colonial New York, but Episcopal churches across the state often participated in it. Church founders, churchgoers and even churches themselves had enslaved people. The abolitionist Sojourner Truth had once been enslaved by a church in the diocese. "The Diocese of New York played a significant, and genuinely evil, part in American slavery," Dietsche said during his November 2019 address. "We must make, where we can, repair." Read more 
Historical / Cultural
---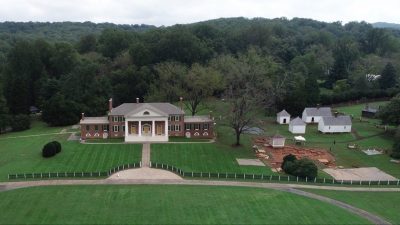 A slaveholding president's estate faces a modern racial controversy. By The Editorial Board / Wash Post 
For most of its two decades overseeing the sprawling Virginia estate of James Madison, the fourth U.S. president, the Montpelier Foundation had either zero or just one African American member of its governing board, whose authorized strength is 25 members. That was astonishing because Montpelier, in addition to being Madison's property, was also home to some 300 enslaved people over the course of more than a century who lived, worked in bondage and died there. So it was a momentous if overdue step forward last year when the foundation announced it would share power equally, and achieve parity on its governing board of directors, with descendants of enslaved people. Now, that agreement, in letter and in spirit, has been shredded by the foundation's White-dominated board. Read more
---
Ancestral Land In Virginia Returned To Rappahannock Tribe. By Sebastian Murdock / HuffPost
More than 460 acres of land were given back to the Native tribe, the Interior Department announced. 
"I'm elated about it," Rappahannock Chief Anne Richardson told The Washington Post on Friday. "It is special to us because the bones of our ancestors are there." The land, which had previously been slated for commercial development, will now be able to keep its natural splendor. It's also home to one of the largest populations of bald eagles on the Atlantic coast. Interior Secretary Deb Haaland joined tribe members Friday to announce the land acquisition. Read more 
---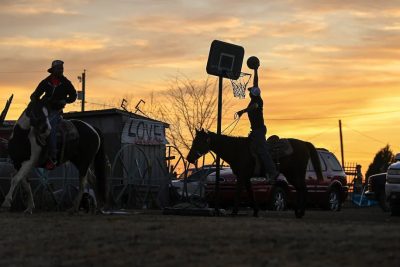 A historic all-Black town wants reparations to rebuild as a 'safe haven.' By Emmanuel Felton / Wash Post

Once thriving, Tullahassee, Okla., was ravaged by policies that divested Black communities

If you really concentrate, you can imagine the town that this community's elders describe. There was the grocery store on the highway, and the gas station. There were the shops where children walked to buy lunch for 50 cents on school days. There was Ms. Sadie's chicken shack and Dr. Minor's office. All of that's gone now. In their place, either vacant lots or dilapidated buildings. The once-thriving all-Black town of Tullahassee was ravaged by government policies that divested it and other Black communities, said Mayor Keisha Currin. And she says the city is owed reparations to get back on its feet. Read more 
---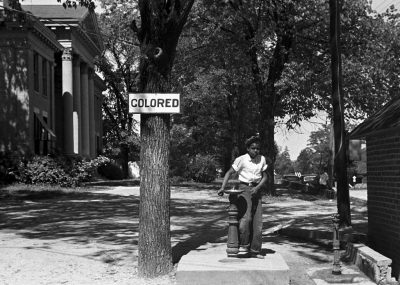 Racism as Theory: A Historiography of White Supremacy Ideology. By Bala James Baptiste / AAIHS
Drinking fountain on the county courthouse lawn, Halifax, North Carolina, 1938 (Library of Congress)
This historiography theorizes racism as applicable to an explanation of why decision-makers at major white organizations waited until the late 1960s to begin hiring black people to work as professionals. This essay focuses on the origin, development, perpetuation, and advancement of anti-blackness in the United States. It analyzes the literature concerning race and racism so that individuals could predict action rooted in white supremacy. The essay identifies factors that contribute to acts of racism including white people's perception of an inferior other, competition between blacks and whites, white supremacy ideology, challenges to white privilege, and racial discrimination endorsed by federal, state, or local governments. Read more 
---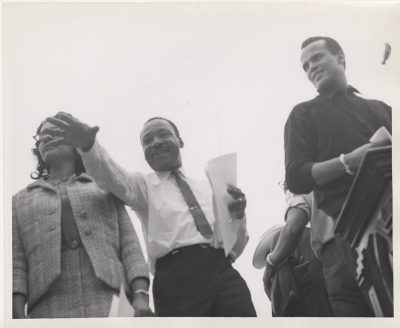 The "Radical" King and a Usable Past. By Robert Greene II / AAIHS
Martin Luther King, Jr., Coretta Scott King, and Harry Belafonte near the podium at Montgomery March in 1965 (Wikimedia Commons)
Last September, Black Perspectives published a piece about Martin Luther King, Jr's use of the year 1619 as a waypoint in his speeches and sermons about Black history at the height of the Civil Rights Movement. This essay, published on the anniversary of his death, takes a brief look at King's use of history in the final years of his life. As King publicly associated himself with radical elements of the broader human rights movement in American society—pushing for an end to the Vietnam War and a broad-based economic rights agenda, coupled with civil rights—he also utilized specific ideas from America's radical and progressive past to make his views known to listening audiences. Read more 
---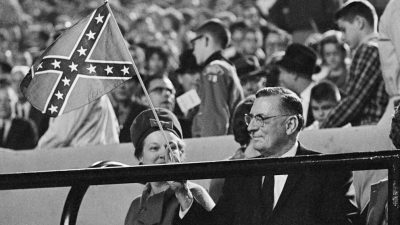 'Go, Mississippi': State could ditch song with racist roots. By Emily Wagster Pettus / ABC News 
Mississippi is on the verge of retiring a state song with racist roots, two years after it surrendered a Confederate-themed state flag
The current song, "Go, Mississippi," takes its tune from a 1959 campaign jingle of Democratic Gov. Ross Barnett. "Roll With Ross" included the lyrics, "For segregation, 100%. He's not a moderate, like some of the gents." Barnett unsuccessfully resisted integration of the University of Mississippi in 1962, and legislators that year adopted a state song setting new words to his campaign ditty: "Go, Mississippi, keep rolling along. Go, Mississippi, you cannot go wrong." Some legislators have quietly sought a new song in recent years, saying the Barnett connection is an embarrassing relic of the bad old days. Read more 
---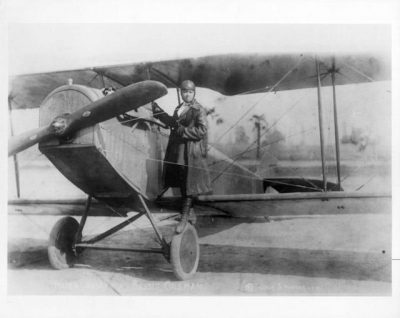 First Black Woman Pilot Bessie Coleman to be Honored on US Quarter in 2023. By Noah A. McGee / The Root
American pilot Bessie Coleman in her bi-plane, circa 1920.Photo: Michael Ochs Archives (Getty Images)
It was announced by the United States Mint that Bessie Coleman, along with four other women who were pioneers in their field, will appear on select U.S. quarters in 2023. Coleman was born in 1892 in Atlanta, Texas and was the tenth child out of thirteen children born to an African American mother and a Cherokee and African American father. Read more 
Related: Oldest national park Ranger Betty Reid Soskin retires at age 100. By Bill Chappell / NPR
---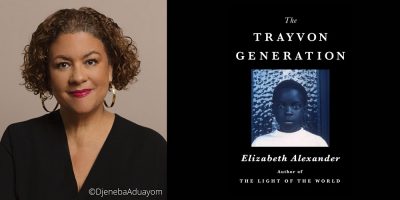 In the Face of Black Pain, Elizabeth Alexander Turns to Art. By Michell S. Jackson / NYT
"The Trayvon Generation" traces the influences of racism and violence on American culture today.
Dressed in an indelible red coat, Elizabeth Alexander stood aloft the National Mall and faced a sea of expectant faces. Behind her, a platform seated rows upon rows of eminences, including President Barack Obama. In her inaugural poem Alexander likened love to light and closed with lines that bespoke the optimism of the occasion: "On the brink, on the brim, on the cusp,/praise song for walking forward in that light." "I call the young people who grew up in the past 25 years the Trayvon Generation," the ones who grew up hearing the words, "Two seconds, I can't breathe, traffic stop, dashboard cam, 16 times." She writes: "These stories formed their worldview. … The stories were primers in fear and futility. The stories were the ground soil of their rage. The stories instructed them that anti-Black hatred and violence were never far." Read more 
---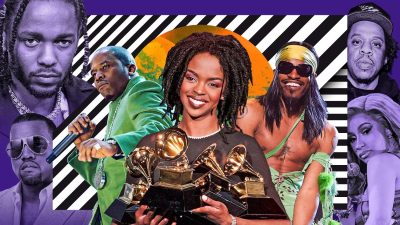 Why have rappers been virtually shut out of the Grammys' album of the year category? By Justin Tinsley / Andscape
Only two hip-hop acts have ever taken home the prestigious award, despite the genre's popularity
Since the Recording Academy began handing out its album of the year award in 1959, only 10 Black artists have won the coveted honor. And of those 10 artists, just two Black hip-hop acts — Lauryn Hill in 1999 and Outkast in 2004 — have hoisted the trophy. This year, three rappers are nominated in the category — Lil Nas X, Doja Cat and West — and if the past is prologue, they, too, may come up empty-handed. Read more
Related: 2022 Grammy Awards: The full list of nominees and winners. By NPR 
Sports
---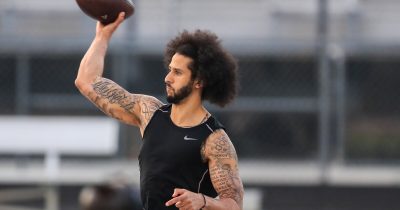 Colin Kaepernick is bigger than football. It's time for him to stop looking back. By Candace Buckner / Wash Post 
---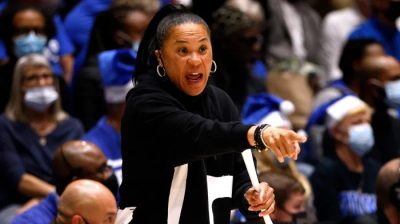 South Carolina's Dawn Staley has emerged as her generation's John Thompson. By William C. Rhoden / Andscape
The two-time national champ has filled college basketball's Black leadership void left by the former Georgetown coach two decades after his retirement
South Carolina defeated UConn convincingly on Sunday to win Staley's second national title, but there are more titles to win in order to build a dynasty. What's certain, and in many ways more significant, is that Staley, at age 51, has forcefully stepped in to fill the Black leadership vacuum in college basketball left by Thompson, who retired from Georgetown in 1999. Read more 
Related: Tyronn Lue Q&A: 'It's just good to see these young Black coaches getting the chance to do it. By Marc J. Spears / Andscape
---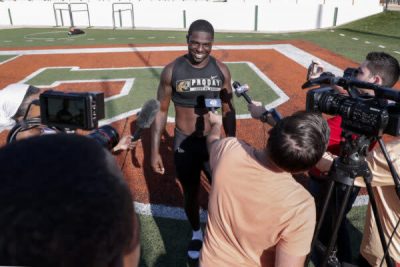 The Deion Sanders Effect Is Real: 30 of 32 NFL Team Reps Show Up to FAMU Pro Day To Scope HBCU Talent.  By Atlanta Black Star

HBCU pro days have never gotten the exposure or visibility they should. Despite the list of HBCU greats that helped the NFL explode in popularity during its first 30 years in existence, over the last few decades there's been a stigma attached to HBCU athletes. An implication that they were somehow inferior because their athletes didn't attend Power Five schools. But this year seems to be a changing of the guard. Jackson State head coach Deion Sanders and other prominent HBCU leaders have insisted that the NFL show more respect for the abilities of their student-athletes. Read more 
---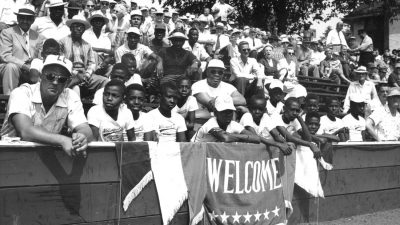 When a Black team entered Charleston's Little League tournament in 1955, all hell broke loose.  By Chris Lamb / Andscape

Excerpted from Stolen Dreams: The 1955 Cannon Street All-Stars and Little League Baseball's Civil War.
The Cannon Street YMCA All-Stars did not know when they left Charleston, South Carolina, on August 24, 1955, to go to the Little League World Series in Williamsport, Pennsylvania, that they were riding into something that was ripping the country apart and confronting how Americans saw themselves and each other. It would not be clear to those 11- and 12-year-old African American boys for years, perhaps decades, that they were part of the struggle for civil rights in the United States.  Read more 
Site Information
---
Articles appearing in the Digest are archived on our  home page.  And at the top of this page register your email to receive notification of new editions of Race Inquiry Digest.
Click here for earlier Digests. The site is searchable by name or topic.  See "search" at the top of this page. 
About Race Inquiry and Race Inquiry Digest. The Digest is published on Mondays and Thursdays. 
Use the customized buttons below to share the Digest in an email, or post to your Facebook, Linkedin or Twitter accounts.