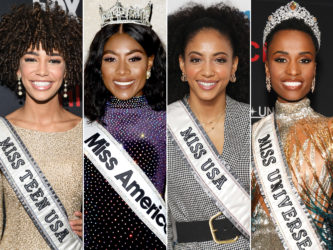 Featured – Miss USA, Miss America, Miss Teen USA and now Miss Universe are all black women. By Kendall Trammell / CNN
For the first time, top beauty pageants — Miss USA, Miss Teen USA, Miss America and now, Miss Universe — have crowned black women as their winners at the same time. And that's a big deal if you know pageant history. Beauty pageants early in their histories, some dating back to the 1920s, barred women of color from participating. Even after organizations began changing their rules to accept women of all races, there was still a lingering frustration and opposition to join. Only in the last 50 years have black women become more prevalent in these competitions. Read more  Also see, Miss South Africa crowned 2019 Miss Universe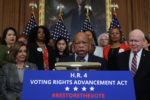 Blocking the Ballot in a Time of Impeachment. By Jamil Smith / Rolling Stone
House Democrats on Tuesday listed the two main reasons why they want to impeach President Trump. The primary one was because he engaged in a form of voter suppression, though foreign election interference isn't commonly understood as such. It is a fascinating time, seeing this all unfold at the same time that Republicans in Congress prepare to block a new attempt to fix the Voting Rights Act of 1965. They appear ready to do this even as the still-unpopular Trump faces impeachment in the House for interfering in his own forthcoming election in 2020. The Republicans, apparently, feel no risk of political consequence. They have good reason not to. Read more Also see, House passes voting rights package aimed at restoring protections, with no Republican support.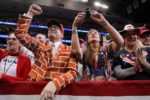 Trump Has a Gift for Tearing Us Apart. By Thomas B. Edsall / NYT
Donald Trump has done everything within his power to activate racial and ethnic animosity in this country. His main targets are immigrants, who are often greeted with rank hatred. But it's a mistake to think that Trump started all this, even as he's taking full advantage of the opportunities animosity has unleashed. He's riding a wave. Read more

Kamala Harris Leads Senators In Demanding 'Immediate Removal' Of Stephen Miller. By Christopher Mathias / HuffPost

Sen. Kamala Harris (D-Calif.) and a large group of Democratic senators have signed a letter that will be sent to the White House on Monday calling on President Donald Trump to fire senior adviser Stephen Miller in light of leaked emails showing the extent of his white nationalist beliefs. "We write to demand the immediate removal of Stephen Miller as your advisor," states the letter, a copy of which was provided to HuffPost by Harris' office. Read more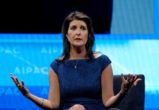 Oh, Nikki. You're So Wrong. By Charles M. Blow / NYT
There was a moment in which people thought — and many liberals feared — that Nikki Haley, former South Carolina governor and former United States ambassador to the United Nations, would be the post-Donald Trump face of the Republican Party as a political candidate. But, Haley burned all that to the ground when she engaged in an astounding bit of revisionist racial history about the Confederate battle flag and its relationship to Dylann Roof, the then 21-year-old white supremacist who in 2015 gunned down nine black worshipers in the historic Emanuel African Methodist Episcopal Church. Read more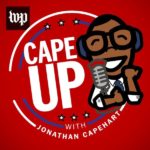 Stacey Abrams says she would consider being vice president: 'I will not diminish my ambition.' By Jonathan Capehart / Wash Post Podcast
Talk about fortuitous timing. As news broke last Tuesday that Sen. Kamala Harris (D-Calif.) was ending her campaign for the Democratic presidential nomination, I was heading to the John F. Kennedy Presidential Library and Museum in Boston to interview another African American woman many want to be a part of the 2020 presidential campaign: Stacey Abrams. Listen here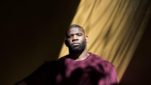 This Is What Racism Sounds Like in the Banking Industry. By Emily Flitter / NYT
Jimmy Kennedy earned $13 million during his nine-year career as a player in the National Football League. He was the kind of person most banks would be happy to have as a client. But when Mr. Kennedy tried to become a "private client" at JPMorgan Chase, an elite designation that would earn him travel discounts, exclusive event invitations and better deals on loans, he kept getting the runaround. Read more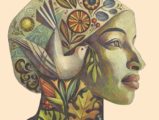 Ilhan Omar and the Politics of 'Radical Love.' By John Nichols / The Progressive
Foreign policy is not an abstraction for Ilhan Omar. It is her life. While Republican members of Congress propose to wall off the United States and many Democrats are shy about engaging with global issues, the Democratic Representative from Minnesota maintains a passionate sense of connection with the rest of the world. Read more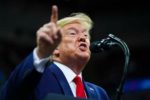 Report: Trump To Sign Order That Will Interpret Judaism As A Race Or National Identity. By Dominique Mosbergen / Huff Post
A leaked draft of the order's text contradicts earlier reports that Judaism would be interpreted as "as a race or nationality," Jewish Insider first reported. The order makes no such definition. Initial reports about the order sparked concerns that it was authored more with the intent of chilling anti-Israel speech than suppressing anti-Semitism. Read more Also see, Trump's expected executive order on campus anti-Semitism draws praise and concern

'Appalling and Disappointing': Bill Cosby's Appeal in Sexual Assault Case Denied; His Wife Camille Cosby and Reps Slam the Courts. By Daryl Nelson / Atlanta Black Star

Bill Cosby wasn't successful in his attempt to get a Pennsylvania appeals court to overturn his aggravated indecent assault conviction, and one of his reps called the decision "appalling." Cosby's legal team filed the appeal in June, and they argued the testimony given by five women in the case involving Andrea Constand wasn't pertinent because it was over 15 years old. They also stated the womens' allegations didn't match Constand's claims. Read more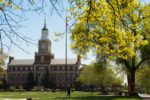 How historically black colleges helped rescue Jewish refugees. By Heather Tirado Gilligan / Wash Post
The Trump administration's latest efforts to turn away refugees and asylum seekers are undermining the system of refugee protection built after World War II. That system came about in part because of a horrific choice made by the United States during the war. Motivated largely by anti-Semitism, the United States failed to resettle hundreds of thousands of Jews fleeing Nazi Germany, condemning them to imprisonment and death. During World War II, even as the government sought to keep people out, some Americans, including key administrators at historically black colleges and universities, worked to bring people to safety — and their example offers lessons for us today. Read more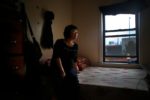 Asian Americans facing high risk of displacement mobilize to fight back. By Agnes Constante / NBC News
Cui Li Chen sits on her bed in Boston's Chinatown on Oct. 8, 2019. She and her husband share a cramped three bedroom walkup sublet with five other people. They had their own apartment until a landlord forced them out of their home when they were away visiting their son. The lease for this apartment ends in July, and they are uncertain if it will be renewed. Read more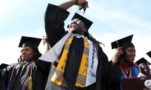 Don't be fooled by anti-college rhetoric: College is indispensable to black empowerment. By Kim Trent / USA Today
Like his Biblical namesake, author Paul Tough has spent his career evangelizing. His gospel is the potential of college education to transform the lives of individuals and communities, if only the structural barriers to a degree can be overcome. Tough recently visited Detroit to talk about his latest book, which makes a compelling, evidence-based argument that higher education remains the greatest engine for social mobility in American society. "The Years That Matter Most: How College Makes or Breaks Us" illustrates years of social research through the real-life experiences of actual Americans, particularly low-income students and students of color, for whom the climb to a degree has been particularly fraught. Read more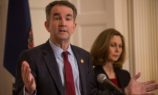 Northam proposes spending to stop black women from dying in childbirth. By Gregory S. Schneider / Wash Post
Gov. Ralph Northam on Monday proposed spending nearly $22 million over two years to help reduce maternal mortality rates among women of color, previewing the stamp he'll put on the state's budget when it comes out next week. Read more
'We're just waiting to die': the black residents living on top of a toxic landfill site. By Lauren Zanolli / The Guardian
In the 1980s, black New Orleanians were encouraged to buy houses built by the city on top of a toxic landfill. Three decades later it is one of Louisiana's worst cancer hotspots, but residents of Gordon Plaza are still fighting to be relocated. Read more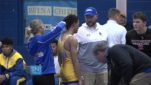 New Jersey lawmakers approve bill to ban discrimination based on hair. By Minyvonne Burke / NBC News

New Jersey lawmakers voted to approve a bill that would ban discriminating against someone because of their hairstyle and hair texture. The New Jersey Assembly Labor Committee approved the bill Monday with an 8-0 vote. The move comes a year after an Atlantic County high school wrestler was told at a match that he had to cut his dreadlocks or forfeit. Read more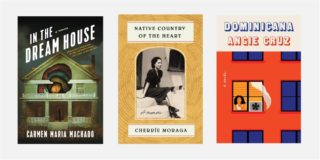 The best Latino books, according to Latinx writers. By Rigoberto Gonzalez / NBC News
The holidays are approaching and there's no better gifts for the readers in our lives than good books. I asked a few of my favorite Latino writers to share with me what recent titles they're excited about and why they're worthy additions to anyone's shopping list. Read more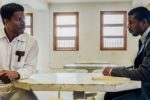 Just Mercy Stars Michael B. Jordan as a Real-Life Atticus Finch. By Inkoo Kang / Slate
Civil rights attorney Bryan Stevenson may well be a living saint. In 1989, he founded the Equal Justice Initiative, a legal organization that has successfully challenged the death row convictions of more than 125 inmates. Based on Stevenson's acclaimed 2014 memoir, the film follows one of his first cases, that of a black tree cutter named Walter McMillian falsely convicted of killing an 18-year-old white woman in small-town Alabama. Read more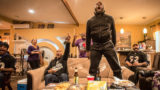 For black fans in Baltimore, Lamar Jackson's success 'resonates way beyond football.' By Lonnae O'Neal / The Undefeated
More than a dozen Baltimore Ravens fans spread out over two rooms in a home in northwestern Baltimore last weekend to cheer, drink and perfect their celebratory moves while watching Lamar Jackson, the most electrifying player in the NFL, lead their team against the Buffalo Bills. Watch the ankles! That's Steph Curry-type stuff. You can't teach that! they hollered over the play-by-play commentary blasting from two jumbo TV screens. Read more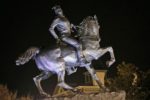 In the capital of the Confederacy, a new monument and a chance to change the narrative. By Gregory Schneider / Wash Post
A new monument has risen on ground where Confederate veterans lived their final years, and this city is counting on it to chase out some old ghosts. The massive figure stands more than 27 feet high — 60,000 pounds of bronze and stone, beautiful and intimidating. But unlike the Confederate giants on Monument Avenue just two blocks away, this rider is an African American man, a modern urbanite with Nike shoes and spiky locks of hair. Read more
Visit our home page for more articles. And at the top of this page register your email to receive notification of new editions of Race Inquiry Digest.   Click here for earlier Digests. 
Use the buttons below to share the Digest in an email, or you can post to your Facebook, Linkedin or Twitter accounts.