Featured – Big-time colleges care more about money and winning than black athletes getting degrees. By Derick Z. Jackson / The Undefeated
The tragic stereotype that the only thing a black man can be is an athlete — and a dumb one at that — tortures the nation's psyche, perpetuated by the very institution charged with enlightenment, the American university. To be sure, the disparities remain in some cases ridiculous. Top-ranked Louisiana State went into the college football national championship game versus Clemson with a NCAA Graduation Success Rate of 59% for its African American football players, compared with 92% for its white football players. Semifinalist Ohio State had a 56% graduation rate for African American players and 83% for white players. The final result is that a black man on campus is at least five times more likely than a white man on campus to be a scholarship athlete at 59 of the 78 schools in the bowls. "I am 5 foot, 5 inches and I only weigh 135 pounds. You would be surprised at how many Whites walk up to me and congratulate me on a 'good game' the Monday after we win a football game. Read more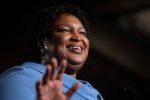 The Democrats' Existential Battle: Achieving Real Democracy. By Jedediah Britton-Purdy / Dissent
Trump's brutal political genius has been to convince enough white people in an electorally key swath of states that they have more fears in common with one another than they have anything else in common with anyone else. Stacey Abrams's contested loss in Georgia, and those of Democrats in other competitive races, are partly due to the compromised condition of democracy itself  A Democratic Party that knows it needs to build democracy, not just color within existing lines, is a better party. Read more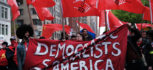 We Need an Insurgent Mass Movement. By Aziz Rana and Jedediah Britton-Purdy / Dissent
Aziz Rana: We are obviously living during troubling times—the return of open white supremacy and misogyny, the brazen corporate looting of the public treasury, the separation of immigrant families, the state's disappearing of their children, the systematic demeaning of Muslim and Latinx populations. But the moment has also generated greater clarity about the nature of U.S. society and what is required to transform it. The left broadly is today more mobilized, self-conscious, and even aware of its own history—from Eugene Debs to the Combahee River Collective—than at any point in my life. Read more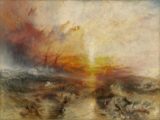 1619? By Sasha Turner / Black Perspectives AAIHS
Shown is JMW Turner's "The Slave Ship," 1840.
We are living in a "memory boom" he says. From Charleston to New York, the national mall and university halls, on land and at sea, we've been busy. Taking down and putting up. And taking down and putting up. Again. Monuments and memorials. Remember they say. Remember. The accomplishments, the foundings, the triumphs (abolition not slavery). Remember they say. Remember. The founding fathers (never founding mothers). But whose memory? Read more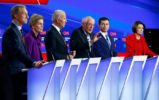 Why Was Pete Buttigieg Still on the Debate Stage—and Kamala Harris Wasn't? By Elie Mystal / The Nation
I do not know who won last night's Democratic primary debate. But voters of color certainly lost. It wasn't just that a historically diverse field of presidential candidates had been winnowed down to a best-available-white-person run-off. It wasn't just that Kamala Harris, Julián Castro, Cory Booker, were not there to promote their candidacies. The bigger problem was that Harris, Castro, and Booker were not there to keep the other candidates honest. Read more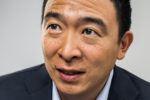 Lack of diversity 'pressures' Yang to talk race. By Eugene Daniels / Politico
It's a quandary Andrew Yang didn't see coming but is starting to embrace: Being the last candidate of color in the Democratic primary with sizable support. For most of the primary season, on the off-chance Yang talked about race, it was mostly to crack Asian jokes. He's stuck to his bread-and-butter issue and policy prescription: the threat of computer automation and a universal basic income. Read more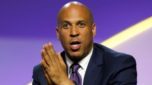 Lacking money and votes, Cory Booker fails to break through a crowded Democratic primary field. By Janell Ross / NBC News

Sen. Cory Booker, D-N.J., former Newark mayor, Rhodes scholar and Yale Law graduate, came to the presidential race with one of the more traditional candidate résumés in the vast Democratic field. He departed that race Monday, before a single vote had been cast, as a long-suffering underdog who never experienced so much as a bounce. Read more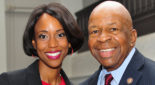 Rep. Elijah Cummings' widow running for Congress to 'build on his legacy.' By Veronica Stracqualursi / CNN
Maya Rockeymoore Cummings, the widow of the late Democratic Rep. Elijah Cummings, said she's running for her late husband's former seat representing the Baltimore area in Congress to build on his legacy. "He was fighting and he worked hard. And he was in the community and never did he ever say that he was tired and he couldn't do it. He kept forging forward, literally until almost his last breath. So I'm now running to build on his legacy in Congress," Rockeymoore Cummings told CNN's Alisyn Camerota on "New Day" Tuesday. Watch here

St. Louis Chief Prosecutor Accuses City, Police Union Of Racist Conspiracy In Lawsuit. By Rachel Lippmann / NPR

St. Louis' first black prosecutor, Kim Gardner, has sued the city, its police union and five others for what she calls a racist effort to block her reform agenda. "Gardner was elected in 2016 on a promise to redress the scourge of historical inequality and rebuild trust in the criminal justice system among communities of color," reads the lawsuit filed Monday in federal court. "Unfortunately, entrenched interests in St. Louis … have mobilized to thwart these efforts through a broad campaign of collusive conduct" to protect the status quo and remove Gardner from office. Read more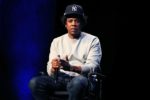 Jay-Z goes to bat for Mississippi prisoners and files federal lawsuit. By Corky Siemaszko / NBC News
Rap mogul Jay-Z sued the head of the Mississippi Department of Corrections and the warden of the state penitentiary Tuesday on behalf of 29 prisoners who say the two officials have done nothing to stop the violence that has left five inmates dead in the past two weeks. Read more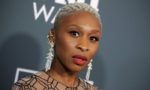 From the Oscars to the Democratic party: why are US culture and politics still so white? By Mary Retta / The Guardian
It has been an upsetting week for racial representation on both the cultural and political front – between Cory Booker's recent suspension of his presidential campaign and the overwhelmingly white (and male) composition of this year's Oscar's nominations, it seems we are regressing in a way that's certainly hurtful, if slightly unsurprising. With America's population never more diverse, why is cultural and political representation still so white? Read more

'Very Male, Very White': Let's Talk About Those Oscar Nominations. By Spencer Bokat-Lindall / NYT
If, as an awards show, you were looking to start a controversy, you might start by nominating only male directors for the second year in a row, while also taking special care to pass over every actor of color except the one who played Harriet Tubman. Read more . Also see, Greta Gerwig and other Oscar snubs show being a white male is still the key to recognition.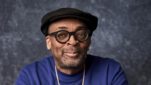 Spike Lee to Head Cannes Film Festival Jury. By Alex Marshall / NYT

Spike Lee, the acclaimed director of "Do The Right Thing" and "BlacKkKlansman," will lead this year's Cannes Film Festival jury, the festival said on Tuesday. Lee will be the first black person to lead the jury in the festival's 73-year history. Read more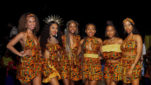 How Ghana's historic homecoming is changing Africa. By Zaina Adamu / CNN
It's the last Saturday of the year in the heart of Accra, Ghana's capital. The air is thick with the anticipation of the thousands of revelers who have swarmed the gates of El Wak Stadium to take part in an annual celebration of African culture known as Afrochella. Ghana is having a moment and some describe it as akin to the Harlem Renaissance, the 1920s movement in the United States that's credited with revolutionizing African-American arts and culture. Read more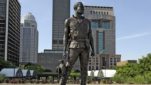 An enslaved man was crucial to the Lewis and Clark expedition's success. Clark refused to free him afterward. By Hannah Natanson / Wash Post

York had done his job superbly. Whether the enslaved, 30-something black man wanted to participate in Lewis and Clark's expedition to the Pacific Ocean is impossible to know — almost certainly, no one ever asked him. Compelled to join by the man who owned him, William Clark, York proved crucial to the explorers' success. He hunted for badly needed food, smoothed relations with Native American tribes, cared for the ill and helped discover new plants and animals. "York was demanding his freedom as his reward for his services on the expedition," Stephen E. Ambrose wrote in "Undaunted Courage: Meriwether Lewis, Thomas Jefferson and the Opening of the American West." "Clark refused to free him." Read more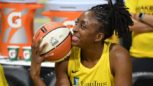 Landmark WNBA deal a victory for women of color in leadership. By Sean Hurd / The Undefeated
Nneka Ogwumike of the Los Angeles Sparks is the president of the Women's National Basketball Players Association. "Our player leadership provided what may be the most diverse representation of players actively involved in negotiations in a very long time," Ogwumike said. "We got to work as soon as we were elected and we really never looked back." Included in the eight-year CBA: Increased player compensation (where the league's top players have the potential to earn up to $500,000, double the maximum salary), mental health resources, fully paid maternity leave, and travel and accommodation upgrades. Read more
Visit our home page for more articles. And at the top of this page register your email to receive notification of new editions of Race Inquiry Digest.   Click here for earlier Digests. 
Use the buttons below to share the Digest to your Facebook, Linkedin or Twitter accounts.