Featured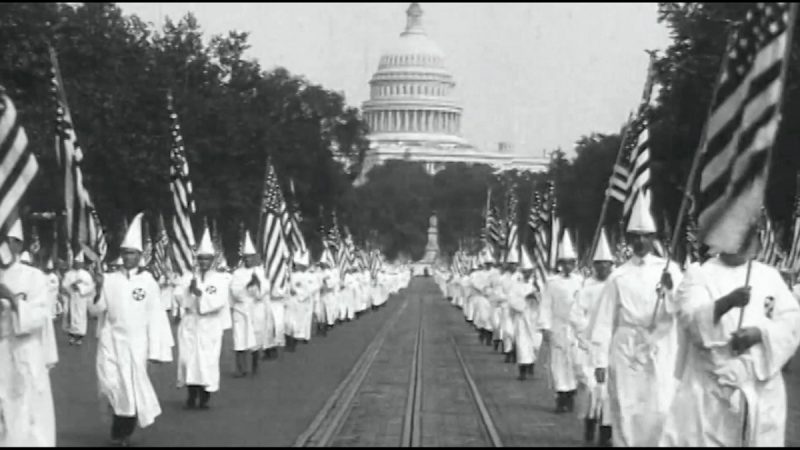 Joe Biden's Looming War on White Supremacy. By Ronald Brownstein / The Atlantic
At the height of its popularity, the Ku Klux Klan brought more than 30,000 of its members to participate in a parade in D.C. on Aug. 8, 1925. 
The insurrection could spur a federal-government crackdown on white-nationalist groups, as well as strengthen the case for systemic police reform. On both the white-extremist and policing fronts, the magnitude of the Biden administration's challenge is formidable. The white-nationalist threat has been on "an upward trajectory" over the past four years, Neumann told me. Although white-supremacist organizations have always existed, and their efforts accelerated after Obama's election as the first black president, Trump acted as a "kind of an accelerant," she said. "There was already a fire, and he was adding fuel to it. He was expanding the number of people who were participating in the extremism." Read more 
Related: Some in the GOP parrot far-right talk of a coming civil war. By Jay Reeves and Julie Smyth / Associated Press and PBS 
Related: The seditionists made clear what their attack was about: White supremacy. By Jennifer Rubin / Wash Post
Related: Trump Supporters' Main Problem Was Never The Economy. It has always been about race. By Emily Peck / HuffPost
Political / Social
---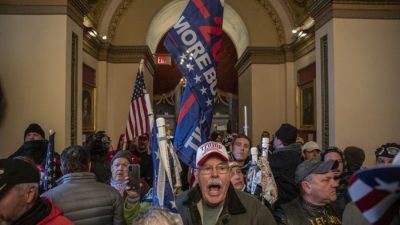 Black Americans have seen white terrorists rampage before. By Rochelle Riley / The Undefeated

Expected denouncements. Measured horror. Expected exclamations of, "This isn't America." But it is. And away from the seat of federal government, in the middle of America, the place politicians fly over on their way to supposedly more important destinations, it was a gunman walking into a Charleston, South Carolina, church, killing nine parishioners. It was the bombing of a Birmingham, Alabama, church killing four little girls. It was the murder of a Chicago boy in a small Mississippi town. It was one more moment of watching terrorists who have been disturbing the domestic peace for Black folks for centuries, initially getting away with something. It was a moment that stoked a reaction beyond anger at politicians. It stoked fear. Read more 
---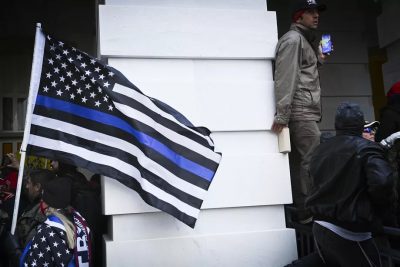 The Capitol riot is a reminder of the links between police and white supremacy. By Anna North / Vox

As investigations of last week's riot at the US Capitol continue, one thing has become abundantly clear: The people involved were not just "fringe" elements, disconnected from the mainstream of society. Prominent among the rioters was a group with a lot of institutional and social power — police officers and other law enforcement officials. Indeed, nearly 30 sworn officers have been identified so far as attendees to the rally leading to Wednesday's riot, according to NPR. Shown is a Trump supporter who holds up a "Thin Blue Line" version of the American flag that represents law enforcement outside the US Capitol on January 6.  Read more 
Related: What the Capitol insurgency reveals about white supremacy and law enforcement. By Rashawn Ray / Brookings
Related: It's not just your perception. Police are tougher on left-wing protests than right-wing ones. By Richard Allen Greene / CNN
Related: An FBI Agent Went Undercover to Study White Supremacists. He's Now Speaking Out About Racist Police. By Samantha Michaels / Mother Jones
---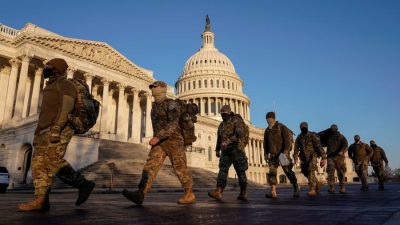 Pentagon probes extremism in U.S. military as thousands of troops guard D.C. after Capitol riot. By Kevin Breuninger and Amanda Macias / CNBC

"The issue of white supremacy and extremist ideology within the ranks of our military is not new, but the attack on the Capitol makes clear this alarming trend must be immediately addressed," the senators wrote in a letter to the Pentagon's acting inspector general, Sean O'Donnell. The letter noted that numerous people who participated in the break-in, or who attended Trump's nearby rally that preceded the attack, have been identified as military veterans or active-duty service members. Read more 
---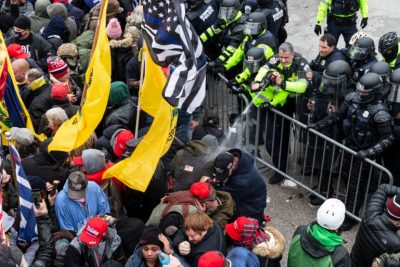 Why Is America So Divided Today? By Ian Bremmer / Time
There is no advanced industrial democracy in the world more politically divided, or politically dysfunctional, than the United States today. How did the world's most powerful country get to this point? To paraphrase a great American writer—slowly, then suddenly. The Capitol riot was not just years in the making, but decades. That's because of three distinct features of American society that have been ignored by U.S. politicians for far too long: the enduring legacy of race, the changing nature of capitalism, and the fracturing of our collective media landscape. Read more
Related: Capitol insurrection could be a bigger racial reckoning than the George Floyd protests. By John Blake / CNN
---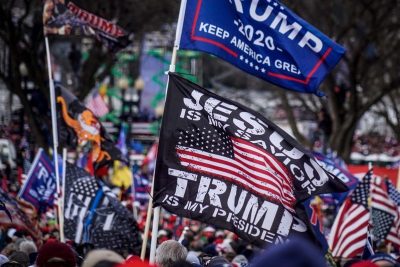 The Capitol Riot Revealed the Darkest Nightmares of White Evangelical America. By Matthew Avery Sutton / The New Republic

White evangelicals believe they see truths that you and I cannot. While Americans around the country watched an inflamed mob overrun the Capitol on January 6, the evangelical participants in that mob saw something else: a holy war. Insurgents carried signs that read "Jesus Saves," "In God We Trust," "Jesus 2020," and "Jesus Is My Savior, Trump Is My President." One man marched through the halls of Congress carrying a Christian flag, another a Bible. They chanted, "The blood of Jesus covering this place." Read more 
Related: White Christian Radicalization Is A Violent Threat. By Carol Kuruvilla / HuffPost
---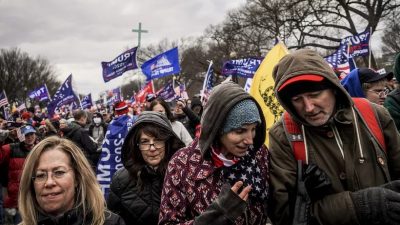 White women's role in white supremacy, explained. By Anna North / Vox

It's tempting to think of the storming of the US Capitol on Wednesday as toxic masculinity run amok: a mob of mostly white men, carrying guns and wearing animal skins, trying to overthrow democracy on behalf of a president who once bragged about his ability to grab women "by the pussy." It's even more tempting to embrace this narrative when, in a bizarre statement, that president's campaign press secretary describes him as "the most masculine person, I think, to ever hold the White House." But focusing too much on masculinity obscures a crucial truth: Many women were either present at the riot or cheering on the insurrectionists from back home. Read more 
---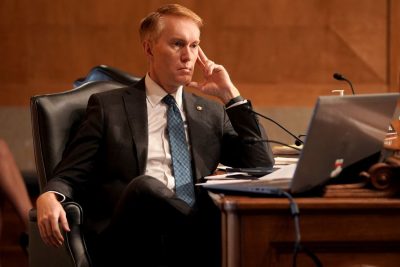 Republican Senator Apologizes to Black Constituents for Challenging Electoral Vote. By Lauren Camera / US News

REPUBLICAN SEN. JAMES Lankford of Oklahoma apologized to Black voters in Tulsa for questioning the results of the presidential election – one of the only members of the GOP to publicly repent in the wake of last week's riot on the U.S. Capitol by Trump supporters intent on overturning the results of the election. "My action of asking for more election information caused a firestorm of suspicion among many of my friends, particularly in Black communities around the state," he wrote in a letter. "What I did not realize was all of the national conversation about states like Georgia, Pennsylvania, and Michigan, was seen as casting doubt on the validity of votes coming out of predominantly Black communities like Atlanta, Philadelphia, and Detroit." Read more 
---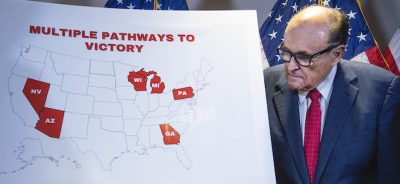 Disenfranchisement: An American Tradition. By Julilly Kohler-Hausmann / Dissent
Invoking the specter of voter fraud to undermine democratic participation is a tactic as old as the United States itself. It is not surprising that politicians, if allowed, would prefer to pick their own voters. The more vexing question is why voter suppression is not more taboo in a country that extols its democratic system as a beacon for the world. Ultimately, the most pressing question to arise from the 2020 election may not be whether our democracy can survive Trump, but whether the public supports an egalitarian and multiracial democracy. Shown is Rudolph Giuliani  who conducts a news conference on lawsuits regarding the outcome of the 2020 presidential election on November 19, 2020.  Read more 
---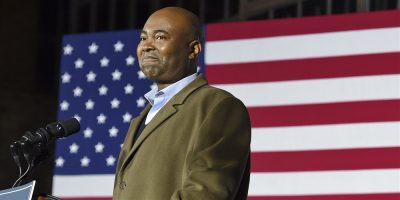 Jaime Harrison is Biden's pick for Democratic National Committee chair. By Alex Seitz-Wald / NBC News

President-Elect Joe Biden on Thursday tapped Jaime Harrison to lead the Democratic National Committee, which will meet next week to formally elect a new chairman. Harrison, 44, the former South Carolina Democratic Party chairman, ran for the top national job in 2017 and lost to Tom Perez, who is now leaving the chairman job. Perez gave Harrison a senior role in the party. Harrison then became a national Democratic figure and broke fundraising records in a failed bid last year to unseat Sen. Lindsey Graham, R-S.C. Read more 
---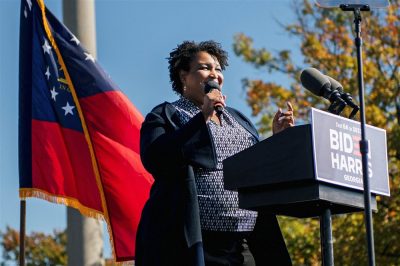 How Stacey Abrams has been mobilizing Asian Americans for years. By Kimmy Yam / NBC News
Georgia's Asian American and Pacific Islander population experienced unprecedented levels of outreach during the most recent election cycle, leading to turnout that broke records and an electorate that had gained enough power to help swing a historically GOP district blue in the general election. But many organizers and politicians across Georgia say that Abrams has long been quietly engaging with the group, targeting them when many continued to treat them as virtually invisible. Read more 
---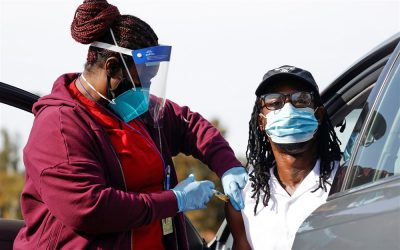 Black Americans are getting vaccinated at lower rates than white Americans. By Hannah Recht and Lauren Weber / NBC News

Black Americans are receiving Covid vaccinations at dramatically lower rates than white Americans in the first weeks of the chaotic rollout, according to a new Kaiser Health News analysis. About 3 percent of Americans have received at least one dose of a coronavirus vaccine so far. But in 16 states that released data by race, white residents are being vaccinated at significantly higher rates than Black residents, according to the analysis — in many cases two to three times higher. Read more
---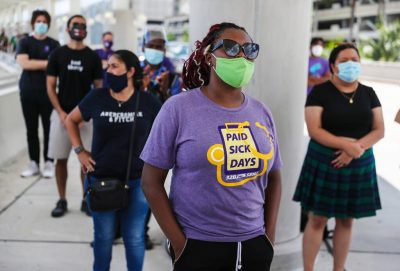 The Coronavirus Is Erasing Minority Women from the Workforce. By Diane Coyle / NYT

For years, the story of working women in the United States has been one of slow but steady progress. Against this backdrop, the latest monthly employment figures from the U.S. Bureau of Labor Statistics delivered an acute shock. A net total of 144,00 jobs were lost in December, the clear effect of the continuing economic downturn. But while male employment increased slightly, 156,000 women lost their jobs, mainly in pandemic-hit sectors such as hospitality and education. And since the employment of white women actually increased, on net these losses fell on women of color. Read more 
Related: Latino, Black children are twice more likely to endure multiple Covid health, economic hardships. By Nicole Acevedo / NBC News 
---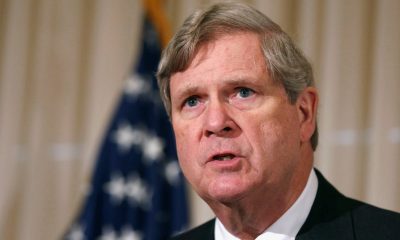 Tom Vilsack's nomination as agriculture secretary reopens old wounds for Black farmers. By Laura Reiley / Wash Post

Three days before Christmas, Tom Vilsack, Joe Biden's pick for agriculture secretary, convened a videoconference with nine prominent civil rights activists and advocates for Black farmers. Vilsack mostly listened. What call participants wanted, first and foremost, was an acknowledgment that the Agriculture Department had marginalized and systematically discriminated against Black farmers for decades. And some on the call expressed anger and frustration that Vilsack, in his first stint as agriculture secretary, during the Obama administration, did not fulfill his promise to right those historical wrongs. Read more 
Historical / Cultural
---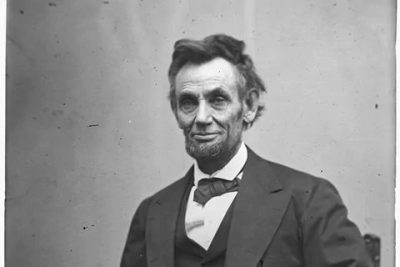 Lincoln's first inauguration met with threats of kidnapping, killing and militias. By Michael E. Ruane / Wash Post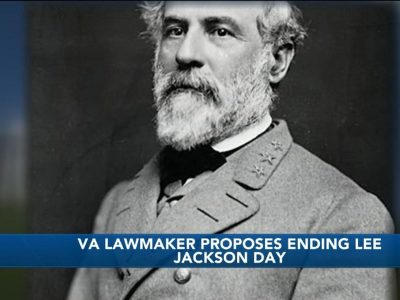 Virginia holiday commemorating Confederate generals won't be celebrated in 2021, for the first time in over 100 years. By Li Cohen / CBS News
The weekend before Martin Luther King, Jr. Day is typically filled with community service events and gatherings to honor Dr. King's lifetime career of social justice work. In Virginia, that weekend also featured a holiday that commemorated the lives of two Confederate generals — until now. Friday marked the first time in over 100 years that the Commonwealth of Virginia did not officially celebrate the former state holiday, Lee-Jackson Day. The holiday traditionally consisted of multiple days of parades and community events to honor Robert E. Lee and Thomas "Stonewall" Jackson for being "defenders of causes." Read more 
---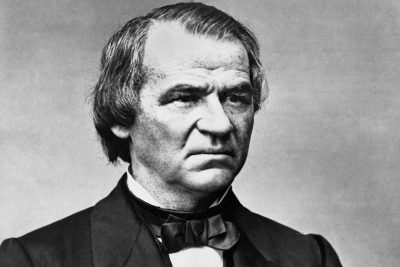 Reconstruction lessons for Trump: Dealing with Confederate treason was more complicated than you'd think. By Rebecca Onion / Slate
Historians and the history-minded began having persistent Reconstruction flashbacks even before last week, as Democrats discussed how far to take the many possible future investigations and prosecutions of Donald Trump. With the Capitol riots and related events of Jan. 6, those flashbacks got more vivid. It's obvious, in hindsight, that something (anything! many things!) should have been done after the Civil War to stop the homegrown authoritarian regime known as "Jim Crow" from developing. Would stronger punishments for the figureheads of secession have worked? Shown is Andrew Johnson in 1865.  Read more 
---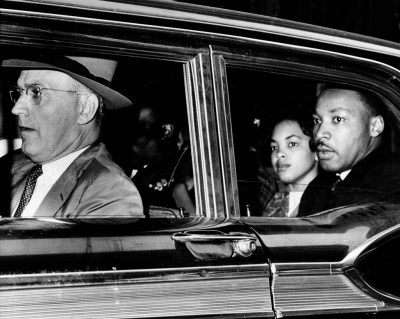 How Martin Luther King Jr.'s Imprisonment Changed American Politics Forever. By Raymond Arsenault / NYT
The African-American struggle for freedom and civil rights is replete with dramatic and harrowing stories, many involving intimidation and threats of violence from white supremacist defenders of the status quo. One of the most consequential of these stories is the subject of "Nine Days," a compelling narrative written by the father-and-son team of Stephen and Paul Kendrick, co-authors of two previous books on race, law and politics. The story begins in mid-October 1960 with Martin Luther King Jr.'s incarceration (his first) in a Georgia jail cell and ends three weeks later with John F. Kennedy's narrow victory over Richard M. Nixon. Read more 
Related: Martin Luther King gave his life fighting the same forces stirred by Trump. By Colbert I. King / Wash Post 
---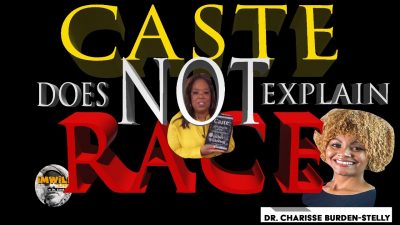 Caste Does Not Explain Race. By Charisse Burden-Stelly / Boston Review
The recent publication of Isabel Wilkerson's widely acclaimed Caste: The Origins of Our Discontents returns to caste to explain U.S. racial hierarchy at a moment when wealth polarization, racial strife, and white supremacist revanchism are again on the rise. To be sure, there is a reason why caste has an enduring appeal as a framework to explain the organization of U.S. society. It offers a convenient explanation for the ongoing violence and discrimination against racialized peoples while avoiding biological conceptions of "race," which, we are often reminded, is a "social construct." Read more 
Sports
---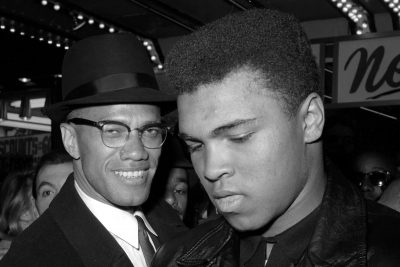 What happened after a boxer, a revolutionary, a singer and a football star met in a 1960s hotel room. By Sydney Trent / Wash Post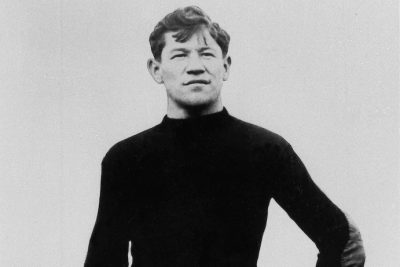 World's greatest athlete' Jim Thorpe was wronged by bigotry. The IOC must correct the record. By Anita DeFrantz / Wash Post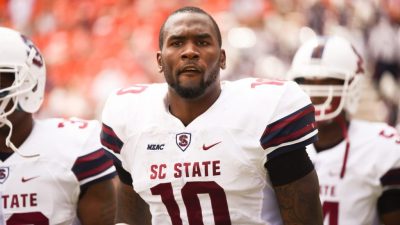 Lawsuit by HBCU athletes fights what it calls NCAA's systemic racism. By Derrick Z. Jackson / The Undefeated
Black athletes have launched a legal assault on what they are calling the chronic bias by the NCAA. Last month in federal court in Indianapolis, a lawsuit was filed alleging the governing body of college sports singles out historically Black colleges and universities (HBCUs) for bans from postseason play in Division I, the highest level of competition. Read more
Site Information
---
Visit our home page for more articles, book/podcast and video favorites. And at the top of this page register your email to receive notification of new editions of Race Inquiry Digest. Click here for earlier Digests.
About Race Inquiry and Race Inquiry Digest. The Digest is published on Mondays and Thursdays. 
Use the buttons below to share the Digest in an email, or post to your Facebook, Linkedin or Twitter accounts.