Featured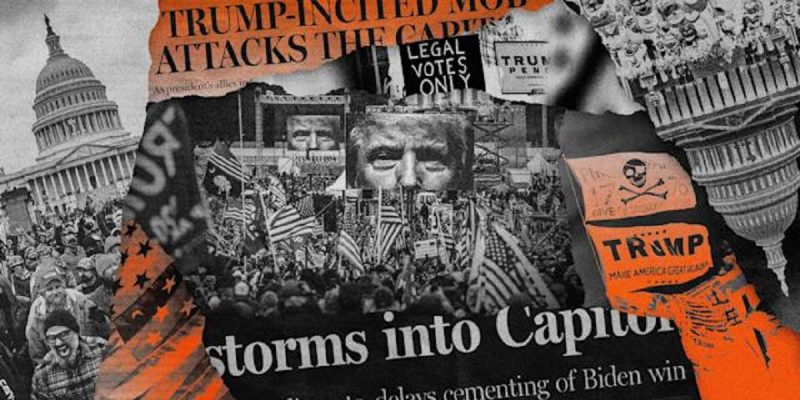 The riot, the republic and the fight for America's soul. By Jonathan Allen / NBC News

One year after a pro-Trump mob attacked the Capitol, experts, historians and politicians warn of a democracy still at risk.

America survived the Jan. 6 Capitol riot, but the explosion of political violence exposed the republic's fragility. A year later, after an impeachment and amid federal investigations, the risk to America's system of governance remains high, according to many elected officials and advocates.
Etched in the granite of national memory, Jan. 6 has become shorthand for an ongoing and existential battle over fair elections, the integrity of democratic institutions and the abuse of power. But as savage, bloody and traumatic as the riot was, it is only one piece of a fight that is now unfolding across the country in local election boards, state legislatures, courtrooms and the halls of Congress. Read more 
Related: Every Day Is Jan. 6 Now. The Editorial Board / NYT
Related: If American democracy is going to survive, the media must make this crucial shift. By Margaret Sullivan / Wash Post
Related: Poll: A majority of Americans believe U.S. democracy is in crisis.  By Joel Rose and Liz Baker / NPR
Related: One Single Day. That's All It Took for the World to Look Away From Us. By Francis Fukuyama / NYT
Political / Social
---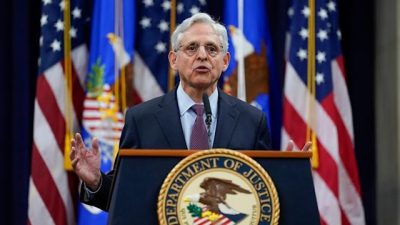 Attorney General Vows to Pursue Jan. 6 Inquiry 'at Any Level.' By Katie Benner / NYT
Under pressure from Democrats and a few Republicans to hold former President Donald J. Trump accountable for his role in inspiring the attack on the Capitol, Attorney General Merrick B. Garland vowed on Wednesday that the Justice Department would pursue its inquiry into the riot "at any level," saying he would defend democratic institutions from attack and threats of violence. "The Justice Department remains committed to holding all Jan. 6 perpetrators, at any level, accountable under law — whether they were present that day or were otherwise criminally responsible for the assault on our democracy," Mr. Garland said. "We will follow the facts wherever they lead." Read more 
Related: A year later, we know exactly who the Capitol rioters were—and it's not comforting. By Aymann Ismail / Slate
Related: "American Insurrection": How Far-Right Extremists Moved from Fringe to Mainstream After Jan. 6 Attack. Amy Goodman / Democracy Now
---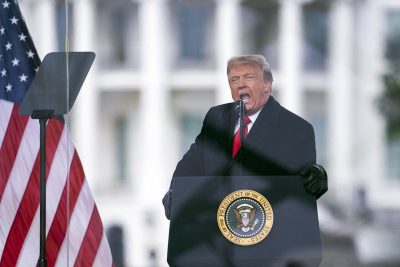 How to Stop Trump and Prevent Another Jan. 6. By Thomas Freidman / NYT
Let me put it crassly: Civil wars are not good for business. I lived inside one in Lebanon for four years. Corporate America shouldn't be lulled by 2021's profits, because once a country's institutions, laws, norms and unstated redlines are breached — and there is no more truth, only versions, and no more trust, only polarization — getting them back is almost impossible. Can't happen here? It sure can. The leaders of these companies are totally underestimating the chances that our democratic institutions will unravel. And if American democracy unravels, the whole world becomes unstable. That will not exactly be good for business, either. Neutrality is not an option anymore. As Liz Cheney put it on Sunday: "We can either be loyal to Donald Trump or we can be loyal to the Constitution, but we cannot be both." Read more 
Related: It's a new year — but time is broken in America. Can we recover from this? By Chauncey Devega / Salon
Related: It's time for Democrats to remind Republicans: The GOP is very much in the minority. By Heather Digby Parton / Salon
---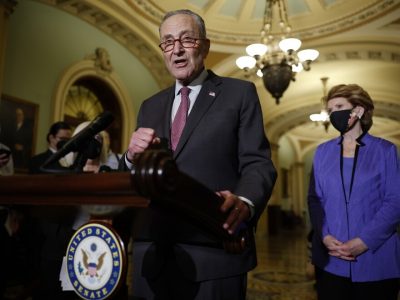 Schumer vows Senate rules change if voting rights bill is blocked again. By Barbara Sprunt and Deirdre Walsh / NPR
Democrats argue passing the Freedom to Vote Act and the John Lewis Voting Rights Act, which would, among other things, ensure that states have early voting, make Election Day a public holiday and secure the availability of mail-in voting, are necessary measures to combat the actions taken by some state legislatures. Senate Majority Leader Chuck Schumer, D-N.Y., has vowed the Senate will forge ahead on voting rights legislation and will vote on changing the rules of the upper chamber by Jan. 17 if the GOP once again blocks the bill. Read more 
Related: Radio host Joe Madison is on a hunger strike for voting rights. By Courtland Milloy / Wash Post 
Related: Ohio Democrat David Pepper on How the GOP Is Stealing State Governments. Michael Tomasky / TNR
---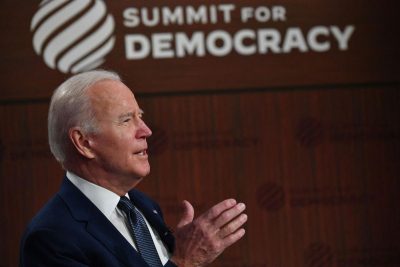 Biden's Judicial Picks Reflect Nation's Diversity. By Russ Feingold / The Progressive
A significant development flew mostly under the radar last year: The Biden-Harris administration nominated 73 federal judges in 2021, and the Senate confirmed 42 of them. It was a resoundingly successful year for filling federal court vacancies — and an even greater success in terms of the diversity of the candidates.  Federal court judges with life tenure have enormous potential to shape the laws and legal systems that impact our lives on a daily basis. They issue decisions related to nearly every public policy subject matter, from health care to voting rights to environmental justice.  Read more
---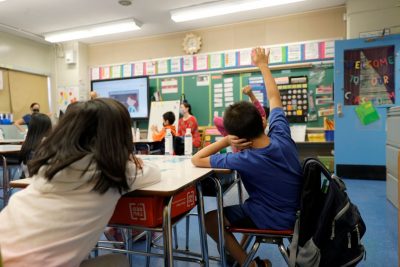 GOP sees 'huge red wave' potential by targeting critical race theory. By Liz Crampton / Politico
Attacking the study of racism in the United States emerged as a leading culture war cause for Republicans in 2021. But state lawmakers have only just begun focusing on the issue, which promises to dominate red-state legislatures across the country this year. Legislators in at least a dozen Republican-controlled statehouses — including in Alabama, Kentucky, North Carolina and Ohio — plan to push dozens of bills in upcoming legislative sessions that aim to halt teachings about race and society and give parents more say in what's discussed in classrooms. Read more 
Related: Florida Lawmaker Calls Out Governor DeSantis for 'Not Wanting to Educate Kids on Black History' with Anti-CRT Bill. By Kavontae Smalls / Atlanta Black Star
---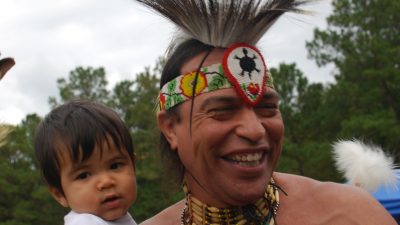 The brutal racial politics of the Indian Child Welfare Act. By George F. Will / Wash Post
Lexi lived four of her first six years with a non-Native American California foster family, but because she is 1/64th Choctaw, tribal officials got her taken from the Californians and sent to live in Utah with a distant relative. On Friday, the Supreme Court will consider whether to hear a challenge to the law that made this possible — the Indian Child Welfare Act, which endangers many young Native Americans. It also is a repudiation of the nation's premise that rights are inherent in individuals, not groups. Read more 
---
Rep. Bobby Rush to retire after three decades in Congress. By Felicia  Sonmez  and  Amy B Wang / Wash Post
---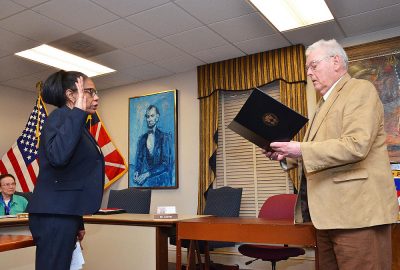 Gettysburg Makes History and Swears In the First Black and Female Mayor, Rita Frealing. By Nicole Duncan-Smith / Atlanta Black Star
Gettysburg, the location of one of the single bloodiest battles of the Civil War, has made history twice in one day by swearing in its first African-American and first female mayor. The honor has been over two centuries in the making. Rita Frealing is the first Black person and woman to be elected and sworn in as mayor in Gettysburg, Pennsylvania, the town considered to be the turning point in the war that freed enslaved African-Americans. Read more 
---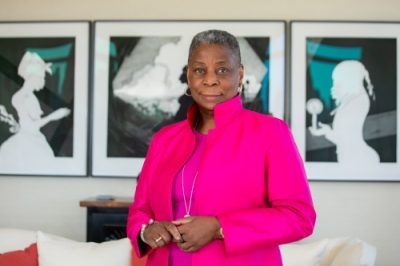 Ursula Burns, the first Black woman to run a Fortune 500 company, is done taking calls from nervous white leaders. By Ellen McGirt / Fortune
To most people, Ursula Burns, the former CEO of Xerox, is largely famous for two things. First, and most significantly, for being the first Black woman to run a Fortune 500 company. And second, for her astonishing candor. "The thing I valued most about Ursula, and why I valued her participation in senior management, is that she has the courage to tell you the truth in ugly times," Anne Mulcahy, Burns's friend, mentor, and predecessor CEO, once told me. Read more 
---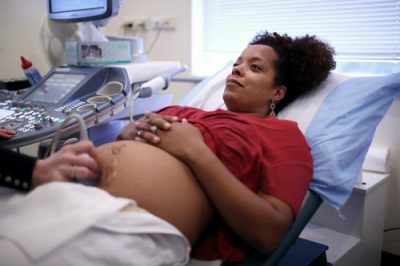 Black women face higher risk of death during pregnancy. By Jericka Duncan / ABC News
The U.S. has the highest maternal mortality rate for a developed country: About 700 women die during childbirth or soon after every year, according to the Centers for Disease Control and Prevention. Black women are at least three times more likely to die from a pregnancy-related cause than White women, according to the CDC. "It's a multitude of reasons, and it's a horrible statistic," said Errol Pierre, the senior vice president of New York state programs at Healthfirst, a not-for-profit health insurer. Read more 
---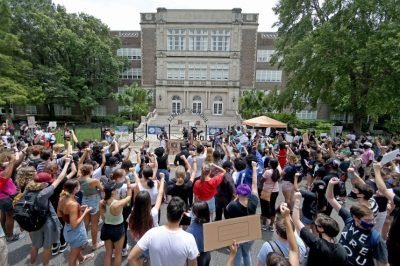 Why So Many Black Teachers Are Leaving the Classroom. By Sarah Carr / Time
The research has been clear for years that many of our schools struggle less with recruiting diverse educators than retaining them: between 1988 and 2018, the number of teachers of color hired by the country's schools increased at a faster rate than the number of white teachers, yet those diverse educators also left their positions much more quickly, on average. Despite all the recent and increasingly dire warnings of a teacher shortage in some parts of the country, we have too often failed to clarify who is most at risk from the departures: Black and Latino educators and the students of color who rely on them. Students of color perform better academically, and are more likely to stay in school, when they are exposed to teachers of their race or ethnicity. White students benefit too. Read more 
---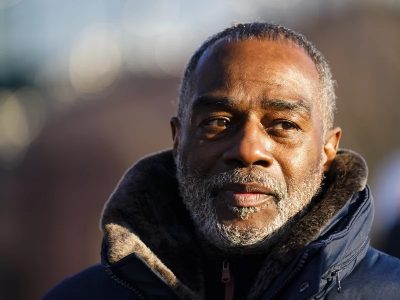 A man is free after serving 37 years because of a false witness. AP and NPR
A Philadelphia man was freed from prison Tuesday after 37 years in a case marred by detectives who allegedly offered a witness sex and drugs at police headquarters in 1983 in exchange for false testimony. The trial witness was charged with perjury just days after Willie Stokes was convicted of murder in 1984. But Stokes didn't learn about that perjury plea until 2015, decades into a life sentence. Stokes, 61, walked out of a state prison near Philadelphia eager to get a hug from his mother and a corned beef hoagie. His mother was too nervous to come after several earlier disappointments, so he greeted other family members instead. Read more 
Ethics / Morality / Religion
(New)
---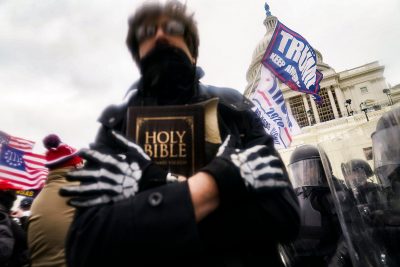 How 2021 collapsed the divide between religion and politics. By Jacob Lupfer / RNS
Across the religious left, right and center, the dominant narratives suggested that as religion recedes as a force in American public life, it is becoming easier for political movements to co-opt faith for their own purposes. Perhaps this has long been so, but it's astonishing to watch as the guardians of religious institutions — denominational leaders, prominent clergy and laypeople with oversight authority and responsibility — appear not only powerless to stop it, but often eager to go along. Read more 
Related: Violence isn't the only way Christian nationalism endangers democracy. By Samuel L. Perry / RNS

---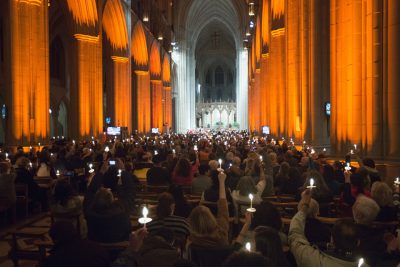 Religious Freedom Makes a Sacred Gathering Possible. By Frederick Clarkson / Daily Kos
On January 16th we celebrate Religious Freedom Day to commemorate what may be the most revolutionary and liberatory idea in the history of civilization. It was the reason many joined the American Revolution. It's the first freedom in the First Amendment. Still, as important and transformational as it was in our history, we will probably not hear much about it this Religious Freedom Day—the Day designated by Congress to commemorate it. This may be because most everyone to the left of the Christian Right has taken religious freedom for granted, allowing its meaning to fade and knowledge of the underlying principle to atrophy. But this is a story we need to know—and we owe it to ourselves and to future generations to never forget. Here is the short of it. Read more 
---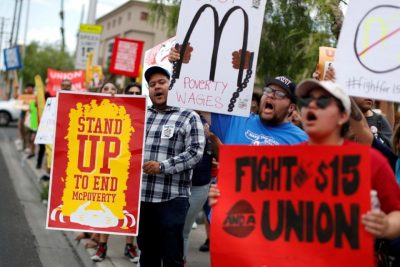 Why Stefon Diggs' good deed reveals a bad system. By Daniel P. Horan / NCR 

Systems that allow income and wealth disparity are a form of violence
On Christmas Eve, the NFL star Stefon Diggs, the Buffalo Bills wide receiver, visited a McDonald's fast-food restaurant in West Seneca, New York, and tipped all the employees $200 each. Those workers who do not have the luxury to stop working, even with the temporarily increased social safety net of pandemic unemployment relief, often not only work one low-paying job such as at McDonald's, but frequently juggle multiple low-paying jobs in order to make ends meet. It is therefore sadly ironic that a well-meaning Christmas gesture draws attention to the objective economic violence that lies in the background. And while those who without doubt could use some extra cash graciously received the $200 gift, it does little to change the reasons they don't have sufficient resources in the first place. Read more 

---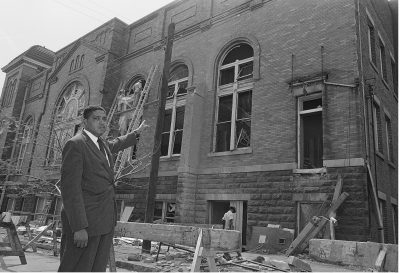 Maxine McNair, Last Living Parent of Child Killed In 1963 Church Dies At 93. By Murjani Rawls / The Root
Maxine McNair, mother of Denise McNair, one of the four little girls killed at the 16th Street Baptist Church in downtown Birmingham, Alabama, passed away on Sunday, announced by a press release from her family. She was 93. On the dark day of Sept. 15, 1963, KKK members planted a dynamite bomb that exploded at the 16th Street Baptist Church, killing 11 year old Denise McNair and three 14-year-olds: Addie Mae Collins, Carole Rosamond Robertson, and Cynthia Dionne Wesley. Fourteen others were injured. It was the deadliest single attack of the civil rights movement.  Read more 
Historical / Cultural
---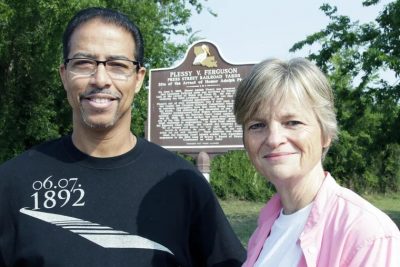 Louisiana Gov. To Posthumously Pardon Homer Plessy, Of 'Separate But Equal' Ruling. By Janet McConnaughey / HuffPost
Louisiana's governor will pardon Homer Plessy, who was arrested in 1892 for challenging a ban on Black people sitting in "whites-only" train cars.
Louisiana's governor planned to posthumously pardon Homer Plessy on Wednesday, more than a century after the Black man was arrested in an unsuccessful attempt to overthrow a Jim Crow law creating "whites-only" train cars. The Plessy v Ferguson case went to the U.S. Supreme Court, which ushered in a half-century of laws calling for "separate but equal" accommodations that kept Black people in segregated schools, housing, theaters and other venues. Shown is Keith Plessy and Phoebe Ferguson, descendants of the principals in the Plessy V. Ferguson court case, who pose for a photograph in front of a historical marker in New Orleans, on June 7, 2011. Read more 
---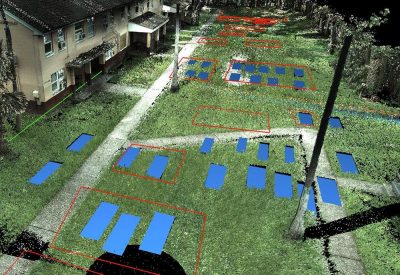 'Physically Erased': Archaeologists Rediscover Fourth Forgotten Black Cemetery Near Site of Florida Office Building. By Niara Savage / Atlanta Black Star

Officials in Florida uncovered at least three other abandoned Black cemeteries in recent years. Florida Gov. Ron DeSantis signed a bill over the summer approving the establishment of the 10-member Abandoned African-American Cemeteries Task Force after they were discovered. The task force is made up of archaeologists, educators and community preservationists. Other lost gravesites have been found in the Hillsborough County area (shown) and in Leon County. Some graves were found under the Tropicana Field parking lot. "There were bodies still there and a large number of them," Antoinette Jackson, chair of the anthropology department at the University of South Florida, told NPR. "That caught everybody's attention." Read more 
---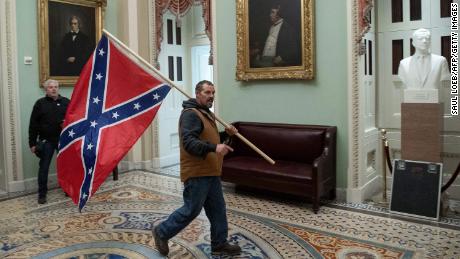 The battle over January 6 started in 1865. By Peniel E. Joseph / CNN
Two opposing historical forces have the power to shape American democracy in 2022. These worldviews took shape in the aftermath of the Civil War and have, ever since, undergirded America's legal and legislative systems, national policies on voting rights and criminal justice and our understanding (or, at times, denial of) of historical memory since 1865. Centuries later, Americans exist between these two 19th-century poles — reconstructionist and redemptionist — and their opposition deepens the 21st-century social fractures confronting us about everything from classroom curricula to voting rights to the notion of truth itself. Understanding the deep roots of these contemporary conflicts is crucial to any effort in 2022 and beyond to thwart their toxic effects on US politics — and the lives of everyday Americans. Read more 
---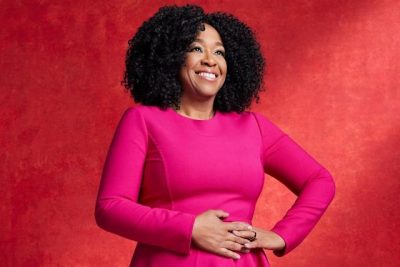 The Next Season of Shonda Rhimes Starts Now. By Judy Berman / Time
At her most prolific, Rhimes was responsible for producing around 70 episodes of TV across up to four ABC dramas each year. Then in 2017, she signed an industry-shaking deal with Netflix that the parties reupped this past summer at a reported value of $300 million to $400 million, complete with a "significant raise" and a five-year extension. Read more 
---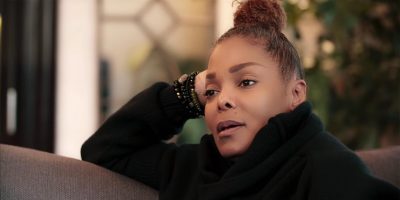 Janet Jackson Responds To Michael Jackson's Child Molestation Charges In Upcoming Film. By David Moye / HuffPost

---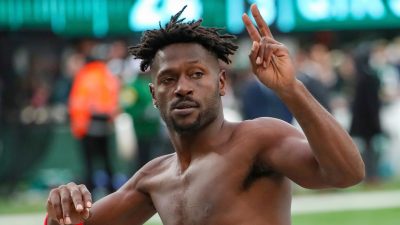 Antonio Brown put his pain on display for all to see. Instead of helping, the Bucs cut bait. By Sally Jenkins / Wash Post

---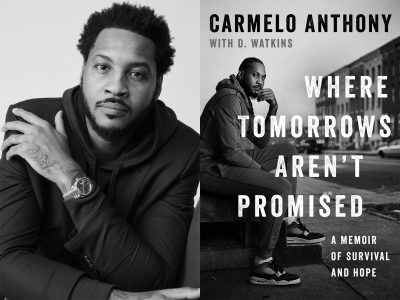 Carmelo Anthony shares his story in 'Where Tomorrows Aren't Promised.' By Jonathan Capehart / Wash Post Podcast
One of the NBA's biggest stars, Carmelo Anthony goes back to his Baltimore beginnings in "Where Tomorrows Aren't Promised." Ten-time NBA All-Star, author and philanthropist Carmelo Anthony sits down with Washington Post columnist Jonathan Capehart to discuss his new book,  which explores how he overcame the odds of poverty, racism, violence, mental illness and a broken education system to become one of the world's most successful athletes. Anthony faced palpable dangers growing up – often struggling to survive physically and mentally. He will discuss how those experiences shaped him into the man he is today. Listen here
Site Information

---
Visit our home page for more articles, book/podcast and video favorites. And at the top of this page register your email to receive notification of new editions of Race Inquiry Digest. Click here for earlier Digests.
About Race Inquiry and Race Inquiry Digest. The Digest is published on Mondays and Thursdays. 
Use the buttons below to share the Digest in an email, or post to your Facebook, Linkedin or Twitter accounts.