Featured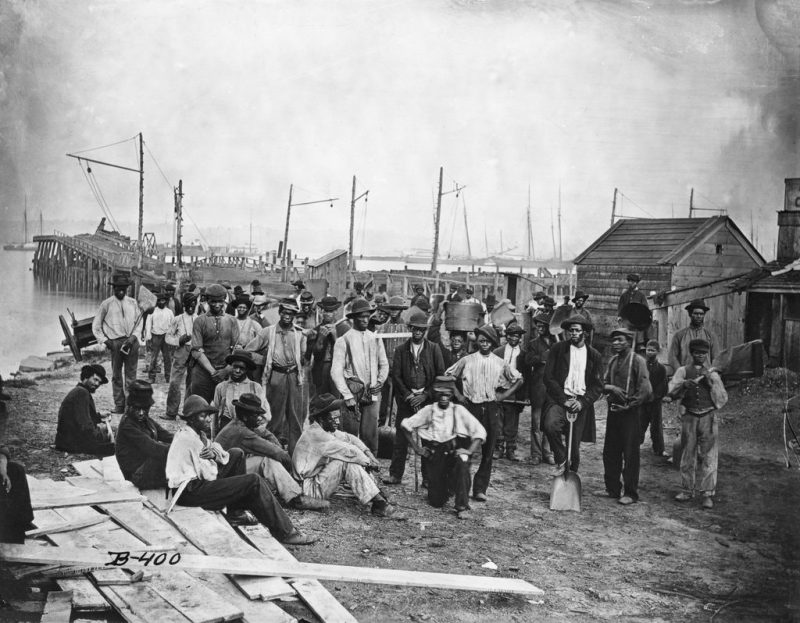 Why Juneteenth Matters. It was black Americans who delivered on Lincoln's promise of "a new birth of freedom." By Jamelle Bouie / NYT 

Neither Abraham Lincoln nor the Republican Party freed the slaves. They helped set freedom in motion and eventually codified it into law with the 13th Amendment, but they were not themselves responsible for the end of slavery. They were not the ones who brought about its final destruction. Who freed the slaves? The slaves freed the slaves. "Slave resistance," as the historian Manisha Sinha points out in "The Slave's Cause: A History of Abolition," "lay at the heart of the abolition movement." Shown are a group of freed slaves during the Civil War. Read more 
Related: What Freedom Really Meant on Juneteenth.  By Daina Ramey Berry / The Atlantic
Related: Advocates say Juneteenth's federal recognition is only the beginning. By Tori B. Powell / CBS News 
Related: Meet Opal Lee, the 'grandmother of the movement' to make Juneteenth a federal holiday. By Katie Kindelan / GMA
Political / Social
---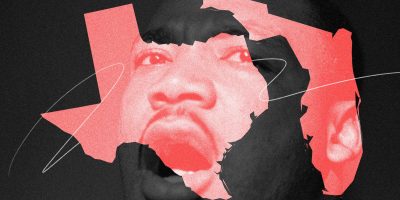 The Hypocrisy Of Honoring Juneteenth While Condemning Critical Race Theory. By Taryn Finley / HuffPost
For many, making Juneteenth a federal holiday also flies in the face of recent statewide laws to ban the teaching of critical race theory in schools — an academic framework that critiques how institutionalized racism has impacted the most marginalized. Just this week, Texas Gov. Greg Abbott (R) signed a bill that will effectively stop teachers from talking about racism in classrooms. Read more 
Related: Map: See which states have passed critical race theory bills. By Char Adams, Allan Smith and Aadit Tambe / NBC News 
Related: Critical race theory education: How past curriculum panics foreshadowed this summer's legislation. By Gillian Frank and Adam Laats / Slate
Related: Wisconsin congressman introduces bill to ban critical race theory in D.C. schools.  By Perry Stein / Wash Post 
---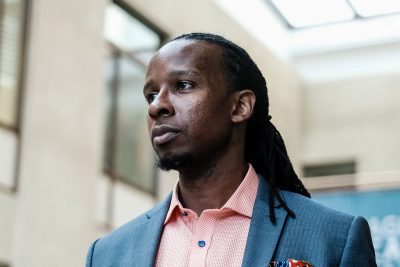 Ibram X. Kendi on anti-racism, Juneteenth, and the reckoning that wasn't. By Fabiola Cineas / Vox
I talked to historian Ibram X. Kendi, author of How to Be an Antiracist and host of the podcast Be Antiracist, about where America is now, more than one year after the start of the country's largest protest movement. He helped me understand what it would mean to truly have a reckoning in this country and whether we can measure the impact of anti-racism books. Kendi says there's still reason to believe that change is possible. You can hear our entire conversation on the week's episode of Vox Conversations. A transcript, edited for length and clarity, follows. Listen here 
---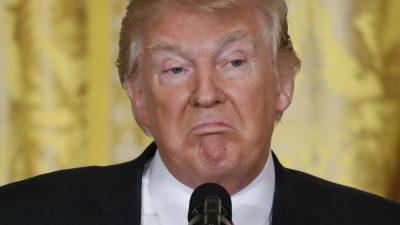 Why Trump must be prosecuted: Nothing less can break the twisted bond with his supporters.  By Alan D. Blotcky / Salon
Donald Trump's presidency was an abysmal failure. Americans were constantly bombarded with misinformation, propaganda and gaslighting. We were traumatized by the sickness and death of the coronavirus pandemic that he could have contained and defeated. Our crippled economy created widespread depression and anxiety. Trump's racism, xenophobia, misogyny, nativism, white supremacy and violence were all disturbing forces. His grifting and bashing of the Emoluments Clause of the Constitution revealed his shameless greed. His politicization of the Department of Justice for his own personal gain was corruption at its core. And his incitement of the insurrection of our democratic election on Jan. 6 was illegal and the behavior of an authoritarian. Read more 
---
She Was a Black Election Official in Georgia. Then Came New G.O.P. Rules. By Nick Corasaniti and Reid J. Epstein / NYT
In Georgia, Republicans are removing Democrats of color from local boards. In Arkansas, they have stripped election control from county authorities. And they are expanding their election power in many other states. Lonnie Hollis has been a member of the Troup County election board in West Georgia since 2013. A Democrat and one of two Black women on the board, she has advocated Sunday voting, helped voters on Election Days and pushed for a new precinct location at a Black church in a nearby town. But this year, Ms. Hollis will be removed from the board, the result of a local election law signed by Gov. Brian Kemp, a Republican. Read more
Related: Joe Manchin's Voting Rights Deal Has One Tiny Fatal Flaw | The New Republic. 
---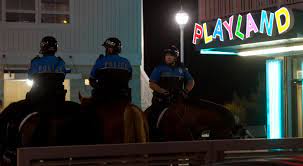 Ocean City, Md., police show how little they've learned about using force against people of color. By the Editorial Board / Wash Post
HAVE POLICE learned anything in the year since the video of the killing of George Floyd spotlighted the troubling use of force by police against people of color? That is the question that comes to mind watching the latest set of videos that have surfaced on social media showing the violent arrests of young Black men in Ocean City, Md., by police trying to enforce a boardwalk smoking ordinance. Given the response of police — "our officers are permitted to use force, per their training, to overcome exhibited resistance" — the answer seems to be no. Read more 
---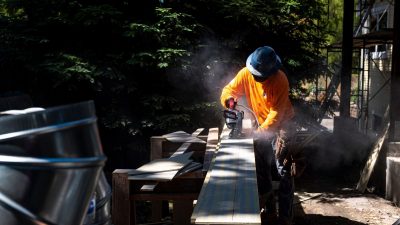 3.5 million Black American households have a negative net worth, new study finds. By Chauncey Alcorn / CNN

An estimated 19% of Black American families, roughly 3.5 million households, have a negative net worth because of a history of discriminatory policies from the government and private industry that has hindered their accumulation of wealth over time, according to a new McKinsey & Company study released Thursday. Just 8% of White households have a negative net worth today by comparison, according to the global management consulting firm's comprehensive report on the economic state of Black America. An additional 4.3 million Black households have a net worth of less than $10,000, the study's authors said. Read more 
Related: Here's how to propel 2 million Black Americans to the middle class. By Shelley Stewart and Michael Chui / CNN
---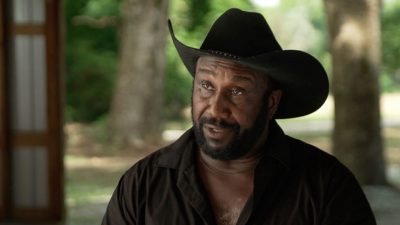 Black farmers fight to keep their land, cultivate next generation. By Monica DelaRosa, Alison Lynn, and Anthony Rivas / ABC News
John Boyd Jr., a fourth-generation farmer, grew up close to his 1,000-acre farm in southern Virginia where he now grows soybeans, wheat and livestock. Boyd, of Baskerville, Virginia, is also the founder of the non-profit National Black Farmers Association, which educates and advocates for Black farmers' civil rights, land retention and access to public and private loans, among other initiatives. Boyd and his father farmed together for 30 years and his grandparents were sharecroppers after the abolition of slavery in 1865. Read more 
---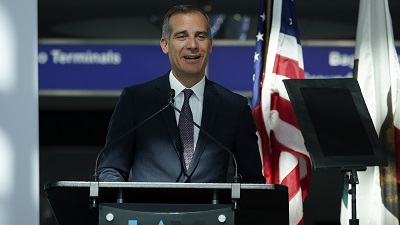 11 Mayors From Los Angeles To Asheville Vow To Create Reparations Pilot Programs. By AP and NPR
Eleven U.S. mayors, from Los Angeles to tiny Tullahassee, Oklahoma, have pledged to pay reparations for slavery to a small group of Black residents in their cities, saying their aim is to set an example for the federal government on how a nationwide program could work. The mayors had no details on how much it would cost, who would pay for it or how people would be chosen. All of those details would be worked out with the help of local commissions comprised of representatives from Black-led organizations set up to advise the mayor of each city. But the mayors say they are committed to paying reparations instead of just talking about them. Read more 
Related: Reparations: What We Get Wrong About Black-White Wealth Gap.  By Kirsten Mullen and William Darity / Rolling Stone
---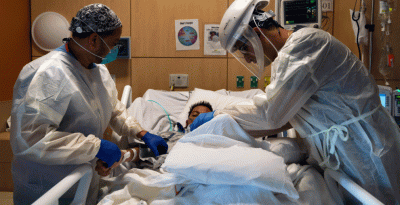 Segregated hospitals are killing Black people. Data from the pandemic proves it. By David A. Asch and Rachel M. Werner / Wash Post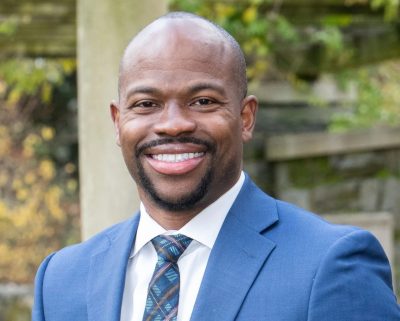 Former George Washington U. provost to become Georgia State University president. By Lauren Lumpkin / Wash Post
George Washington University's former provost and executive vice president for academic affairs has been named Georgia State University's new leader, officials announced Thursday. M. Brian Blake, who served for less than two years as GWU's highest-ranking academic officer, will be the Atlanta school's first Black president in its more than 100-year history, according to officials. The computer scientist and software engineer succeeds Mark Becker, who announced in September the end of his 12-year presidency. Read more 
---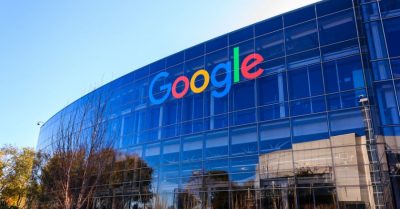 Google announces $50 million in grants for HBCUs. By Crist / CNET

On Thursday, Google announced that it will be giving 10 historically black colleges and universities a total of $50 million in grant funds, with a goal of addressing the diversity gap in tech. "This financial commitment is our largest to date for HBCUs," Google chief diversity officer Melonie Parker wrote in a company blog post announcing the grants. "Each institution will receive a one-time unrestricted financial grant of $5 million, providing institutions with the flexibility to invest in their communities and the future workforce as they see fit." Read more 
Related: Google To Provide Digital Skills Training At HBCUs As Part Of $15 Million Pledge. By Ruth Umoh / Forbes 
Historical / Cultural
---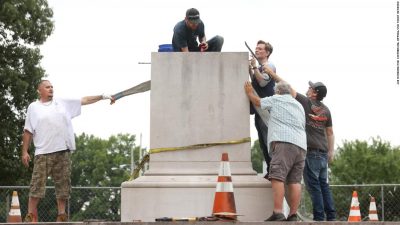 Confederate General's Remains Are Being Moved Out Of Memphis. By AP and NPR
Confederate Gen. Nathan Bedford Forrest's polarizing presence has hung over Memphis since he moved here in 1852 — his legacy cemented by a giant statue that loomed over all who passed his gravesite in a popular park. Defenders considered him a hero for his Civil War exploits. Detractors called him a violent racist and noted his early leadership role in the Ku Klux Klan. Now the former slave trader's remains are set to be moved to a new Confederate museum in Columbia, Tennessee — another milestone in the effort to remove statues, monuments, and now the remains, of Confederate leaders from public spaces. Read more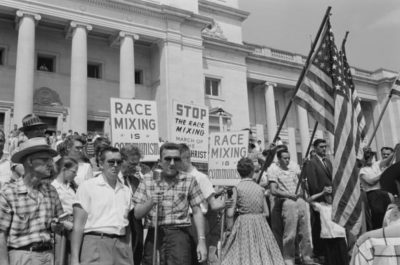 Justice Deferred: The Supreme Court's History of Enforcing Racism. By Frye Gaillard / The Progressive
With their book Justice Deferred: Race and the Supreme Court (Harvard University Press, 464 pages), historian Orville Vernon Burton and civil rights lawyer Armand Derfner have made an important contribution. Burton and Derfner argue that most of the Supreme Court's accomplishments happened from the 1930s to the early 1970s.  Before then, the court "spent much of its history ignoring or suppressing those rights, and in the half century since the early 1970s the Court's record on civil rights has retreated far more than it advanced." Read more
---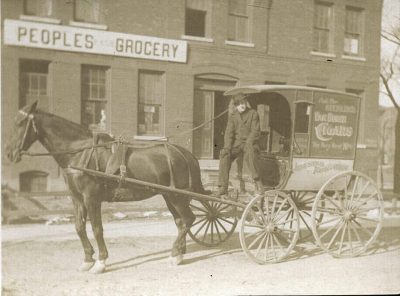 Postal Work and the Struggle for Black Freedom. By Rebecca Brenner Graham / AAIHS
The power of a federal postal worker could not overcome the racist terror of white supremacists in postbellum society, even on the northern end of the South. Wells argues: "The power of the State, county and city, the civil authorities and the strong arm of the military power were all on the side of the mob and of lawlessness." When African Americans discovered limited autonomy and power, white supremacist violence signaled otherwise. Read more
---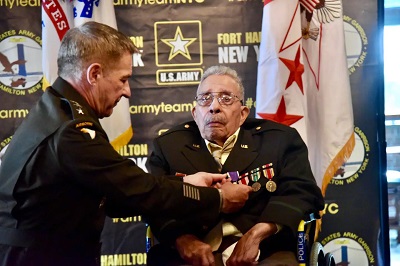 Racism kept a Black WWII vet from a Purple Heart, he says. At 99, he got the award. By Timothy Bella / Wash Post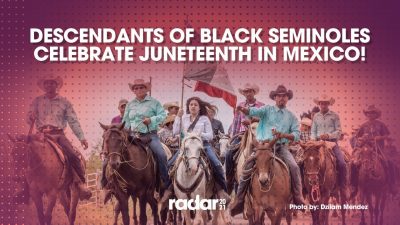 A family celebrates Juneteenth in Mexico — where their Black ancestors first found freedom. By Suzanne Gamboa / NBC News

Rather than staying at home in Texas where Juneteenth was first celebrated, Corina Torralba Harrington goes to her birthplace, Nacimiento de los Negros in Mexico, where her ancestors built a community long before slavery fully ended in the United States. Celebrating Juneteenth in Texas as the day when Union Gen. Gordon Granger declared slaves had been freed is "not our celebration really, because our people freed themselves," she said, referring to her Black Seminole ancestors, known as Negros Mascogos in Mexico. Negro is the word for black in Spanish. They found freedom more than a decade before the 1863 Emancipation Proclamation and before Granger enforced it in Texas on June 19, 1865. Read more 
---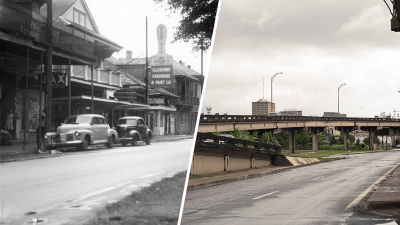 Bulldozed and bisected: Highway construction built a legacy of inequality. By Suzanne Gamboa, Phil McCausland, Josh Lederman and Ben Popken / NBC News
During the largest public works program ever attempted in the United States, Black and Latino communities in cities across the country met the blade of the bulldozer and the crush of the wrecking ball, making room for ribbons of new highway. Whether through blindness or design, the mid-century American interstate highway program demolished homes and bisected communities, driven by the promise of prosperity, faster commutes and jobs. Read more 
---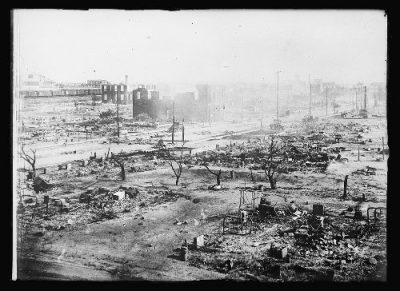 New movies to stream this week: 'Rise Again: Tulsa and the Red Summer,' 'Luca' and more. By Michael O'Sullivan / Wash Post
The new documentary by Dawn Porter ("John Lewis: Good Trouble"), "Rise Again: Tulsa and the Red Summer" marks a somber anniversary: the centennial of the 1921 Tulsa Race Massacre, in which as many as 300 Black Tulsans were killed — and a neighborhood known as Black Wall Street destroyed.  Available on National Geographic and Hulu. Contains some disturbing archival images, discussion of violence and mature thematic elements. 88 minutes. Read more 
---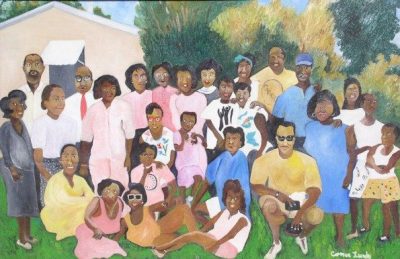 Soul food, summer sun, and family reunion tunes for Father's Day. By Denise Oliver Velez / Daily Kos

Today is a day with multiple meanings and associated celebrations. It's Summer Solstice, Father's Day, and in my family (and perhaps in yours), it is a time for an annual family reunion and soul food cookout, which quite a few folks may actually get to do this year with their vaccinated relatives and friends. So for today's #BlackMusicSunday, I've got a mixed bag of musical offerings to usher in summertime, honor dads, and whet your appetite for BBQ and all the fixings. Read and Listen here
Sports
---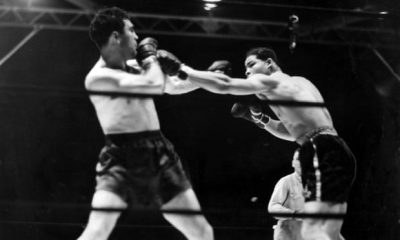 The legacy of Joe Louis' loss to Max Schmeling on Juneteenth.  By Ben Wyatt
Historical narrative can often be grafted on to sporting events in retrospect. When one of the world's most famous black Americans, Joe Louis, bludgeoned Germany's Max Schmeling to a first-round defeat in 1938, it was symbolic of free-world endurance against the fascism of Schmeling's Nazi homeland. In two minutes and four seconds of brutal efficiency, Louis exploded with a barrage of uppercuts, crosses and hooks to put his opponent on the canvas three times. By the time the fight ended in technical knockout, Schmeling had thrown just four punches, two of which had missed, to Louis's 31. Many spectators had yet to take their seats. Watch here 
---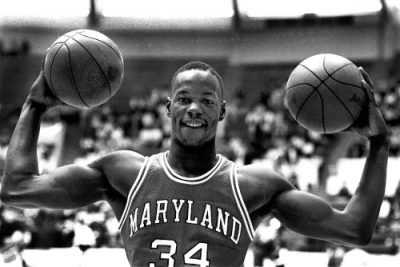 Thirty-five years after his death, Len Bias's story continues to resonate. By Scott Allen / Wash Post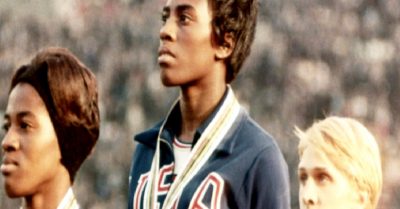 A Quiet Demonstration and a Long Shadow. By Jeré Longman / NYT
To stay loose for the women's 100-meter sprint at the 1968 Olympics in Mexico City, Wyomia Tyus danced the "Tighten Up" before settling into her starting blocks. The dance song was an early funk classic by Archie Bell and the Drells, a Houston band that proclaimed with jaunty assurance, "We don't only sing, but we dance just as good as we want." Tyus stepped with similar confidence into the blocks. And 11.08 seconds later, she ran into history. She set a world record and became the first man or woman to win 100-meter titles in consecutive Olympics, ratifying the gold medal she won unexpectedly as a 19-year-old at the 1964 Summer Games in Tokyo. Few noticed Wyomia Tyus's subtle gesture in support of human rights at the 1968 Olympics. But her act is part of a rich history of athlete protest. Read more 
Site Information
---
Visit our home page for more articles, book/podcast and video favorites. And at the top of this page register your email to receive notification of new editions of Race Inquiry Digest. Click here for earlier Digests.
About Race Inquiry and Race Inquiry Digest. The Digest is published on Mondays and Thursdays. 
Use the buttons below to share the Digest in an email, or post to your Facebook, Linkedin or Twitter accounts.