Featured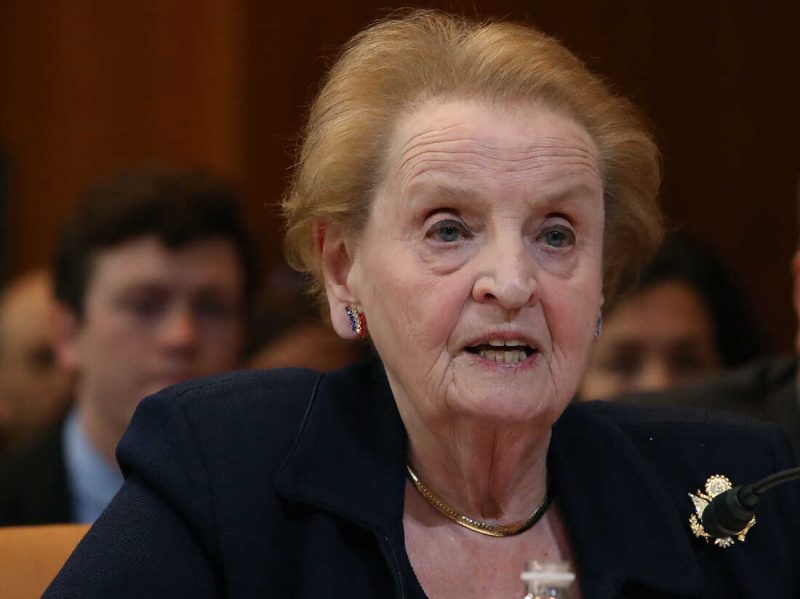 Hillary Clinton: Madeleine Albright Warned Us, and She Was Right / NYT

To celebrate the 50th anniversary of the end of World War II, she visited parts of the Czech Republic that had been liberated by American troops in 1945. Many people waved American flags as she passed, and to her surprise, some had just 48 stars. They had to be decades old. It turned out that American G.I.s had handed out the flags a half-century earlier. Czech families said they had kept them hidden all through the years of Soviet domination, passing them down from generation to generation as the embodiment of their hope for a better, freer future.
Madeleine knew exactly what that meant. Even at the end of her life, she treasured her first glimpse of the Statue of Liberty, sailing into New York Harbor in 1948 as an 11-year-old refugee on a ship called the S.S. America. She would have been thrilled by President Biden's announcement on Thursday that the United States will welcome up to 100,000 refugees fleeing Ukraine, and she would encourage us to do more to respond to this unfolding humanitarian nightmare. She would warn, as she did in her book, about the "self-centered moral numbness that allows Fascism to thrive," and urge us to keep pushing the envelop. Read more 
Related: Putin Is Making a Historic Mistake. By Madeline Albright / NYT
Related: 'Us vs. Them' Thinking Is Tearing America Apart. By Madeline Albright / Time 
Related: Ukraine, Trump and QAnon: Why the far right is backing Russia, Putin. By Will Carless and Jessica Guynn / USA Today 
Political / Social
---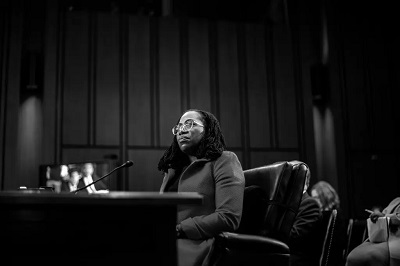 The Using of Ketanji Brown Jackson By Charles M. Blow / NYT
So what does one do when a nominee's ascension to the bench is most likely a foregone conclusion? You use that big stage and the bright light to put on a show. In many ways, Judge Jackson is just a prop in that show, the reason all 22 members of the Senate Judiciary Committee are gathered for this performance, but nothing more. In many ways, she is being used. Read more 
Related: Ketanji Brown Jackson Hearings Energize Black Law Students. By Andrea González-Ramírez / New York Magazine
Related: Black women feel sting of 'traumatizing' Jackson hearings. By Lisa Mascaro and Aaron Morrison / AP and PBS
Related: Focus on race and crime in Jackson's hearing recalls Thurgood Marshall's — 55 years ago. By Margaret M. Russell / The Conversation
---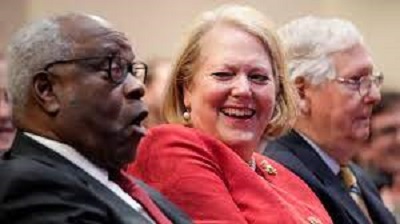 Critics Clamor For Clarence Thomas To Quit, Be Impeached Or Recuse Himself From Cases. By Mary Papenfuss / Huff Post
Wife Ginni Thomas' wild tweets begging a Trump aide to upend the 2020 presidential election raise serious concerns about the Supreme Court justice. 

Supreme Court Justice Clarence Thomas and his "Stop the Steal" activist wife have "done enough damage" to the integrity of the nation's top court that it's time for Thomas to "do the country a service by stepping down," declared a scathing opinion piece Friday by a member of The New York Times editorial board. The call for Thomas to quit comes in the wake of the revelation Thursday that dozens of emails were sent by the justice's "supremely well-connected right-wing agitator" wife, Virginia "Ginni" Thomas, as she worked "feverishly" to press then-White House chief of staff Mark Meadows to overturn a legitimate presidential election that Donald Trump had "incontrovertibly" lost, Jesse Wegman wrote in the Times. Read more 
Related: Ginni and Clarence Thomas Have Done Enough Damage. By Jesse Wegman / NYT

Related: The Worst Ginni Thomas Text Wasn't From Ginni Thomas. By David French / The Atlantic
Related: The Corruption of Clarence and Ginni Thomas. By Joan Walsh / The Nation
---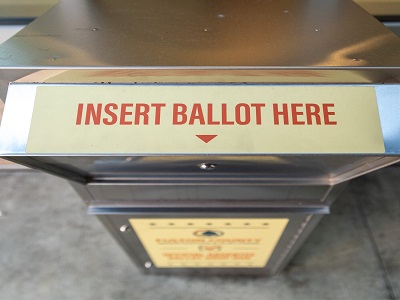 What Is Georgia's Political Future? By Julian E. Zelizer / NYT

How do Democrats flip a state from red to purple to blue? This question keeps Democratic operatives lying awake at night. What better place to search for answers than Georgia? In 2020, Georgians voted for the Democratic presidential nominee, Joe Biden. The elections of the Rev. Raphael Warnock and Jon Ossoff also handed Democrats a slim majority in the U.S. Senate. The results, according to the Atlanta Journal-Constitution reporter Greg Bluestein in his new book, "Flipped," provided "Democrats an invaluable foothold in the Deep South and a bulwark against growing Republican strength in the Midwest." Read more 
---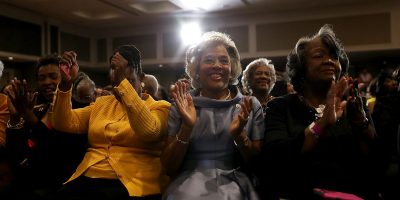 More Black women run for Congress, statehouse seats inspired by Harris. By Deborah Barfield Berry / USA Today

More Black women are running for office, inspired in part by Vice President Kamala Harris, the Black social justice movement and the lack of diverse representation in politics. To win, many are participating in training programs designed to help them overcome sexism and racism. Ohio state Rep. Emilia Sykes joined five other Black women in a rented home in Martha's Vineyard last summer to map out fundraising strategies for their next bids for office. The state lawmakers – some from as far away as Oregon and Tennessee –talked with experts about how to ramp up their social media, navigate grueling campaigns and squeeze in time for self-care. Read more 

---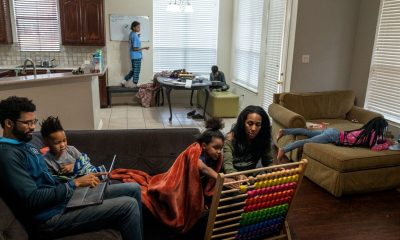 Homeschooling Has Become More Popular Among Black Families. By Katie Reilly / Time

For Shari Rohan, it was a social-studies lesson that described enslaved people receiving "on-the-job training." For Zanetta Lamar, it was the fact that her son was the only Black student in his grade. For Andrea Thomas, it was realizing just how little she had learned about Black history while attending both public and private schools. "I did not want my children to have that same experience," says Thomas, who, along with Rohan and Lamar, is now homeschooling her children, becoming part of a movement that once was seen as the domain of white, conservative families. "I wanted them to have a deeper understanding of history and the flaws within our history." Read more 
Related: Schools nationwide are quietly removing books from their libraries. By Hannah Natanson / Wash Post 
Related: Teaching Tolerance Doesn't Mean Avoiding the 'Ugly' Side of U.S. History. By Pedro A. Noguera / Newsweek
Related: What the children's books Ted Cruz referenced at Ketanji Brown Jackson's confirmation hearing really say. By Harmeet Kaur / CNN
---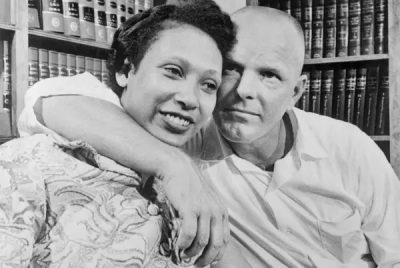 How Are We Still Debating Interracial Marriage in 2022? By Jamelle Bouie / NYT

"You would be OK with the Supreme Court leaving the question of interracial marriage to the states?"
"Yes," said Senator Mike Braun of Indiana while fielding questions from local media on Tuesday. "If you're not wanting the Supreme Court to weigh in on issues like that, you're not going to be able to have your cake and eat it, too," he said. "That's hypocritical." Braun walked this back, of course, undoubtedly aware of the damage it could do if he let it stand. Read more 
---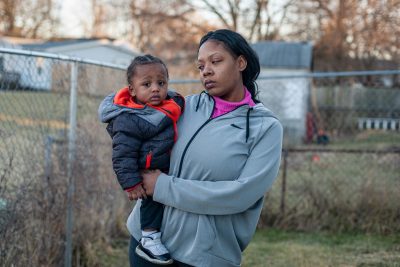 The Eviction Moratorium Is Over. Black Renters Are Suffering the Most—Again. By Lori Teresa Yearwood / New Republic
In Indianapolis, like many American cities, the long shadow of segregation continues to punish Black neighborhoods—to the disproportionate benefit of white landlords.

By Thanksgiving, Tiesha Harris had run out of ways to cope. She'd been living in her 2007 Chevy Trailblazer since she contracted Covid-19, fell behind on her rent, and was evicted from an apartment in September. Her four children, ages one to 13 years old, were split around Indianapolis, with three away and living in various homes, and her youngest by her side. Since their eviction, Harris had packed most of her family's belongings into a storage unit. The rest resided in plastic bins stacked carefully in the back of her trunk. Read more 
---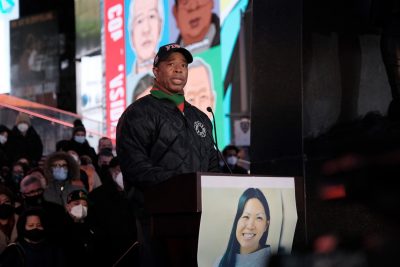 New York Asian hate crime spike puts pressure on new mayor. Erin Durkin / Politico
New York Mayor Eric Adams speaks at a Jan. 18 vigil for Michelle Go, who was killed in a Times Square subway station the weekend before. | Spencer Platt/Getty Images

Attacks on Asian American New Yorkers have become so prevalent since the pandemic began that a lawmaker is calling on the governor to declare a state of emergency. One woman was shoved in front of a subway train. A senior citizen was punched in the face by an assailant who reportedly told police Chinese people "look like measles." Another woman was stabbed 40 times in her Chinatown apartment — and a "Stop Asian Hate" memorial left in her honor smashed by vandals. Read more 
---
Jury awards $14 million to George Floyd protesters injured by cops in Denver. By Daniel Politi / Slate
Police officers in Denver violated the rights of protesters during the huge 2020 protests over the killing of George Floyd, a federal jury said Friday. As a result, 12 protesters were awarded a total of $14 million in damages after a three-week trial that lawyers involved in the case characterized as the first trial in a lawsuit that challenged police tactics during the 2020 protests that broke out across the country after the killing of Floyd. Read more 

---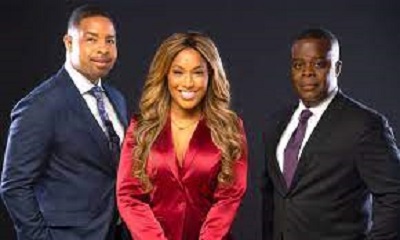 Black News Channel shuts down after backer declines to fund it further. By Jessica Glenza / The Guardian
The Black News Channel hosts Mike Hill, left, and Sharon Reed with CEO Princell Hair. Photograph: AP

The Black News Channel, a cable news station focused on serving Black viewers, ceased operations on Friday afternoon after its billionaire backer declined to provide more funding for the startup. Many of the news channel's journalists left careers at established media organizations to join the start-up, in hopes of bringing news to a historically underserved audience. One of the station's presenters, Marc Lamont Hill, told the Hollywood Reporter the station had "an incredible assignment" and would work to "fill the void" for neglected audiences at a relaunch one year ago. Read more 
Ethics / Morality / Religion
---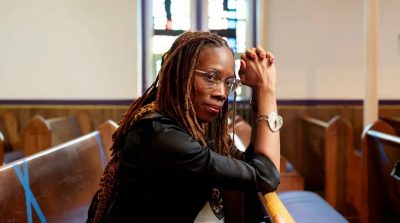 Drawing from the Black church, a psychologist pushes to reshape mental health care. By Rebecca Tan / Wash Post

Thema Bryant, an ordained minister, is taking over leadership of the American Psychological Association at a critical turning point for the field
---
Self-defense, domestic violence and the limits of the US justice system. By Marin Cogan and Madeleine O'Neill /Vox
Delores White said she was defending her daughter. She went to jail anyway.
Forgiveness is not the primary purpose of the law — justice is. But the US legal system is a distinctively unforgiving one. "The United States is particularly punitive in defining, prosecuting, and punishing crimes, especially if the accused is a member of a racial minority," writes Martha Minow, a professor at Harvard Law and author of the bookWhen Should Law Forgive? Read more 

---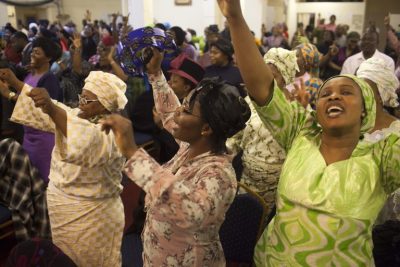 Why the future of the world's largest religion is female – and African. Gina Zurto / The Conversation
I research women in global Christianity and am frequently asked what percentage of the religion is female. The short answer is 52%. But the long answer is more complicated – women make up a much more substantial part of Christianity than that number makes it seem. Social scientists have shown for decades that women are more religious than men by a variety of measures – everything from frequency of private prayer to worship service attendance. Christianity, the world's largest religion, is no exception. Read more
Historical / Cultural
---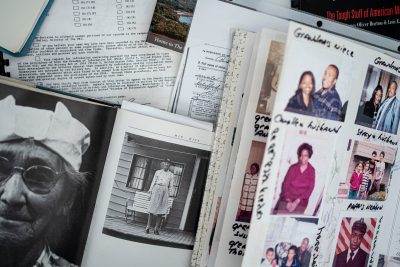 Descendants Trace Histories Linked by Slavery. By Amanda Holpuch / NYT
Some American descendants of enslaved people and others whose ancestors profited are using online portals to collaborate and reckon with their shared family pasts.
Each week, Sharon Morgan sits at her desk and consults property records, deeds and wills that draw a clear line from her computer in Noxubee County, Miss., to her ancestors who were enslaved at a nearby plantation. Sometimes Ms. Morgan, 71, still has to climb a rickety ladder at the county courthouse to retrieve heavy books from the 1800s, but the internet and other technologies have increasingly transformed the hard work of reconstructing the past as she had practiced it for decades. Read more 
Related: Slaveowners' names adorn D.C. buildings. The grand effort to change that is dead. By Julie Zauzmer Weil / Wash Post
---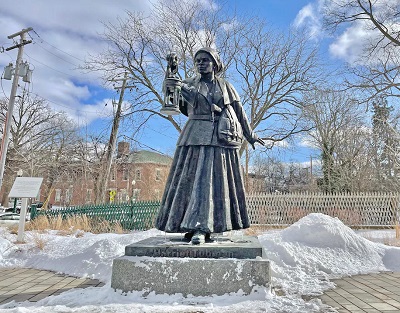 Celebrating Harriet Tubman's 200th birthday in Auburn, N.Y. By Andrea Sachs / Wash Post
A statue of Harriet Tubman on the plaza of the New York State Equal Rights Heritage Center in Auburn, N.Y. (Andrea Sachs/The Washington Post)
---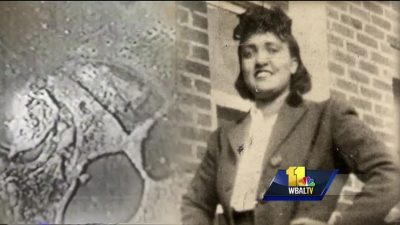 Bill would honor Henrietta Lacks with posthumous Congressional Gold Medal. By McKenna Oxenden / Wash Post
Rep. Kweisi Mfume (D-Md.) filed legislation March 15 to posthumously award a Congressional Gold Medal to Henrietta Lacks, a Baltimore County woman whose cells were used for medical research without her consent. "For Ms. Lacks to have gone on to her grave many, many years ago for whatever miracle God put in her body to be able to keep helping us, I think it warrants recognition from the United States Congress," Mfume said during an interview. Read more 
---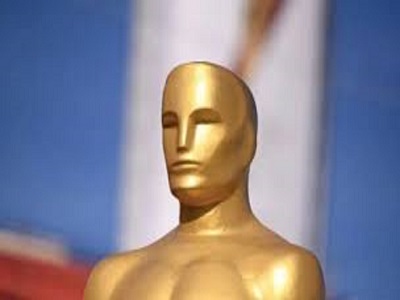 #OscarsSoWhite still plagues Hollywood's highest achievement awards. Frederick Gooding Jr. / The Conversation
Four Black actors were nominated for Oscars in 2022, six years after the Twitter campaign #OscarsSoWhite rocked Hollywood. In the long history of Hollywood snubs, the Academy of Motion Picture Arts and Sciences gets some credit for at least trying to diversify the Hollywood film industry. After all, it's not a complete shutout for Black actors, as it was in 2016 when #OscarsSoWhite castigated the Academy for not having a single Black actor nominated for an Oscar in any acting category, despite riveting performances by Michael B. Jordan in "Creed", Will Smith in "Concussion" and Corey Hawkins in "Straight Outta Compton". Read more 
Related: Black Music and Black messages at the Oscars. By Denise Oliver Velez / Daily Kos 
Related: People of color helped Hollywood through another pandemic year, a new study says. By Andrew Limbong / NPR
---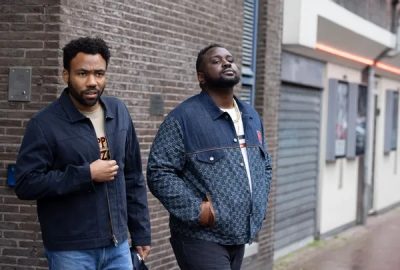 The return of "Atlanta" is perfectly timed, delivering its sharp honesty when we need it most. By Melanie McFarland / Salon
Every season of "Atlanta" opens with a scene from everyday life that transforms, in the space of a breath, into a life-or-death struggle. The latest season launches with a horror movie presented in three parts (hinted at in its title, "Three Slaps"), beginning with two men night fishing, ending in a luxurious Copenhagen hotel room and tagging along with Laquarius' misadventures in between. More than four years have passed between the second and third seasons of "Atlanta," but life for Black folks hasn't changed enough for its plot to depart from Donald Glover's original thesis. "I always want people to be scared, because that's how it kind of feels to be Black," the show's creator declared before the first season premiered. Streaming on Hulu.  Read more 
---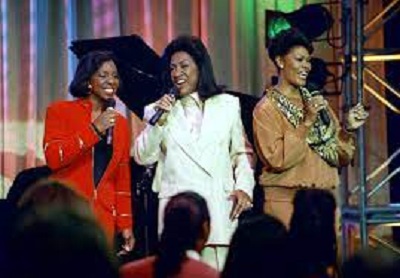 The early '70s was prime time for soul queens on the charts. By Chris Molanphy / Slate Podcast
How four R&B queens—Dionne, Patti, Roberta, and Chaka—evolved into chart-toppers through the '60s, '70s and '80s.
The early '70s was a great time for R&B queens on the charts: Roberta Flack. Dionne Warwick. Patti LaBelle. Chaka Khan. They had come through the '60s—Dionne as a smooth pop-and-B star, Patti as a girl-group frontwoman, Roberta as a cabaret pianist—and found themselves in a new decade with limitless possibilities. Flack turned folk songs into chart-topping, Grammy-winning R&B. Warwick shifted from Brill Building pop to Philly soul. LaBelle threw her insane voice at rock, funk, and glam. And a relative newcomer, Rufus frontwoman Chaka Khan, followed in their footsteps, commanding the band and converting to disco, then electro. By the '80s, all four women were ready for a major chart victory lap. Listen here
Sports
---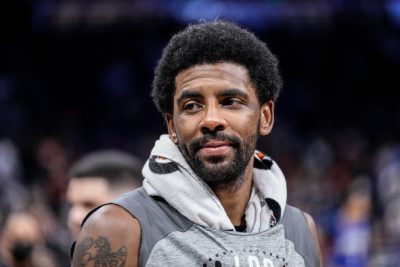 Kyrie Irving successfully ran out the vaccine clock in New York City. By Matenzie Johnson / Andscape
It doesn't feel great that the Nets star outlasted New York's workplace vaccine mandate. But why was he missing games at this point?
Irving was barred from playing in the March 13 game against the New York Knicks — and any games that took place in New York or Toronto — due to his continued refusal to get vaccinated, which was a requirement to play in those cities. On Thursday, New York City mayor Eric Adams exempted athletes and performers from the city's workplace vaccine mandate effective immediately, allowing Irving to return to play in home games. Read more 
---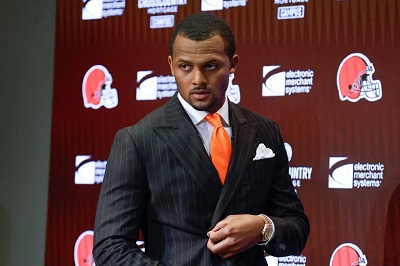 Deshaun Watson Insists 'I Never Assaulted Any Woman.' By Jenny Vrentas / NYT
Introduced by his new team, the Cleveland Browns, the former Houston Texans quarterback vowed to keep fighting the 22 civil lawsuits filed by women who accused him of sexual misconduct.

The N.F.L. quarterback Deshaun Watson on Friday gave his most direct and forceful denial to date of the accusations of sexual misconduct brought against him by two dozen women. The former Houston Texans quarterback, speaking at a news conference held by his new team, the Cleveland Browns, said, "I have never assaulted any woman. I have never disrespected any woman." Read more 
Site Information
---
Articles appearing in the Digest are archived on our  home page.  And at the top of this page register your email to receive notification of new editions of Race Inquiry Digest.
Click here for earlier Digests. The site is searchable by name or topic.  See "search" at the top of this page. 
About Race Inquiry and Race Inquiry Digest. The Digest is published on Mondays and Thursdays. 
Use the customized buttons below to share the Digest in an email, or post to your Facebook, Linkedin or Twitter accounts.