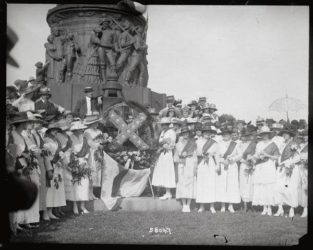 Featured – The 'Lost Cause' That Built Jim Crow. Southern "Redeemers" snuffed out the first black power movement. By Henry Louis Gates / NYT
Shown are the Daughters of the Confederacy unveiling the Confederate monument at Arlington National Cemetery in 1917.
"So determined were most white Southerners to maintain their own way of life that they resorted to fraud, intimidation and murder in order to re-establish their own control of the state governments," the historian Rayford W. Logan wrote in his classic work, "The Betrayal of the Negro." In essence, he said, "the new civil war within the Southern states stemmed from an adamant determination to restore white supremacy."  Must read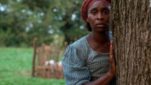 'Harriet' breaks open what we know about slavery. By Lisa Woolfolk / CNN

"Harriet" is a unique Hollywood offering that avoids the common pitfalls of blockbuster films about American slavery. Co-written and directed by a black woman, the film sidesteps the prevailing white savior trope and effectively presents what scholar Saidiya Hartman has described as the antebellum period's "profound indifference to black suffering" by illustrating ideas and practices that dehumanize. Read more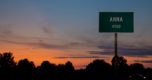 The Legend of A-N-N-A: Revisiting and American Town Where Black People Weren't Welcome After Dark. By Logan Jaffe / ProPublica
I took a seat at the bar. A man two stools over from me struck up a conversation. I told him I was a journalist from Chicago and asked him to tell me about this town. "You know how this town is called Anna?" he started. "That's for 'Ain't No Niggers Allowed.'" He laughed, shook his head and took a sip of his beer. The man was white. I am white. Everyone else in that restaurant in Anna was white. Read more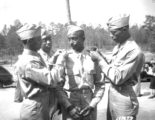 GI Bill opened doors to college for many vets, but politicians created a separate one for blacks. By Joseph Thompson / The Conversation
When President Franklin Roosevelt signed the GI Bill into law on June 22, 1944, it laid the foundation for benefits that would help generations of veterans achieve social mobility. So, while white veterans got into college with relative ease, black service members faced limited options and outright denial in their pursuit for educational advancement. This resulted in uneven outcomes of the GI Bill's impact. Read more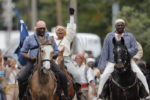 Hundreds March In Reenactment Of A Historic, But Long Forgotten Slave Rebellion. By Leila Fadel / NPR
More than 200 years ago, in January of 1811, a group of enslaved people on a plantation on the outskirts of New Orleans rose up, armed themselves and began a long march toward the city. Hundreds would join them along the way. Their goal: to free every slave they found and then seize the Crescent City. Read more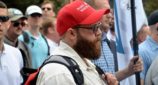 They Are Racist; Some of Them Have Guns. Inside the White Supremacist Group Hiding in Plain Sight. By Carol Schaffer and Fritz Zimmermann / ProPublica
Patriot Front is perhaps the most active white supremacist group in the nation. ProPublica explores its origins, secret communications, history of arrests and outsize aims for an all-white America. Read more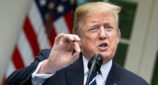 Don't get suckered by the polls: Donald Trump will win again — unless we fight for democracy. By Chauncey DeVega / Salon
he 2020 presidential campaign is starting to feel a lot like 2016. This is a good thing for Donald Trump and his Republican Party. It is a bad thing for the Democrats. All the pieces for Trump's re-election are in place. At this turning point in American history, will we fight? Read more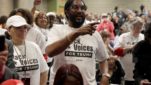 Black Lives MAGA: President launches Campaign Effort Called 'Black Voices for Trump' (of All Things) – In Atlanta (of All Places). By Karu F. Daniels / The Root
On Friday, AmeriKKKa's favorite president hit Hotlanta—the quasi-mecca for upwardly mobile, Southern-centric black millennials and those who love them—to kick off his latest campaign effort called "Black Voices for Trump," dedicated to recruiting and activating African American voters who support him. Read more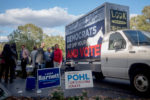 How Voters Turned Virginia From Deep Red to Solid Blue. By Sabrina Tavernise and Robert Gebeloff / NYT
A new kind of suburbanization is sweeping through politics, from Richmond to Atlanta, Houston, Denver and elsewhere, and Democrats are starting to breach Republicans' firewalls in elections. A changing population turned Virginia solid blue.  Read more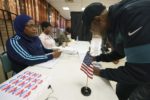 Democratic wins come with a warning sign: Low African American voter turnout. By David Wasserman / NBC News
In Virginia, Democrats wrested control of the state Senate by flipping one seat each in the fast-changing, highly professional northern Virginia and Richmond suburbs. However, the results weren't as sparkling for Democrats in Mississippi, the least-white state at stake in Tuesday's major contests. Plain and simple, African American turnout there was weaker than expected — and that should serve as a warning to Democrats elsewhere. Read more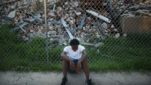 For black Americans moving to a new city, these are some of the worst places to settle. By Evan Comen / USA Today
While there has been substantial progress over the 50 years since the civil rights era, racial disparities persist or have worsened in some of America's largest cities. The Civil Rights Act of 1964 and the Fair Housing Act of 1968 banned discriminatory lending, zoning, and renting practices — addressing but not undoing segregation and racial disparities that remain unchanged in many cities and neighborhoods. Here are the most segregated cities in America. Read more

How Latinos saved American cities. After whites fled and before the 'creative class' moved in, immigrants kept urban neighborhoods alive. By A.K. Sandoval-Strausz / Wash Post
As Latin American migrants are today demonized and scapegoated, their indispensable role in solving one of the greatest crises of the 20th century shouldn't be overlooked. While virtually every other demographic group in most cities shrunk, Latin American newcomers replenished neighborhoods. Read more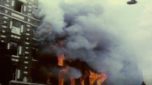 Why the Bronx Burned. By Mrill Ingram / The Progressive
In Decade of Fire, an Independent Lens release that premiered November 4 on PBS, we follow Bronx resident Vivian Vázquez Irizarry as she sets out in search of the truth about why her neighborhood burned, and burned, and burned. In a general sense, Decade of Fire tells an all-too-familiar story that unfolded in cities across the United States: Realtors redlined neighborhoods beginning as early as the 1930s, and people of color in certain areas were unable to get home improvement loans or home buyers loans. Read more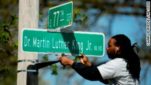 Kansas City voters choose to remove Martin Luther King Jr.'s name from a historic street. By David Williams / CNN
Voters in Kansas City, Missouri, decided to remove Martin Luther King Jr.'s name from a historic boulevard that was renamed in January to honor the civil rights leader. In a special election Tuesday, the measure to change Dr. Martin Luther King, Jr. Blvd. back to The Paseo Boulevard received about 65% of the vote, according to figures released by the city's Board of Election Commissioners. Read more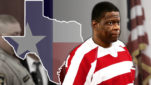 42 Texas Lawmakers Join Forces To Urge Governor to Halt Rodney Reed's Execution. By Carla Herreria / HuffPost
A bipartisan group of Texas senators and representatives issued two separate but identical letters as support for the death row inmate's commutation grows. Read more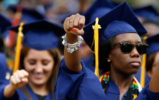 Debt Is Holding Black Americans Hostage. By Edna Bonhomme / The Nation
What do we need to end black debt? An honest discussion about reparations—and forgiveness on a mass scale. In a moment where ordinary Americans of various socioeconomic and ethnic backgrounds struggle to pay back student loans, mortgages, and health bills, eliminating debt needs to be central to US domestic policy if the next generation is to thrive. Read more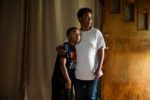 Flint's Children Suffer in Class After Years of Drinking the Lead-Poisoned Water. By Erica L. Green / NYT
The city's schools, stretched even before the lead crisis, are struggling with demands for individualized education programs and behavioral interventions for children with high lead exposure. Read more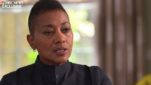 Whitney Houston confidante Robyn Crawford confirms their queer relationship — and reclaims her time. By Trish Bendix / NBC News
"She said we shouldn't be physical anymore," Crawford writes in "A Song For You," "because it would make our journey even more difficult." Crawford details that this happened in 1982, just before Houston signed with Clive Davis at Arista Records. Crawford writes that Houston presented her with a Bible, telling her people would use their relationship against them. Read more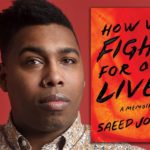 Saeed Jones on "How We Fight For Our Lives" and writing with "skin in the game." By D. Watkins / Salon
"How We Fight for Our Lives" is a compelling memoir about growing up black and queer in America, a country with a history of not being kind to people who are either or both. In his book, which Jones takes a deep dive into our flawed society and explores how our culture struggles with accepting anything perceived as not normal, and chronicles how he carved his own path through the middle of the endless madness. We learn about his journey through religion, sexuality, queerness and how these complexities are defined and understood in an American black family. Read more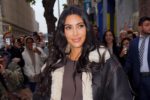 How Kim Kardashian West Came to Represent America. By Lauren Michele Jackson / Slate
She is brown, or genuinely Caucasian, heavily kohled and somber visiting Armenia with her beautiful brown babies, now four in number. She's color-corrected, olive replaced with pink, and believably, "Legally Blonde." There is costume and so much more. She is niggerish compared with Chloë Grace Moretz or Taylor Swift. She is white again when a negress enters the frame: Blac Chyna, Jordyn Woods. Her race is performative, not in that it's fiction but in the sense of doing something—doing race. She is amalgamation without the sex, passing without the melodrama—she is exactly what America deserves. Read more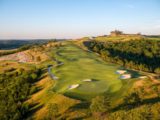 Tiger Woods' First Public Golf Course Is Awesome. By Larry Olmsted / Forbes
It's been a very good year for Tiger Woods. He just won his 82nd tournament, moving into a tie for all-time first place, and while he is also second in major victories to only Jack Nicklaus, he closed that gap too with a dramatic comeback win at the Masters. Now Tiger is stalking Jack in another profession, course design. Read more
Visit our home page for more articles. And at the top of this page register your email to receive notification of new editions of Race Inquiry Digest.   Click here for earlier Digests. 
Use the buttons below to share the Digest in an email, or you can post to your Facebook, Linkedin or Twitter accounts.