Featured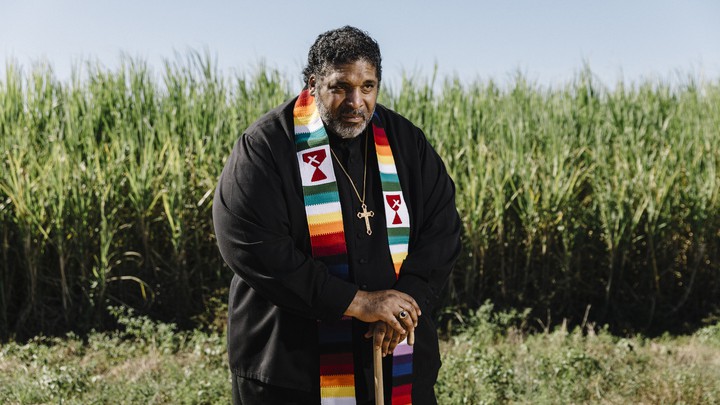 Is American Healing Even Possible? By Adam Harris / The Atlantic
In an extended interview, the Reverend William J. Barber II explains why healing the soul of the nation will take more than returning to "normal." "We say there are five areas: systemic racism, systemic poverty, ecological devastation and the denial of health care, the war economy, and the false moral narrative of religious nationalism. Those are five interlocking injustices that threaten the soul of this nation. And if you don't heal them—work on them in the body—then the soul, the peace, the domestic tranquility, the promises of the nation, are always being undermined. And you cannot address any of those things without addressing concrete, real policies." Read more 
Related: It's Time America Abolished Poverty. We know how to do it. On this week's show, we lay out the path to a poverty-free future. By Melissa Harris-Perry and Dorian T. Warren / The Nation
Political / Social
---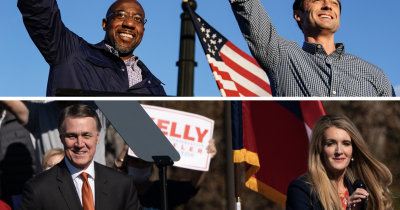 What exit polls say about state of Georgia's Senate runoffs. By Elena Cox and Lacrai Mitchell / CBS News
It's rare for runoff elections to generate much interest among voters, but Georgia seems primed to be the exception, with its two upcoming Senate runoffs in January that will determine who controls the Senate. Republicans and Democrats are searching the state for new voters, although CBS News exit polling of the general election suggests neither party has much room to grow outside of their bases before the January runoffs. Time is short, with little over two weeks before early voting begins. One race pits GOP Senator Kelly Loeffler against Democrat Reverend Raphael Warnock and the other has Republican David Perdue defending his seat against Jon Ossoff. Read more
Related: Black Lives Matter has its eyes on Biden and the Georgia Senate election runoffs. By Rachel Ramirez / Vox  
Related: RNC chair struggles to energize Georgia Republicans to vote in runoffs they see as rigged. By Daniewl Politi / Slate
Related: Record Asian American turnout helped Biden win Georgia. Can it help flip the Senate? By Amy B. Wang / Wash Post 
---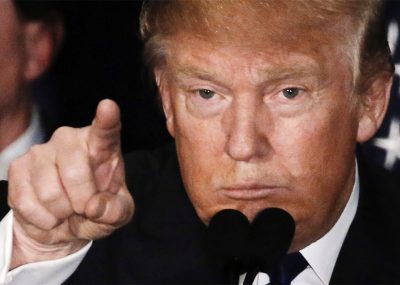 How Trump revealed the right's "psychic longing for an American strongman." By Alex Henderson / Alternet and Salon

The GOP's brand, according to Patterson, a former chairman of Common Cause and a member of the Council on Foreign Relations, explains, "white grievance and anxiety," and "racial antagonism" has become a "badge of pride" for Trump and his devotees. Trump, Patterson writes, "comprehends his audience all too well" — and that audience is an angry one. "For many in the Republican base, he fulfills a psychic longing for an American strongman," Patterson notes. "This will to autocracy as self-defense is supplemented by fundamentalist fanaticism. . . When electoral defeat augurs a religious apocalypse in the minds of evangelicals, democracy itself becomes their enemy." Read more
Related: Trump isn't the reason we can't quit Trump — the obsession is really about his followers. Amanda Marcotte / Salon
Related: White women vote Republican. Get used to it, Democrats. By Lyz Lenz / Wash Post 
---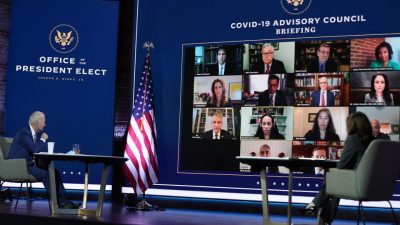 Biden Creates Diverse Covid-19 Advisory Board To Contrast With Trump. By Andrew Solendar / Forbes
The preliminary members of the Biden transition's coronavirus advisory board announced earlier this month were primarily disease experts and medical professionals, and the list was far more saturated with women and people of color. Trump's coronavirus task force primarily consists of political appointees, including Secretary of Housing and Urban Development Ben Carson, economic adviser Larry Kudlow and National Security Advisor Robert O'Brien, and is 81% white men. Read more 
---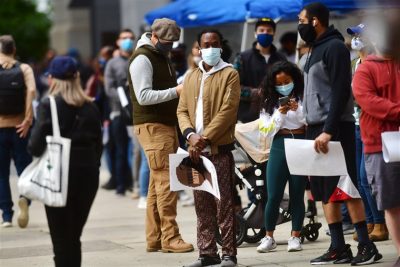 From Covid-19 to racial justice, how 2020's biggest issues influenced the Black vote. By Donna Owens / NBC News
"This election shows the country is no longer dominated politically by white voters," Fernandez said. "A coalition led by people of color is now the dominant political reality in the United States." More than 15,000 Americans who voted were sampled, including 4,100 African Americans from several battleground states, including Georgia and Wisconsin. Key takeaways: More than half of Black voters called the coronavirus pandemic the top priority that elected officials should address, followed by discrimination and racial justice. Read more 
Related: The health-care system has failed Black Americans. No wonder many are hesitant about a vaccine. By  Karen Attiah / Wash Post 
---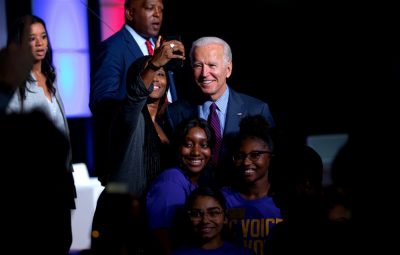 Biden is under pressure to forgive student debt. Here's why it's a racial issue. By Randi Richardson / NBC News

President-elect Joe Biden is facing mounting pressure to extend student loan debt relief or forgive thousands of indebted dollars for the millions of people who had their loan payments suspended throughout the pandemic. With payments expected to resume in the new year, action on this front could help many who are out of work or facing financial hardship. Such relief could have a significant impact beyond the pandemic for Black student loan borrowers who are regularly forced to take on higher debt loads to afford college. Read more 
---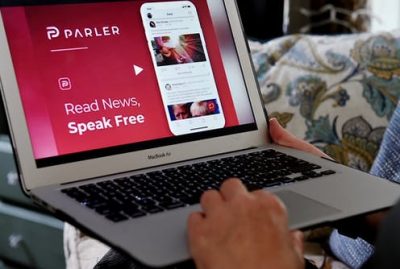 Parler is bringing together mainstream conservatives, anti-Semites and white supremacists as the social media platform attracts millions of Trump supporters. By Alex Newhouse / The Conversation
Since the 2020 U.S. presidential election, Parler has caught on among right-wing politicians and "influencers" – people with large online followings – as a social media platform where they can share and promote ideas without worrying about the company blocking or flagging their posts for being dangerous or misleading. However, the website has become a haven for far-right extremists and conspiracy theorists who are now interacting with the mainstream conservatives flocking to the platform. Read more 
Related: Fake news in Asian American communities can affect elections. Organizers are worried. By Terry Nguyen / Vox
---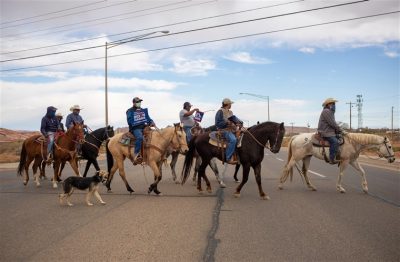 In Trump v. Biden, Native American voters played a crucial role. It's time to recognize that. By Julian Brave NoiseCat / NBC News 
On Election Night, CNN broadcast a table showing the results of an exit poll that broke the national electorate down into racial demographics. It read: White — 65 percent, Latino — 13 percent, Black — 12 percent, Something else — 6 percent, Asian — 3 percent. Almost immediately, that second-to-last category, "Something Else," provoked an online uproar among the digital denizens of Indian Country. As with most internet phenomena, the poll circled an important truth. Native people are often erased in the media and elections. Overall, according to Brekhus' reading of the data, precincts on the Navajo Nation averaged about 84 percent for Biden and 14 percent for President Donald Trump. With Arizona decided by so few votes, the Navajo may legitimately claim that their ballots made the difference. Biden and other Democrats likely couldn't have carried Arizona — its 11 Electoral College votes and its Senate seat — without them. Read more 
---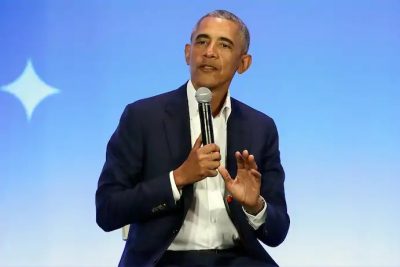 Obama's take on evangelical Hispanics could reinforce Democrats' challenges. By Eugene Scott / Wash Post 
Weighing in on why President-elect Joe Biden lost the support of so many Hispanic voters, former president Barack Obama gave an answer that will fuel growing criticism of the Democratic Party: its apparent deep misunderstanding of the Latino vote. Obama suggested Wednesday on "The Breakfast Club" radio show that evangelical Latinos did not care enough about undocumented workers and immigration, or racism against Mexicans, to vote against President Trump. Read more 
---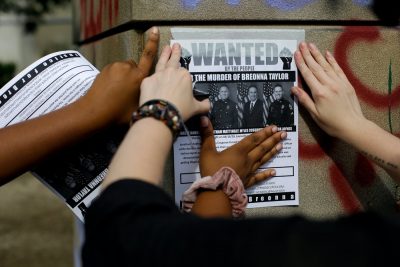 Beyond Breonna: Louisville Police Make the Case for Abolition. By Natasha Lennard / The Intercept
IN RECENT WEEKS, mainstream political discussions around the notion of "defunding the police" have taken a pernicious, if predictable turn. The so-called debate is no longer focused on the violent facts of U.S. policing. Instead, this ongoing news story has become, first and foremost, a narrative about the Democratic Party and its divisions. Such is the nature of the media-politics machine: A demand situated in a fight for life and liberation has been transmogrified into a realpolitik hot button — replete with polls, right-wing fearmongering, questions of electability, and calls for less "divisive" rhetoric. Read more
Related: Movement To Limit Police Raids Looks Beyond 'No-Knock' Warrants. By Martin Kaste / NPR
---
Newly Elected Progressive DAs Promise To End Policies Deemed Unfair. By Cheryl Corley / NPR

This month's elections, especially in the aftermath of this summer's protests against racial injustice, were seen as a test for criminal justice reforms. This was especially true for so-called progressive district attorneys. Many policies in the higher-profile cities of Philadelphia, San Francisco and Chicago already had drawn the ire of some in law enforcement, including choosing not to prosecute certain low-level crimes, among other changes. Those policies appear to be just fine with voters in cities with prosecutors who vowed to continue shaking things up. Shown is Cook County State's Attorney Kim Foxx. Read more 
Related: After taking on Trump, D.C. attorney general turns focus to hate and extremism. By Michael Brice-Saddler / Wash Post
---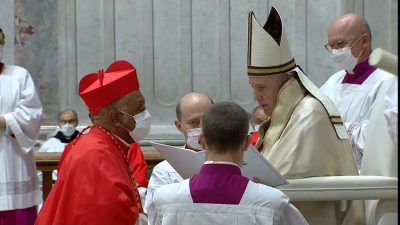 Wilton Gregory becomes first Black American cardinal — after three coronavirus tests and a quarantine. By Chico Harlan / Wash Post
Wilton Gregory, the archbishop of Washington, became the first Black American to earn the rank of cardinal Saturday in a pandemic-altered Vatican ceremony that was strange and historic like none before it. Because of coronavirus travel concerns, two of the 13 new cardinals did not come to Rome. The others wore masks and sat in socially distanced rows inside St. Peter's Basilica. Gregory, like some other new cardinals, had quarantined for 10 days before the ceremony at a Vatican resident building, with meals and towels dropped off at his door. Read more and watch here. 
---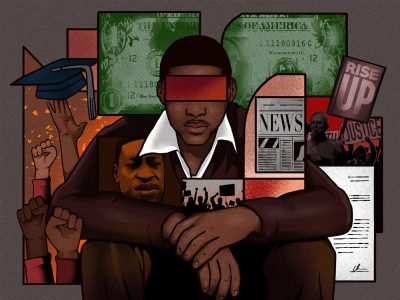 Black Americans are forced to operate our entire lives in battle mode. It's utterly exhausting. By Nathan McCall / Wash Post

Decades ago, when I was a teenager growing up in Portsmouth, Va., my buddies and I constantly railed against the evils of "the system." We viewed the system as a vast, amorphous establishment that worked to preserve White privilege and control Black folks' lives. It was the 1970s, and as proof that our hatred of the White mainstream was justified, we had to look no further than our homes. We saw that our parents were beaten down, especially on their jobs. They were constantly demeaned by White bosses, denied pay equal to their White counterparts and routinely passed over for promotions. Our parents were so mentally battered that, almost without exception, they drank heavily to cope with the unrelenting racism directed their way. Read more 
Related: I learned early how to survive racism. Now we all need to learn how to fight it. By University president Ruth Simmons: The education sector hasn't done enough
to teach Americans about its causes and to prepare us for its consequences / Wash Post
Related: Black teens talk about dating in White communities. By Shafia Zaloom / Wash Post 
---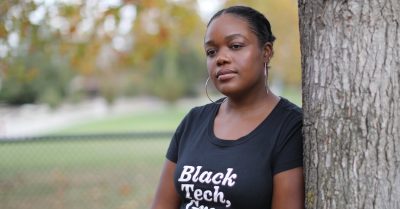 Tokenized': Inside Black Workers' Struggles at the King of Crypto Start-Ups. By Nathaniel Popper / NYT
One by one, they left. Some quit. Others were fired. All were Black. The 15 people worked at Coinbase, the most valuable U.S. cryptocurrency start-up, where they represented roughly three-quarters of the Black employees at the 600-person company. Before leaving in late 2018 and early 2019, at least 11 of them informed the human resources department or their managers about what they said was racist or discriminatory treatment, five people with knowledge of the situation said. Read more 
Related: I'm A High-Achieving Black Woman In Largely White Spaces. And I'm Exhausted. By Judy P. D'Agostino / HuffPost
History / Culture
---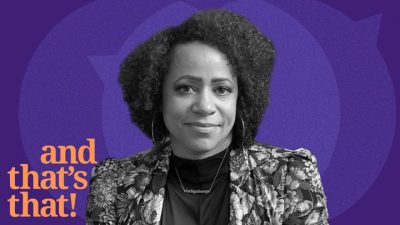 'And THAT'S That!': Correcting The Historical Record With Nikole Hannah-Jones. By Ja'han Jones / HuffPost Podcast

On this week's episode of "And THAT'S That!" the hosts speak with the incomparable Nikole Hannah-Jones, the certified genius behind the Pulitzer Prize-winning "1619 Project." Just in time for Thanksgiving, Hannah-Jones joins the crew to discuss revisionist history, which often omits the ways slavery provided a foundation for the U.S. to thrive. In the time since its debut, "The 1619 Project" has been widely celebrated for its candor and creativity, and some schools around the country have even introduced it into their curricula. Predictably, the project has had vocal, vitriolic detractors — most of whom are white and one of whom is an outgoing president — revolt against its honest depictions of America's founding, which deviate from the rosy images they have seen for years. In short: They big mad! Listen here 
---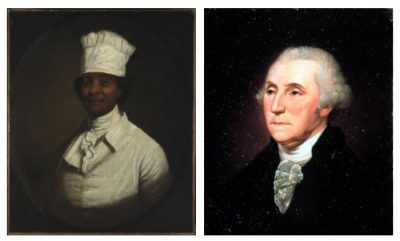 George Washington's 1795 Thanksgiving celebrated liberty. But the chef behind the feast had none. By Ramin Ganeshram / Wash Post
On the third Thursday of February 1795, President George Washington proclaimed a day of national thanksgiving to thank God "for the Constitutions of Government which unite and by their union establish liberty." The second such proclamation by Washington, it called for a religious rather than a feasting holiday, and that day's menu is unknown. As a regular night for the Congress dinners hosted by the president, it would have been presided over by Washington's cook, Hercules Posey — a chef so notable that he was famous in his own time. Yet, the liberty Washington extolled was not something Posey enjoyed: He was enslaved. Read more 
Related: Celebrating Black influence on American cuisine. By Reid Orvedahl / CBS News  
---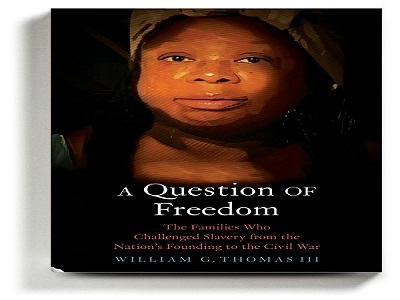 Remembering the Enslaved Who Sued for Freedom Before the Civil War. By Jennifer Szalai / NYT
Eleven years: That's how long it took after the enslaved Dred Scott brought his first lawsuit for freedom in Missouri, where he was held in bondage, for the Supreme Court to hand down its notorious verdict in 1857. Black people, Chief Justice Roger B. Taney declared, "had no rights which the white man was bound to respect." As the historian William G. Thomas III explains in "A Question of Freedom," the Dred Scott decision "denied Black citizenship and gave slaveholders blanket authorization to take slaves into any state or territory in the United States." It rejected the very idea that Scott was a legal person under the Constitution with standing to sue in the first place. Read more 
---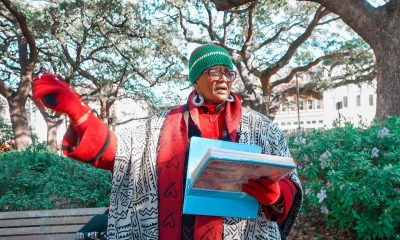 For Black tour guides in Savannah, the historical is personal. By Ariel Felton / Wash Post
In the months before the coronavirus came to the United States, a flurry of viral negative reviews for guided tours of Southern homes and plantations sparked a debate on partisanship in the retelling of history. Expecting tours on architecture, some guests bemoaned what they called "lectures on the evils of slavery." In Savannah, Ga. — where the tourism industry is king — Black historians, tour guides and museum employees say their main goal is finding a way to balance expectations with education. Read more
---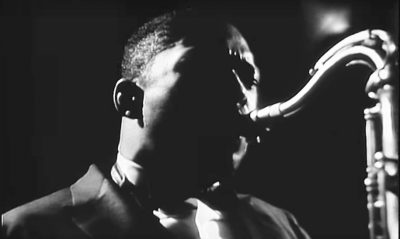 John Coltrane's favorite composition was the love song he wrote for his first wife, Naima. By Denise Oliver Velez / Daily Kos

Today's #BlackMusicSunday continues our jazz saxophonist exploration and features tenor and soprano sax player John Coltrane. "Trane," as he is often called, was a musical genius whose impact on jazz is still being felt—over half a century after his untimely death of liver cancer at age 40. So much has been written about Coltrane and his music that it seems almost impossible to write anything new, so today, I simply want to share how he gave me the courage to speak up about the music I love, at a time when female opinions about jazz were often pushed to the side in the heavily male-dominated world of jazz. Read more 
Sports
---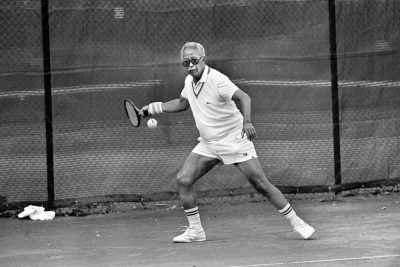 David Dinkins Kept Loving Tennis, No Matter Who Mocked Him. By Victor Mather / NYT

David N. Dinkins, who died Monday night at 93, was the mayor of New York. But he was also the unofficial mayor of the tennis world. Dinkins was an avid, even obsessive player, a friend of tennis stars — in 1990, Jennifer Capriati said, "The mayor is one cool dude" — a United States Tennis Association board member, and an advocate for African-Americans and youth in the sport. Dinkins continued to play doubles until he was 88. Adams, who played with him in those years on Roosevelt Island, said: "He would always have a diverse group with him, men women, Black, white, Asian, Hispanic. He always loved bringing people together. He was strategic, on the court, but also professionally." Read more 
---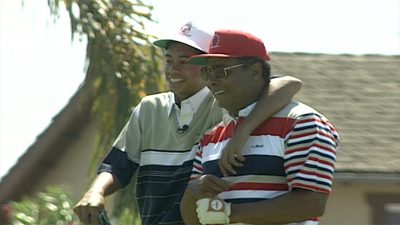 Tiger Woods and the complicated history of being the symbol of racial progress. By Farrell Evans / The Undefeated
Tiger Woods: America's Son, The Undefeated's new documentary on the 15-time major champion, is a sober reminder of the burden that Black athletes have carried to be credits to their race and symbols of racial progress. Since bursting on the scene with an epic 12-shot win at the 1997 Masters, Woods has been a reluctant hero for Black America, while looming as a god over the sport. His rejection of Louis' social and political mantle for Black athletes has been painful for many in Black America, who saw him as a source of racial pride and a champion over decades of racism in the game of golf. Read more 
---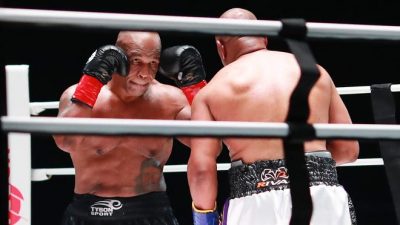 Mike Tyson fights Roy Jones Jr. to draw in his return to boxing ring. By Josh Peters / USA Today

Mike Tyson did not score a knockout against Roy Jones Jr. on Saturday night, but he looked formidable in his return to the boxing ring at the age of 54. Tyson looked aggressive from the outset and stalked Jones, 51, through most of their eight-round exhibition fight at Staples Center. But Jones remained on his feet when the final bell rang — and three former WBC champions scored the bout a draw. USA TODAY Sports scored the fight 78-74 for Tyson. "I'm glad I got this under my belt," said Tyson, who also said he was good with the draw "because I entertained the crowd." Read more
Site Information
---
Visit our home page for more articles, book/podcast and video favorites. And at the top of this page register your email to receive notification of new editions of Race Inquiry Digest. Click here for earlier Digests.
About Race Inquiry and Race Inquiry Digest. The Digest is published on Mondays and Thursdays. 
Use the buttons below to share the Digest in an email, or post to your Facebook, Linkedin or Twitter accounts.