Featured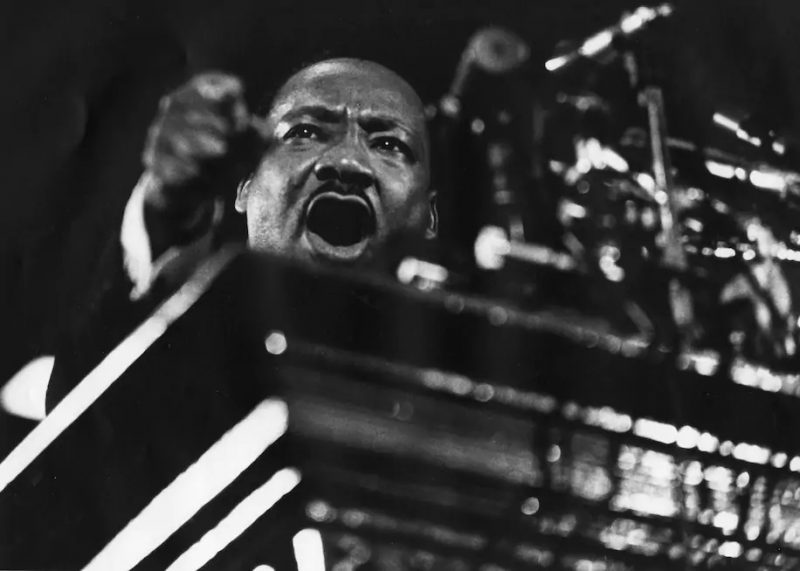 How to confront systemic racism? Heed the call of Martin Luther King. By Michael Gerson / Wash Post
Eighteen days after the Rev. Martin Luther King Jr. delivered his "I Have a Dream" speech, four young girls were killed in the bombing of the 16th Street Baptist Church in Birmingham, Ala. Days later, King delivered their eulogy, and demonstrated why America would have been lost without the civil rights movement. King proceeded to make two points that would have left many uncomfortable.
First, he argued for a definition of justice larger than a correct legal outcome. "We must be concerned," he said, "not merely about who murdered them, but about the system, the way of life and the philosophy which produced the murderers."
Second, King held out hope that white-supremacist philosophy could be challenged and changed among Whites themselves: "We must not lose faith in our White brothers. Somehow we must believe that the most misguided among them can learn to respect the dignity and worth of all human personality."   Read more 
Related: "Souls of White Folks." Originally published in 1920 as the second chapter in "Darkwater – Voices From Within the Veil." By W.E.B. Dubois 
Related: Derek Chauvin: Why the look on his face was something worse than hate. By John Blake / CNN
Political / Social
---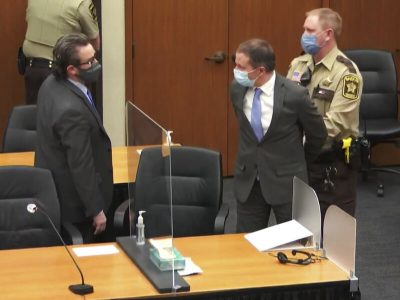 The historic Chauvin verdict isn't "justice" — it's a broken system trying to save itself. By Chauncey Devega / Salon
In all, Derek Chauvin's conviction for murdering George Floyd was just. But that is not the same as saying that justice for George Floyd was done. Such an outcome would require systematic changes in how law enforcement and the larger criminal justice system treat Black and brown people, the poor and other marginalized groups in America. Justice for George Floyd would also require that the systems of power in American society that shaped his life chances in unjust ways be remade. Read more
Related:  For my brother George Floyd, this is what justice feels like. By Philonise Floyd / Wash Post 
Related: Charles M. Blow on Derek Chauvin trial: "This time … history would not be repeated" By Charles M. Blow / CBS News
Related: Almost half of Republicans say Chauvin jury reached wrong verdict: poll. By Dominick Mastrangelo / The Hill
---
Before Chauvin: decades of Minneapolis police violence that failed to spark reform. By Amudalat Ajasa and Lois Beckett / The Guardian
Minneapolis residents have protested racist and violent treatment by police for decades. Police chiefs and mayors have publicly acknowledged the department's reputation for excessive force. In the 1980s, one chief reportedly called his officers "damn brutal, a bunch of thumpers". Read more 
Related: Chauvin verdict: What it means for other officers in Floyd killing. By Eric Ferkenhoff and Grace Hauck / USA Today
Related: After Chauvin's conviction for Floyd murder, DOJ weighs charging him for 2017 incident involving Black teen. By Mike Levine / ABC News 
Related: After Chauvin Verdict, Congress Sprints Toward Police Reform. By Lisa Hagen and Susan Milligan / U.S. News
---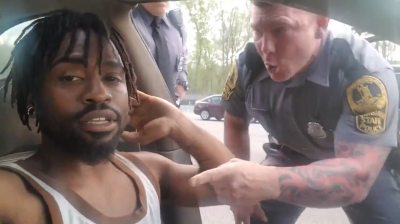 'Watch the show, folks': Va. trooper no longer employed after playing to camera in violent stop of Black driver. By Justin Jouvenal / Wash Post

A Virginia State Police trooper who is seen in a viral video telling a Black driver "you are going to get your a– whooped" before violently removing the man from his car in 2019 is no longer with the agency, a spokeswoman said. VSP Communications Director Corinne Geller said her agency was prohibited from releasing additional details, but an attorney for the driver said he was told in talks held during settlement of a lawsuit over the incident that Charles Hewitt was fired for cause in February, months after the video became public. Watch here 
Related: Elizabeth City Shooting: N.C. Investigating Death Of Andrew Brown Jr. By Sarah McCammon / NPR
Related: Virginia deputy gave Black man a ride home, then shot him after 911 call. By Dennis Romero / NBC News
Related: An investigation into Ma'Khia Bryant's death needs to address the what ifs. The Editorial Board / Wash Post 
Related: DA Will Not Charge Officer Who Shot Teen In School Bathroom. By Nina Golgowski / HuffPost 
---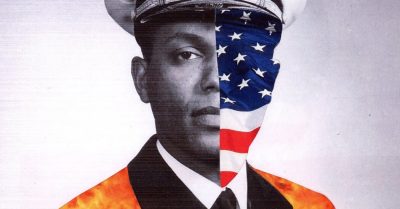 'I'm Serving This Country, and This Is How I'm Treated?' By Theodore R. Johnson / NYT
I can't remember the exact moment it occurred, but at some point early in my 20-year career in the U.S. Navy, I picked up a survival tactic. It wasn't a novel technique for handling being stranded at sea or navigating out of a dense jungle in enemy territory; it was how to survive an encounter with American law enforcement. Read more 
---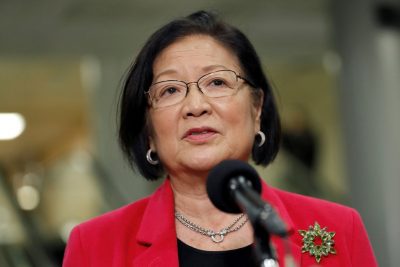 Senate passes anti-Asian American hate crime bill. By Nicholas Wu / Politico

The Senate on Thursday passed an anti-hate crimes bill aimed at addressing a surge in attacks on Asian Americans amid the Covid-19 pandemic. The measure, which would create a Justice Department position focusing on the issue and beef up state and local hate crime reporting, soared through the chamber by a 94-1 vote. Sen. Josh Hawley (R-Mo.) was the only vote against the bill. Passing the bill sent a "solid message of solidarity that the Senate will not be a bystander as anti-Asian violence surges in our country," said Sen. Mazie Hirono (D-Hawaii), the bill's lead Senate sponsor. Read more 
Related: Most Asian Americans say violence against them is increasing. By Rachel Hatzipanagos / Wash Post
Related: Democrats' anti-racism messaging seems to alienate voters: study. By Jesse O'Neill / New York Post
---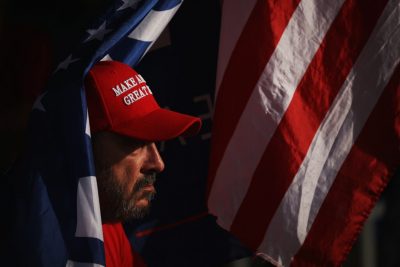 The G.O.P. Is Getting Even Worse. By David Brooks / NYT
Those of us who had hoped America would calm down when we no longer had Donald Trump spewing poison from the Oval Office have been sadly disabused. There are increasing signs that the Trumpian base is radicalizing. My Republican friends report vicious divisions in their churches and families. Republican politicians who don't toe the Trump line are speaking of death threats and menacing verbal attacks. Read more 
Related : A Top G.O.P. Pollster on Trump 2024, QAnon and What Republicans Really Want. The Ezra Klein Podcast / NYT
Related: Republicans Aren't Done Messing With Elections. By Richard L. Hasen / NYT
Related: The Enemy Within: State and local Republican parties have been taken over by white supremacists, conspiracy mongers, and insurrectionists. By Melissa Ryan / The Progressive
---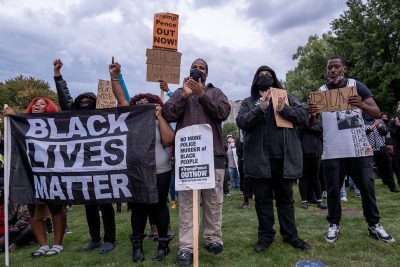 Democrats fear GOP targeting racial justice protests. By Giulia Heyward / Politico

Republican state lawmakers across the country are pushing legislatures to pass dozens of anti-protest measures, sparking concerns among Democrats and others that states will begin cracking down harder on racial justice and anti-police brutality demonstrations. Republicans in Alabama, Arizona and Kentucky introduced bills that would create harsher penalties for crimes committed during violent protests, including blocking a roadway and destroying property. Conservative lawmakers in Ohio and Iowa are also pushing similar legislation that would remove legal liabilities for drivers who hit protesters during riots. Read more 
Related: States should be listening to protesters. Instead they're shutting them up. By The Editorial Board / Wash Post 
Related: Florida bill would allow students to record professors to show political bias. By Richard Luscombe / The Guardian 
Related: Republican lawyer is key player in voter suppression drive across US | US voting rights. By Peter Stone / The Guardian 
---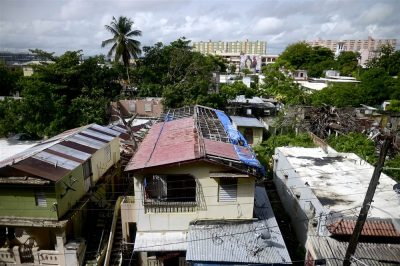 New probe confirms Trump officials blocked Puerto Rico from receiving hurricane aid. By Nicole Acevedo / NBC News
The administration of former President Donald Trump obstructed an investigation looking into why officials withheld about $20 billion in hurricane relief for Puerto Rico following the devastating aftermath of Hurricane Maria in 2017, one of the deadliest U.S. natural disasters in over 100 years, a new report says. A Department of Housing and Urban Development Office of Inspector General report made public Thursday also found that tensions between the department and the Office of Management and Budget resulted in unprecedented procedural hurdles that produced delays in the disbursement of the congressionally approved funds. Read more 
---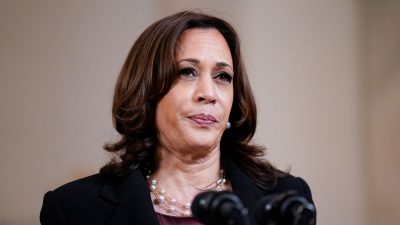 Kamala Harris cements her place in Biden's inner circle during a consequential week. By Kevin Liptak and Jasmine Wright / CNN
Vice President Kamala Harris was huddled with other White House officials in President Joe Biden's private dining room last week when the room let out a "collective exhale." A Minnesota jury had found Derek Chauvin guilty of murdering George Floyd. For Harris, it was also a moment that underscored her history-making presence within the young administration. She has often said she didn't know a Black man growing up in Oakland that hadn't faced a level of profiling and discrimination. Speaking to the Floyd family, Harris was presented an opportunity to tap into their collective grief in a way no vice president before her could. Read more 
---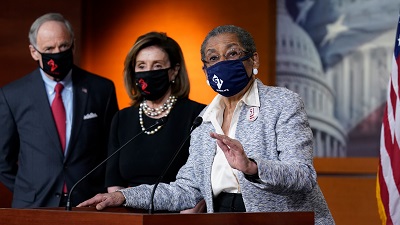 House Democrats Pass Bill To Make D.C. The 51st State. By Barbara Sprunt / NPR

The U.S. House of Representatives has once again voted on a bill to grant statehood to Washington, D.C., and enfranchise more than 712,000 Americans, a cause that enjoys unprecedented support but still faces an uphill battle in the U.S. Senate. "This country was founded on the principles of no taxation without representation and consent of the governed. But D.C. residents are taxed without representation and cannot consent to the laws under which they as American citizens must live," said Del. Eleanor Holmes Norton, the District's nonvoting delegate, on the House floor ahead of the vote. Read more 
---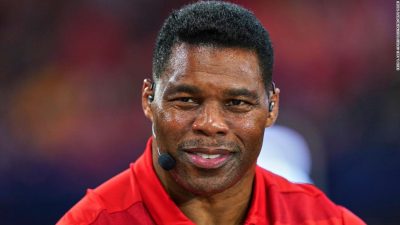 With Trump's backing, Walker freezes Senate GOP field in Georgia. By Alex Rogers and Manu Raju / CNN

Former President Donald Trump's backing of football great Herschel Walker to run for the Georgia Senate seat has been enough to effectively freeze the GOP field in place — even though some Republicans privately worry the political neophyte might fizzle against Sen. Raphael Warnock in a high-stakes general election. Warnock, who is running for a full six-year term next year after narrowly winning his seat in a special election in January, is a top target for Republicans. And with the backing of Trump and his closest allies, who believe that Walker is uniquely able to unite a party torn apart by their 2020 losses, prospective Republican candidates are signaling they are willing to sit out until the legendary athlete makes a decision. Read more 
---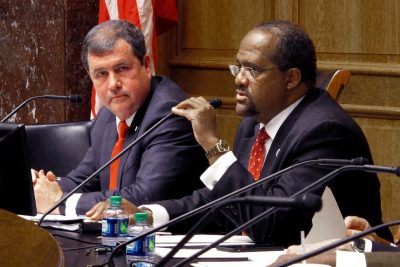 Troy Carter wins Louisiana special election in blow to progressives. By Ally Mutnick / Politico

Progressives suffered a disappointing setback on Saturday, after their favored candidate lost to a more establishment-aligned opponent in a special congressional election in Louisiana. State Sen. Troy Carter, who was backed by top leaders of the Congressional Black Caucus, beat state Sen. Karen Carter Peterson in a runoff to fill a vacant House seat that quickly turned into a turf war for sparring factions of the Democratic Party. Read more 
---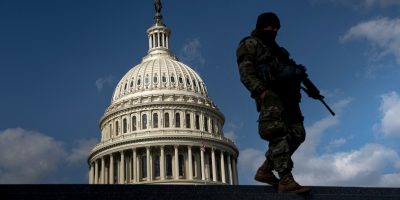 Some Right-Wing Troops Find Themselves Targeted by Their Own War Machine. By Mike Giglio / The Intercept
IN THE WAKE of the riot at the U.S. Capitol in January, a former CIA official named Robert Grenier published an article in the New York Timestitled "How to Defeat America's Homegrown Insurgency." His recommendations were mild when it came down to the specifics: finding and prosecuting those who carry out violence, engaging in a national dialogue, and holding Donald Trump accountable politically. Grenier, though, had once run the CIA's counterterrorism center and played key roles in the invasions of Afghanistan and Iraq. Read more
Historical / Cultural
---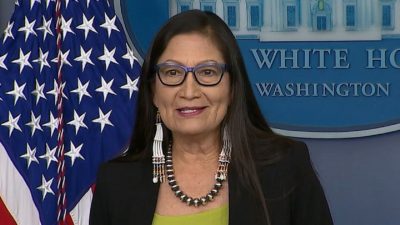 Amid racial reckoning, National Park Service recognizes new Underground Railroad sites. By Michelle Stoddart / ABC News

As the nation reexamines its long and troubled relationship with race, the National Park Service has opened 16 new locations on the National Underground Railroad Network to preserve the history and stories of Black Americans who escaped from slavery, but often are left out of history books. "Our country is facing a moment of reckoning, that requires us to learn from history, to heal and grow," Interior Secretary Deb Haaland said at Friday's unveiling. "Today's announcement reminds us of the dark pages in our history books, but also highlights the incredible strength and resilience of black communities." Read more 
---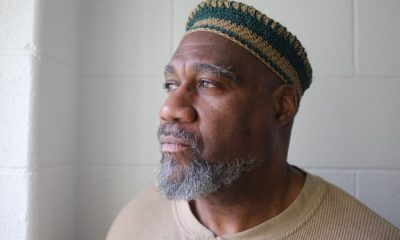 The Forgotten Black Panthers. By Santi Elijah Holley / The Nation 
In the last two decades, at least eight Panthers have died in prison—most recently Romaine "Chip" Fitzgerald, who died in a California prison on March 29, at age 71. Having been incarcerated for more than 51 years, Fitzgerald was the longest-serving Black Panther in American history. Shown is Jalil Muntaqim in prison for 47 years, who is scheduled to be released.   Read more 
---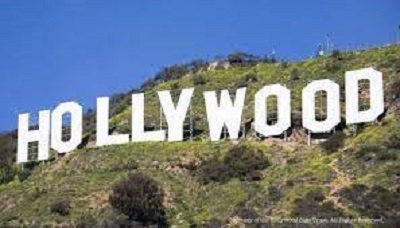 Hollywood Is Leaving Money On The Table By Not Prioritizing Diversity, New Study Shows.By Marina Fang / HuffPost
The Hollywood Diversity Report was released Thursday, the latest edition of an annual study of the relationship between Hollywood's bottom line and diversity in front of and behind the camera, from UCLA professors Darnell Hunt and Ana-Christina Ramón. Their newest report examined global box office revenue and viewership numbers of the top 185 films released in theaters and on major streaming platforms in 2020. Movies that featured 41 to 50% actors of color performed the best at the box office, while films with fewer than 11% actors of color performed the worst. Read more 
Related: When Blackness Is a Superpower. From Falcon to Black Panther to a potential new Superman, a wave of rejuvenated heroes, reimagined by Black creators, are rewriting superhero mythologies. By Veronica Chambers / NYT
---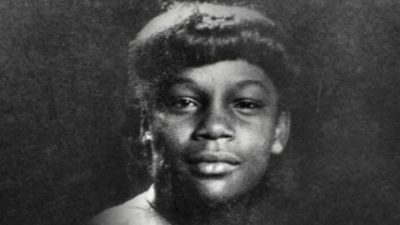 'A Love Song for Latasha' provides fullness to Black girls gone too soon. By Sharon Brooks / The Undefeated
For the past few years, the best documentary category of the Academy Awards has been devoid of Black stories by Black directors. But A Love Song for Latasha changes this. One of two Oscar-nominated documentaries by Black female directors this year, A Love Song for Latasha is a 19-minute short that uses memories and voice-overs to recontextualize Latasha Harlins' life. Read more
---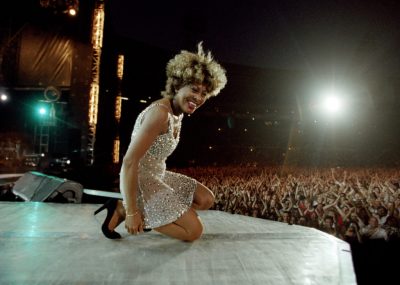 How racism pushed Tina Turner and other Black women artists out of America. By Christina Turner / PBS
In a 1997 interview with Larry King, Tina Turner said one reason she called Europe — specifically Switzerland — home was that she was hugely supported in Europe. When King told her that she was a superstar in America, Turner was quick to point out: "Not as big as Madonna. I'm as big as Madonna in Europe. I'm as big, in some places, as The Rolling Stones." Read more 
---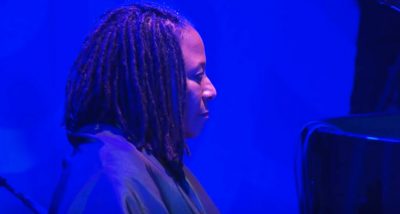 Remembering pianist and jazz composer extraordinaire Geri Allen for Jazz Appreciation Month. By Denise Oliver Velez / Daily Kos
Allen knew what she wanted to be from a very early age: a pianist, and that is what she achieved along with a career as a stellar jazz educator. When Allen passed in 2017 at the age of 60, there were numerous detailed obituaries paying tribute to her career and influence, including one Anastasia Tsioulcas wrote for NPR's All Things Considered. Read more  
Sports
---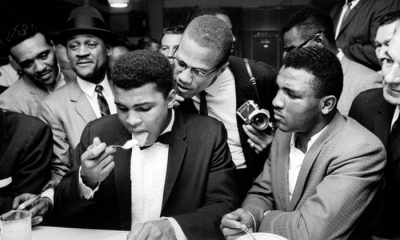 'One Night in Miami': The truth behind its meeting of Malcolm X, Jim Brown, Sam Cooke and the future Muhammad Ali.  By Faith Karimi / CNN

On February 25, 1964, four African American icons met in a Miami hotel room for a night of revelry, bonding, arguments and ice cream. One of them, the brash and flamboyant Cassius Clay (soon to change his name to Muhammad Ali) had just won the world heavyweight boxing championship in an upset at age 22. Another, influential civil rights activist Malcolm X, was weighing a split from the Nation of Islam. Together with NFL star Jim Brown and soul singer Sam Cooke, they gathered at the Hampton House, a popular hotel among Black celebrities at the time. This momentous evening is chronicled in the current film, "One Night in Miami," directed by actress Regina King and nominated for three Oscars, including best screenplay. Read more 
---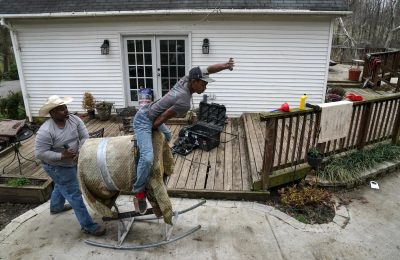 CHASING A DREAM: For 13-year-old bull rider Nicholas Jackson, pursuing championships means facing physical danger and navigating life in a predominantly White sport. By Roman Stubbs and Toni L. Sandys / Wash Post
Nicholas is a world champion in his age group and a rising star. His parents drive him nearly six hours round-trip to practices in Pennsylvania most weeks, both because it is his dream and because they believe he represents something larger than himself. He comes from five generations of horse trainers and sharecroppers, and as a young Black bull rider from Prince George's County, he's honoring family members who were never able to compete at his age. Read more 
Site Information
---
Visit our home page for more articles, book/podcast and video favorites. And at the top of this page register your email to receive notification of new editions of Race Inquiry Digest. Click here for earlier Digests.
About Race Inquiry and Race Inquiry Digest. The Digest is published on Mondays and Thursdays. 
Use the buttons below to share the Digest in an email, or post to your Facebook, Linkedin or Twitter accounts.