Featured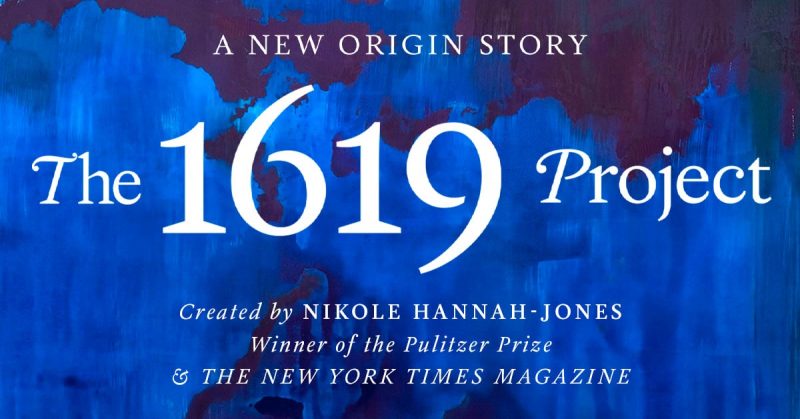 A New Origin Story: The 1619 Project. By Nikole Hannah Jones / NYT Magazine  
Excerpted from "Justice" (Chapter 18) By Nicole Hannah-Jones
This is our national truth: America would not be America without the wealth from Black labor, without Black striving, Black ingenuity, Black resistance. So much of the music, the food, the language, the art, the scientific advances, the athletic renown, the fashion, the guarantee of civil rights, the oratory and intellectual inspiration that we export to the world, that draws the world to us, comes forth from Black Americans, from the people born on the water. That is Black Americans legacy to this nation.
The legacy of this nation to Black Americans has consisted of immorally high rates of poverty, incarcerations, and death and the lowest rates of land and home ownership, employment, school funding, and wealth. All of this reveals that Black Americans, along with Indigenous people – the two groups forced to be part of this nation – remain the most neglected beneficiaries of the America that would not exist without us. This unacknowledged debt, all of it, is still accruing. And it will continue to accrue until we as a society decide to tolerate it no longer.
Political / Social
---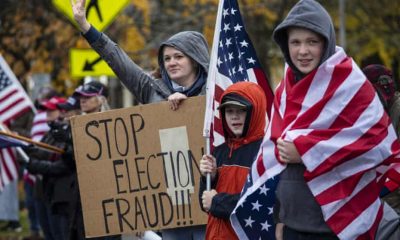 Report shows the extent of Republican efforts to sabotage democracy. By Ed Pilkington / The Guardian
A year that began with the violent insurrection at the US Capitol is ending with an unprecedented push to politicize, criminalize or in other ways subvert the nonpartisan administration of elections. A year-end report from pro-democracy groups identifies no fewer than 262 bills introduced in 41 states that hijack the election process. Of those, 32 bills have become law in 17 states. The largest number of bills is concentrated in precisely those states that became the focus of Trump's Stop the Steal campaign to block the peaceful transfer of power after he lost the 2020 presidential election to Joe Biden. Read more 
Related: Democracy vs. fascism, part 1: What do those words mean — and do they describe this moment? Andrew O'Hehir / Salon
Related: What happens if Trump admits it all? Nothing much — at this point, that might help him. By Chauncey Devega / Salon 
---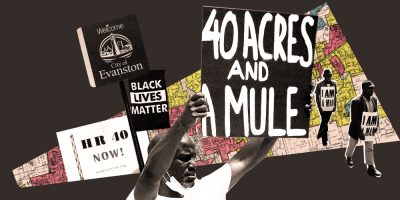 What slavery reparations from the federal government looks like in 2021. BYP.R. Lockhart / NBC News 
Black Americans have been fighting for reparations tied to slavery for generations. Here's what that fight looks like in 2021.
After decades of work from activists pushing the issue, presidential candidates, Congress members, local governments and private institutions have debated whether and how the federal government should issue reparations for Black Americans who are descendants of slaves. As the Biden administration promises to confront structural racism and inequality, a growing number of Democratic lawmakers have given their support to H.R. 40, a decades-old bill first introduced by Rep. John Conyers, D-Mich., in 1989. The bill would create a commission to study slavery and discrimination in the United States  and potential reparations proposals for restitution. In April, H.R. 40 moved out of committee for the first time, potentially setting up a floor vote on the legislation. Read more 
Related: Calls for reparations are as old as emancipation. Will global powers finally listen? By P.R. Lockhart / NBC News
---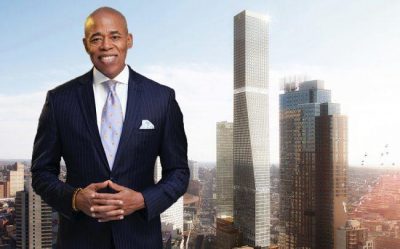 The Rise of Eric Adams and Black New York. By Mara Gay / NYT
To many, the future mayor is still an enigma. He talks of law and order, but also Black Lives Matter. He courts Wall Street, then travels to Ghana to be spiritually cleansed. He parties late into the night alongside the rapper Ja Rule and the former Google chief executive Eric Schmidt. His talent and intellect are obvious. But he sounds nothing like Barack Obama. What exactly Mr. Adams intends to do once at City Hall is unclear. What is certain for now is that Mr. Adams knows who sent him there. Read more 
---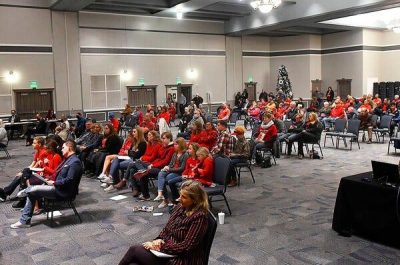 First They Fought About Masks. Then Over the Soul of the City. By Sabrina Tavernise / NYT

In Enid, Okla., pandemic politics prompted a fundamental question: What does it mean to be an American? Whose version of the country will prevail?
On a hot night in July, the first summer of the pandemic, Jonathan Waddell, a city commissioner in Enid, Okla., sat staring out at a rowdy audience dressed in red. They were in the third hour of public comments on a proposed mask mandate, and Mr. Waddell, a retired Air Force sergeant who supported it, was feeling increasingly uncomfortable. The meeting was unlike any he had ever attended. One woman cried and said wearing a mask made her feel like she did when she was raped at 17. Another read the Lord's Prayer and said the word "agenda" at the top of the meeting schedule seemed suspicious. A man quoted Patrick Henry and handed out copies of the Constitution.  Read more 
Related: The Black Core of the Culture War. By Joshua Adams / Politico
---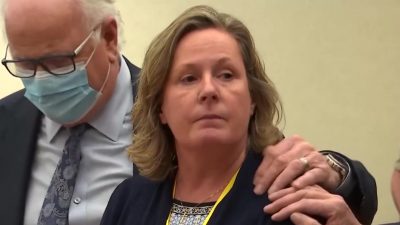 Kim Potter found guilty of manslaughter in Daunte Wright shooting. By Vanessa Romo, Becky Sullivan and Joe Hernandez / NPR
Kim Potter, the former Minnesota police officer who mistakenly drew her handgun instead of her Taser during a traffic stop in April in which she fatally shot Daunte Wright, has been found guilty. Jurors had been deliberating since Monday before finding Potter, who had served as an officer in Brooklyn Center, Minn., for 26 years, guilty of first- and second-degree manslaughter charges in the death of Wright. Potter winced when the verdict was read but otherwise appeared not to react. A short while later, she was handcuffed and taken into custody pending sentencing. Read more
---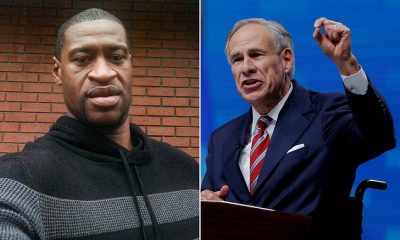 Texas Board Withdraws Pardon Recommendation For George Floyd. By Peter J. Weber / HuffPost 
---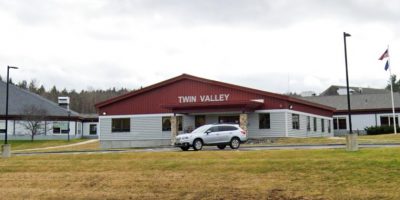 ACLU accuses school of failing to protect Black student. By AP and NBC News
A Vermont school is accused of not protecting a Black student from racially motivated harassment, bullying and threats in a complaint filed with the Vermont Human Rights Commission. The ACLU of Vermont filed on the complaint Tuesday on behalf of the student, accusing Twin Valley Middle High School in Whitingham of unlawfully depriving the student "of her right to have a school environment free of racial discrimination." Read more 
Related: Black youths twice as likely to be referred to Virginia's juvenile justice system, report finds. By Justin Jouvenal / Wash Post
---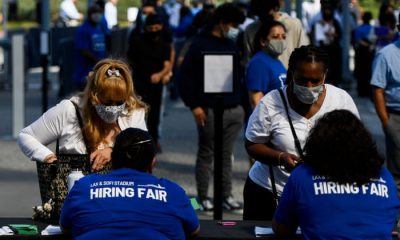 Black Americans continue to see higher jobless rate despite market recovery. By Lauren Aratani / The Guardian
Even as economists celebrated a job market recovery seen from the beginning of the pandemic, when unemployment peaked at 14.8%, to November when unemployment was 4.2%, Black Americans have continued to see a much higher jobless rate. In November, Black Americans had an unemployment rate of 6.7%, while the unemployment rate for white Americans was 3.5%. The gap is even more pronounced between men: Black men had an unemployment rate of 7.3% in November while white men saw an unemployment rate of 3.4%. Read more
Historical / Cultural
---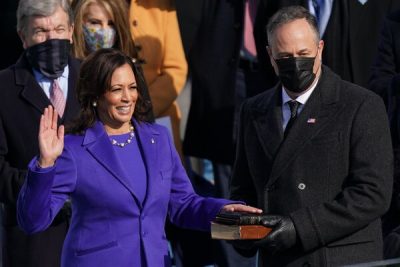 What Made Black History in 2021? By Dodal Stewart / NYT
After the tumult and triumphs of 2020, here are the achievements that shaped the first year following the country's racial reckoning.
On a Wednesday morning in January, Kamala Harris became the first Black woman — and the first woman of color — sworn into the office of Vice President of the United States. During the inauguration ceremony, Amanda Gorman, a Black writer and, at 22, the youngest inaugural poet in U.S. history, recited "The Hill We Climb." The New York Times critic Dwight Garner wrote that Ms. Gorman "offered a fortifying tablespoon of American plain-spokenness. She offered lucidity and euphony." It was Black history in the making, televised to millions — and a hint at what was to come in the new year. Read more 
---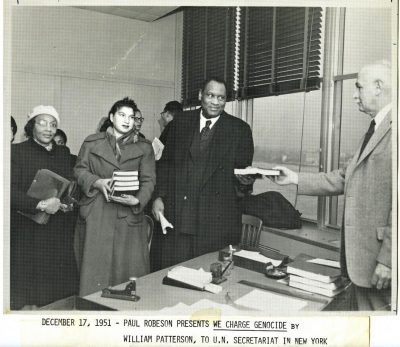 70 Years Ago Black Activists Accused the U.S. of Genocide. They Should Have Been Taken Seriously. By Alex Hinton / Politico
Seventy years ago this month, on Dec. 17, 1951, the United Nations received a bold petition, delivered in two cities at once: Activist William Patterson presented the document to the U.N. assembly in Paris, while his comrade Paul Robeson, the famous actor and singer, did the same at the U.N. offices in New York. W.E.B. Du Bois, a leading Black intellectual, was among the petition's signatories. The group was accusing the United States of genocide — specifically, genocide against Black people. Shown is Paul Robeson and other members of the Civil Rights Congress submit a report on police brutality and systemic racism against Black people, accusing the U.S. of genocide, to the United Nations. Read more 
---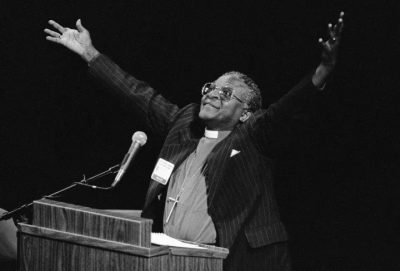 Desmond Tutu, South African Equality Activist, Dies At 90. By Andrew Meldrum / HuffPost
---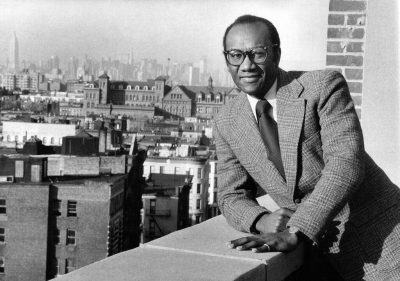 Franklin A. Thomas, Pathbreaking Ford Foundation President, Dies at 87. By Clay Risen / NYT
Franklin A. Thomas, who rose from working-class Brooklyn to become, as president of the Ford Foundation, the first Black person to run a major American philanthropic organization, died on Wednesday night at his home in Manhattan. He was 87. Mr. Thomas grew up in near poverty. But driven by his hard-working immigrant mother, he won a scholarship to Columbia University and then worked for the city and federal governments before taking over a Brooklyn-based nonprofit development corporation in 1967. Read more
---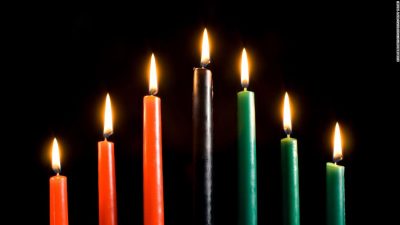 Kwanzaa: The seven principles and what they mean. By Leah Asmelash / CNN
Christmas might be over, but Kwanzaa is just getting started.

Related: The first modern Santa Claus was a Civil War hero. By Robert G. Shafer / Wash Post 
---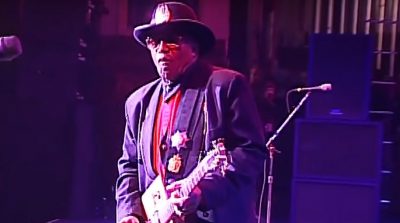 Have you heard 'The Originator,' Bo Diddley? By Denise Oliver Valdez / Daily Kos
Since this is the last Black Music Sunday of 2021 as December winds down, I want to close out the year celebrating an upcoming birthday on the next-to-last day of the month, and feature a musician whose impact on multiple musical greats who came after him still vibrates like the electric guitar strings he plucked and twanged. Born on December 30, 1920—according to most biographies as Ellas Otha Bates, in McComb, Mississippi, with a later name change to Ellas McDaniel when living in Chicago with his mother's cousin Gussie McDaniel—the world would soon come to know him as "Bo Diddley." Read more 
---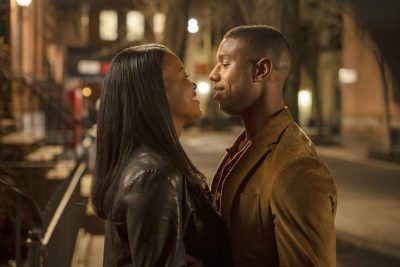 Denzel Washington's Michael B. Jordan-starring A Journal for Jordan is obsessed with Black fatherhood. By Robert Daniels / Slate
You can trace Denzel Washington's fascination with fatherhood as far back as his directorial debut, Antwone Fisher. In that film, Washington portrays a Navy therapist helping a young, temperamental officer move past his propensity for violence, as well as intimacy problems with his girlfriend, caused by the sexual abuse he suffered from as a teenager. As a director, Washington gravitates toward films about Black father figures, and A Journal for Jordan, his fourth directorial effort, is no exception to this pattern. Adapted by Virgil Williams from Pulitzer Prize-winning journalist Dana Canedy's memoir, the tearjerking biopic ostensibly chronicles the swooning romance between 1st Sergeant Charles Monroe King (Michael B. Jordan) and Canedy (Chanté Adams), and his eventual death during the Iraq War. Read more 
Sports
---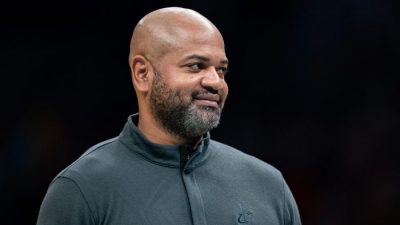 J.B. Bickerstaff finding his groove with surprising Cavaliers. By Branson Wright / The Undefeated
The five characteristics — Details. Toughness. Together. Compete. 1 More — plastered across the weight room wall at the Cleveland Cavaliers practice facility are more than affirmations or mere slogans for head coach J.B. Bickerstaff, his players and his staff. "It's what we live by every day," Bickerstaff said. "They're a combination of things that I thought were important to building a team. It's also characteristic of our city, and about living it, so we'll earn the respect of our fan base." Those statements helped mold and rally the Cavaliers (18-12) into not only one of the NBA's surprise teams, but one of the best in the Eastern Conference — built on an elite defense and an entertaining brand of basketball of fast breaks, alley-oops and unselfish ball movement. Read more 
---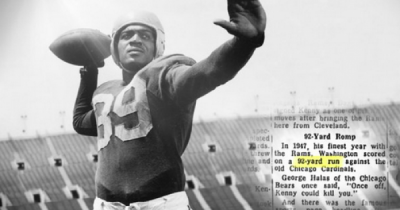 Kenny Washington, who broke the NFL's color barrier, was nearly forgotten—unlike Jackie Robinson, his UCLA teammate. By Joshua Neuman / Slate

The forgotten story of the man who broke the NFL's color barrier—before Jackie Robinson got to Major League Baseball.

If you were able to go back in time and tell sports fans of the late 1930s and early 1940s that a young Black athlete would become an American icon for breaking a color barrier, they'd likely think you were talking about Kenny Washington. Few would imagine you were describing Jackie Robinson, who followed Washington at UCLA as a football and baseball player. In 1940, a Los Angeles Times sports writer worried that Washington was irreplaceable on the gridiron. "It is going to take a piece of doing," he wrote, "for Jackie Robinson to fill his shoes." Read more 
Site Information
---
Visit our home page for more articles, book/podcast and video favorites. And at the top of this page register your email to receive notification of new editions of Race Inquiry Digest. Click here for earlier Digests.
About Race Inquiry and Race Inquiry Digest. The Digest is published on Mondays and Thursdays. 
Use the buttons below to share the Digest in an email, or post to your Facebook, Linkedin or Twitter accounts.