Featured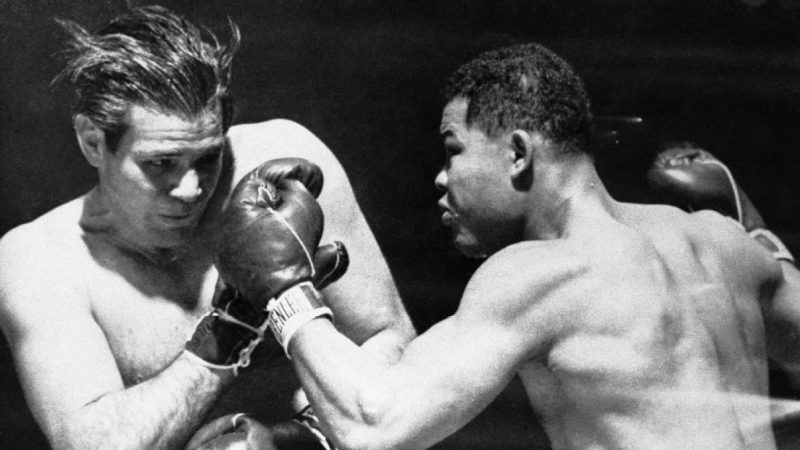 Joe Louis' decision to fight for the segregated Navy was deeply unpopular — until Pearl Harbor was bombed. By Randy Roberts / The Undefeated

Why was the heavyweight champ helping a service that kept Black men in the galley?
In the years before Pearl Harbor, the U.S. Navy liked things white — from Teddy Roosevelt's Great White Fleet to their white dress uniforms and white gloves. By 1940, Black sailors comprised a mere 2.3% of the force, most of them as kitchen workers. Secretary of the Navy Frank Knox told President Franklin Roosevelt and a gathering of civil rights leaders in June 1941 that he would resign his office before giving an order to end segregation. "Men live in such intimacy aboard ship," he argued, "that we simply can't enlist Negroes above the rank of messman."
So many Black Americans struggled to understand why, in the month after Pearl Harbor, Joe Louis, the most popular Black man in America and probably the world, would defend his boxing crown and donate his entire purse to the Navy Relief Society fund. There had never been a heavyweight champion quite like Louis. Since winning the title in June 1937, he had successfully defended it a remarkable 19 times. Jack Johnson and Jack Dempsey, two of the greatest champions of an earlier era, had fought eight and five successful defenses, respectively. Read more
Related: What America Owes Black Veterans of World War II. By Rep. Jim Clyburn and Seth Moulton / Time
Related: Pearl Harbor vet Doris Miller's legacy still felt 80 years later. By Josh Farley / USA Today
Political / Social
---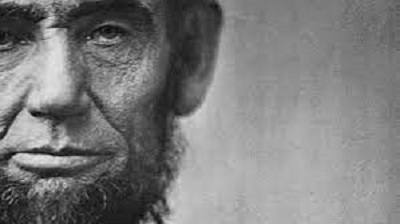 The Republican Party, and America, Are in Crisis. By Jeffrey Goldberg / The Atlantic 
The GOP's leaders are ​​attempting to destroy the foundations of American democracy.
There is insufficient space in any one issue of this magazine to trace the Republican Party's decomposition from Lincoln's day to ours. It is enough to say that its most recent, and most catastrophic, turn—toward authoritarianism, nativism, and conspiracism—threatens the republic that it was founded to save. The leaders of the Republican Party—the soul-blighted Donald Trump and the satraps and lackeys who abet his nefarious behavior—are attempting to destroy the foundations of American democracy. This must be stated clearly, and repeatedly. Read more 
Related: President Biden is hosting a democracy summit. Here is why. Anthony J. Blinken / USA Today
Related: The big, ugly truth that Biden cannot conceal from the world about the U.S. By Greg Sargent / Wash Post
Related: Trump Won't Let America Go. Can Democrats Pry It Away? By Thomas B. Edsall / NYT
---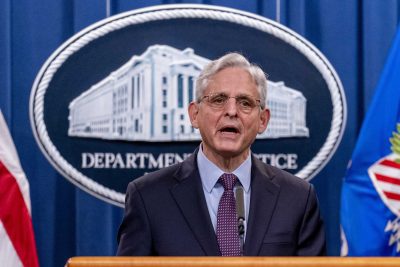 DOJ sues Texas over voting rights for Black and Latino voters. By Kevin Johnson / USA Today
The Justice Department took new aim at Texas Monday, alleging that the state's new redistricting plans discriminate against Black and Latino voters. Attorney General Merrick Garland said the state's redistricting maps approved by the Texas Legislature earlier this year effectively dilute the voting strength of people of color. "The right to vote is foundational to our democracy," Associate Attorney General Vanita Gupta said, adding that the federal government's complaint claims that Black and Latino voters have been denied an "equal opportunity" to participate in the voting process because of the reconfiguration of state voting districts. "Several of the districts were drawn with discriminatory intent," Gupta said. Read more 
---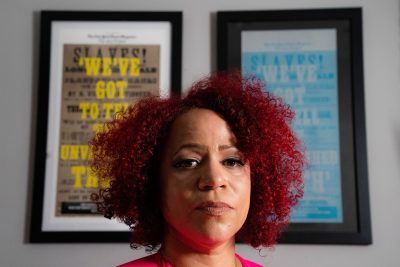 The 1619 Project and the Demands of Public History. By Lauren Michele Jackson  / The New Yorker
In the preface to a new book version of the 1619 Project, Nikole Hannah-Jones, a Times Magazine reporter and the leading force behind the endeavor, recalls that it began, as many journalistic projects do, in the form of a "simple pitch." She proposed a large-scale public history, harnessing all of the paper's institutional might and gloss, that would "bring slavery and the contributions of Black Americans from the margins of the American story to the center, where they belong." The word "project" was chosen to "emphasize that its work would be ongoing and would not culminate with any single publication," the editors wrote. Read more 
---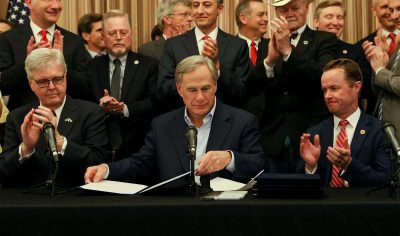 Critical Race Theory in Texas. By Jennifer Hobson Gormer / AAIHS
The Texas signed the Critical Race Bill into law in summer 2021. Texas is one of many states that prescribes how educators can teach, introduce, and discuss the American History of racism and current events. The state of Texas also prohibits youth from receiving credit for participating in such activities. Critical race theory (CRT) has become the new monster under the bed, preventing people from acknowledging the truth regarding this country's founding fathers and how the constitution was not founded on the concept of freedom and liberty for all men. Read more 
Related: San Antonio-area school district scrubs 400 books, most by Black, brown, LGBTQ authors. By Rebekah Sager / Daily Kos
Related: Black parents say their voices have been left out of the critical race theory debate. By Nicquel Terry Ellis and Eva McKend, / CNN
Related: A dog whistle and a lie': Black parents on the critical race theory debate. By Leslie Gray Streeter / Wash Post
---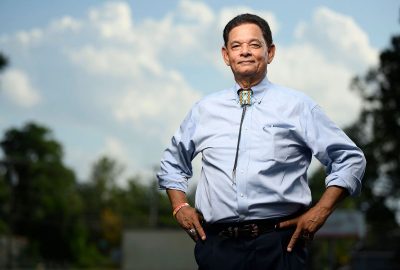 Does this North Carolina candidate's viral video have a winning lesson for Democrats? By Chauncey Devega / Salon
Many of the policies advocated by Joe Biden and the Democrats in Congress are very popular — even among Republicans. Most Americans support the specific proposals on child care, parental leave, education, Medicare expansion, and strengthening the social safety net contained in Biden's Build Back Better package as well as the recently-passed infrastructure bill. But Democrats are consistently unable to tell a compelling story that engages public emotion or clearly communicates how their policies would directly improve people's lives. In early October, Charles Graham announced his candidacy for Congress with a remarkable campaign video focused on the Battle of Hayes Pond in Robeson County, North Carolina, in 1958, where an alliance of Native Americans, Black people and white people united to defeat an attempted raid by the Ku Klux Klan. Read more 
---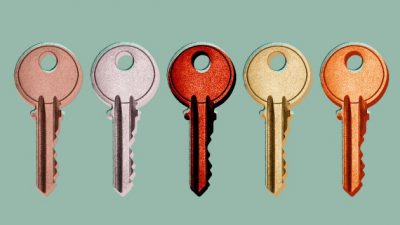 Foreclosures Are Fueling America's Racial Wealth Gap. By Michael Mechanic / Mother Jones

This past June, to commemorate the massacre of hundreds of Black Americans and destruction of their thriving community by a white terrorist mob in Tulsa, Oklahoma, a century ago, the Biden administration promised it would work to address the racial wealth gap. Specifically, it said, federal officials would expand access to "two key wealth-creators"—home and business ownership—and take actions to address racist practices in the housing market. Important steps, to be sure, but new research points to an equally vital priority: helping families weather the kinds of economic shocks that propel homes into foreclosure. Read more 
---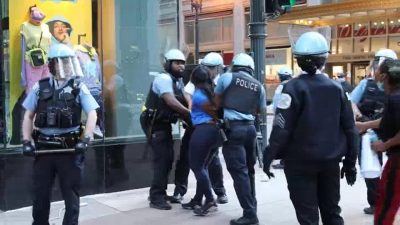 Oklahoma Is The Deadliest State for Police Violence Against Black Americans. By Kavontae Smalls / Atlanta Black Star
"Stop killing us" is a rallying cry Reverend Sheri Amore Dickerson has used for years to call out police in Oklahoma for its disproportionate rate of police violence against Black and brown residents in Sooner state. The Lancet found that between 1980 and 2019, Oklahoma has the highest rate of deadly police violence in the country, and the finding is especially alarming for the state's Black residents, who account for 6 out of every 10 police homicide victims despite Black Americans making up 7 percent of the Sooner State population. Read more 
Related: As a Black Man in America, I Feel Death Looming Every Day. By Joel Leon Daniels / NYT
---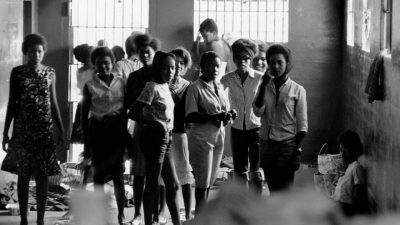 Hundreds Of Black Women In Georgia Will Get $850 Per Month In Guaranteed Income. By Sarah Ruiz-Grossman / HuffPost
---
Stricken With Cancer, Mutulu Shakur Remains Behind Bars. By Natasha Lennaard / The Intercept
MUTULU SHAKUR WAS not sentenced to die in prison, but die in prison he may. The 71-year-old icon of Black liberation struggle has been incarcerated for over three decades. The rules governing his 1988 sentencing set his presumed release date for 2016. Yet, despite an impeccable institutional record, he has been denied release by the federal parole commission nine times. He remains behind bars, while an incurable cancer is now spreading through his bone marrow. Read more
---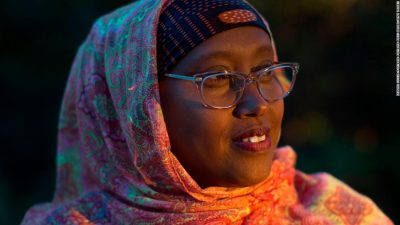 A Maine city that's 90% White now has a Somali mayor. By Catherine E. Shoichet / CNN
---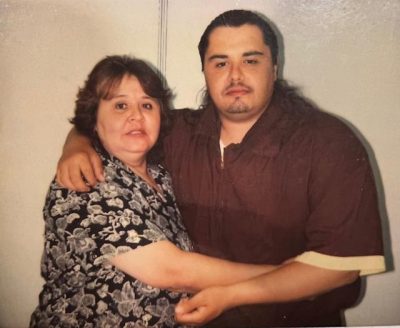 Is Native American man's drug sentence a case for sentencing reform? By Tami Abdollah / USA Today 
Efrain Hidalgo Jr. isn't saying he's innocent. But he believes what happened to him was unjust. In 2000, at the age of 27, Hidalgo was sentenced to 60 to 150 years in prison after being convicted of charges related to running a heroin drug ring. The sentence was heralded at the time as the longest drug-related sentence in Pennsylvania history, and to this day it eclipses sentences for crimes like child sexual assault and third-degree murder. Hidalgo's defense attorney at the time told reporters that an appropriate sentence under state guidelines should probably have been about 10 years.  Read more
---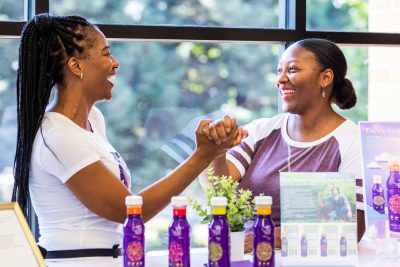 Inspired by the social justice movement, Black entrepreneurship rises. By Curtis Bunn  / NBC News
Sisters-in-law Ashley Billings and Zoe Baker both knew they could be strong business partners. After talking all summer last year, Baker took their discussions to another level in an email. "The email was the incorporation of our company and the application for our business license," Billings recalled. "It was the moment when I thought, 'We're actually going to do this. We're going to make this happen.' And it was exciting because, coming off the social justice movement, we had been conscientious about buying Black and supporting small businesses. And now we were going to jump into the fray." Read more
---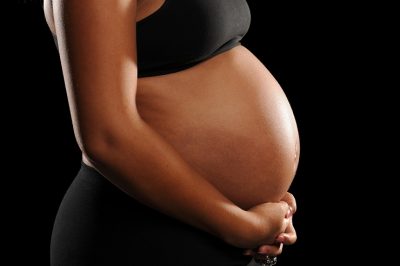 Homicide is a leading cause of death in pregnant people, a new study finds. Black women are at greatest risk. By Cecilia Nowell / Wash Post
---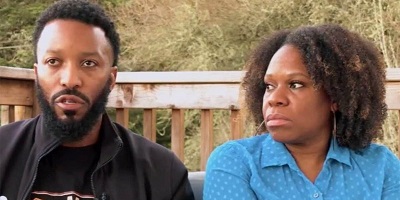 A Black couple says an appraiser lowballed them. So, they 'whitewashed' their home and say the value shot up. By Jonathan Edwards / WashPost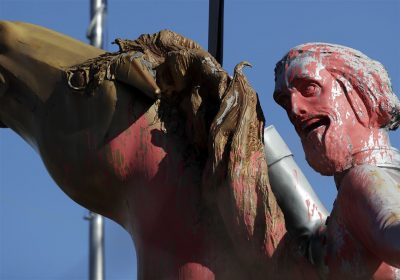 'Terrifying' Nashville statue of Confederate Nathan Bedford Forrest is removed. By Gillian Brockell  / WashPost
---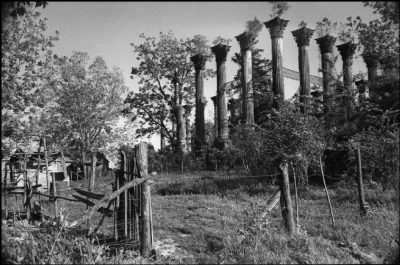 The Ghosts of Mississippi. By Charles M. Blow / NYT
The Mississippi Plan succeeded in suppressing Black votes in the statewide elections of 1875. The situation was made even worse when a compromise over the contested presidential election of 1876 allowed Reconstruction to fail and led to the withdrawal of federal troops from Southern states. By 1890, white supremacists had gathered enough power in Mississippi to call a constitutional convention to write white supremacy into the state's DNA. Although a majority of the state was Black, only one Black delegate was allowed at the convention. Read more 
---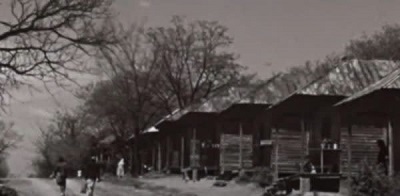 'All Hope Was Lost': A Sustainable Black Georgia Community Seized, Destroyed to Make Way for UGA Dorms, Now Descendants Are Demanding Reparations. By Finurah Contributor / Atlanta Black Star
Back in the 1960s, 50 Black families were forcibly displaced from their homes in an area of Athens, Georgia, known as Linnentown. The descendants of those families are now seeking reparations and want to testify before Congress. "All hope was lost with the family separation, loss of property, and loss of community," Hattie Thomas Whitehead, president and community outreach coordinator for the Linnentown Project told the Atlanta Journal-Constitution. "It destroyed my family and a lot more. My parents never became homeowners again." Read more 
---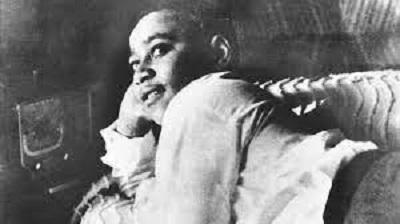 The Justice Department closes its investigation into the lynching of Emmett Till. By AP and NPR
The U.S. Justice Department told relatives of Emmett Till on Monday that it is ending its latest investigation into the 1955 lynching of the Black teenager from Chicago who was abducted, tortured and killed after witnesses said he whistled at a white woman in Mississippi. The department reopened an investigation after a 2017 book quoted a key figure, Carolyn Bryant Donham, as saying she lied when she claimed that 14-year-old Till grabbed her, whistled and made sexual advances while she was working in a store in the small community of Money. Relatives have publicly denied that Donham, who is in her 80s, recanted her allegations about Till. Read more 
---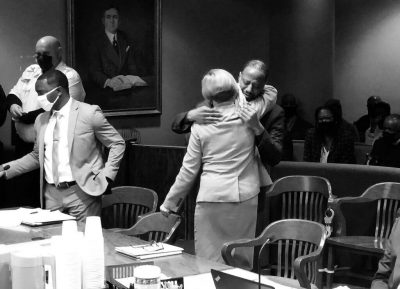 He Is Black. The Victims Were White. 'It's an Allegation as Old as America. By Margaret Renkl / NYT
In 1987, a young man named Pervis Payne, stopping at his girlfriend's place in Millington, Tenn., noticed that the door to the apartment across the hall was open. Inside, a woman and two small children were lying on the floor in a pool of blood. Mr. Payne rushed inside and tried to help them, but as the police arrived, he panicked. Realizing that he could be blamed for the murders, he fled. Shown is Pervis Payne hugs lawyer Kelley Henry before a court hearing on Nov. 23 in Memphis Read more 

---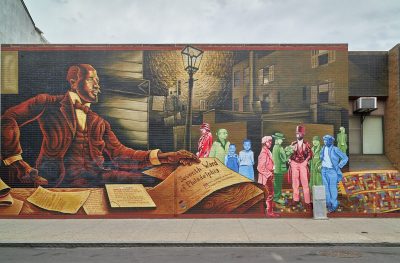 Black Radicalism and the Right to Bail.  By Tony Pecinovsky  /AAIHS
New York's LaGuardia Airport was abuzz. On December 9, 1951, two of the most well-known African American activists of the time – Paul Robeson and W.E.B. Du Bois – eagerly awaited the arrival of their friend, W. Alphaeus Hunton. Finally, after serving six months in jail, Hunton rejoined his comrades.  Hunton, a former Howard University professor and leader of the National Negro Congress (NNC), worked with Robeson and Du Bois at the Council on African Affairs (CAA), the domestic linchpin of an international movement for Black liberation. As an NNC and CAA leader, Hunton helped build the intellectual and organization infrastructure for "the long Civil Rights movement." Read more
---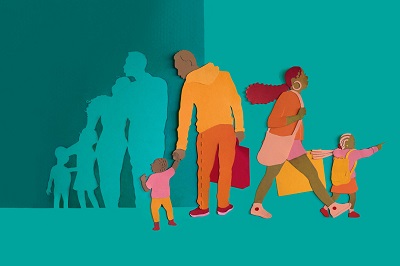 In Chicago, Mass Migration is Shifting Black Power. By Shia Kapos, Juan Perez Jr. Renuka Rayasam and Ming Li  / Politico
By the time Eugene Sawyer became Chicago's mayor in 1987 following the sudden death of the first African American to hold the office, Black residents were already leaving. For decades, long before Sawyer's ascension, the Englewood neighborhood had been a center of Black life in Chicago, boasting one of the city's busiest commercial districts and a growing middle class. And it was a true power base, a center of political gravity: Sawyer launched his political career near here, in the 6th Ward of Chicago's City Council. But there were signs of change, even then. It seemed that just as soon as Black people made the neighborhood their own, its fortunes turned. Houses started falling into disrepair, thanks to disinvestment. Stores closed up shop — including the massive Sears store that left the neighborhood in 1976. Read more 
Related: How Chicago's 'Promised Land' of Black Business Disappeared. By Lee Bey / Politico
---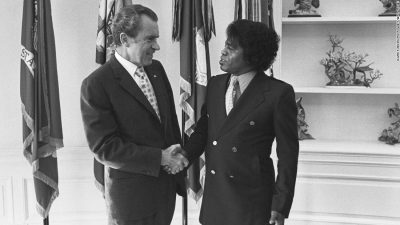 James Brown said the CIA spied on him. The CIA won't say. By Thomas Lake / CNN
James Brown did a lot of living in his 73 years. He threw knuckleballs from the pitcher's mound and hard left jabs in the boxing ring. He survived beatings from an uncle and a near-electrocution by sadistic White men in the Jim Crow South. He was the Godfather of Soul, the Hardest Working Man in Show Business, a drug user and a domestic abuser whose death in 2006 remains mysterious today. And, according to Brown himself, he was spied on by the Central Intelligence Agency. Read more 
---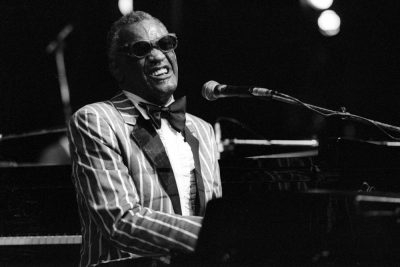 City honors nightclub where Ray Charles sang during Jim Crow era. By AP and NBC News
A South Carolina city is putting up a historical marker to commemorate a nightclub renowned for hosting Black musicians and patrons in the segregated South. The city of Clemson purchased the marker in honor of the Littlejohn Grill, The Greenville News reported. The venue opened after World War II and stayed open until the 1960s, hosting many blues, jazz and rock 'n' roll entertainers. They included James Brown, Harry Belafonte, and Ray Charles. The Littlejohn Grill was a part of the "Chitlin Circuit," a string of venues where Black entertainers were able to perform during an era when Jim Crow laws denied them access to whites-only stages in the South, the newspaper reported. Read more
---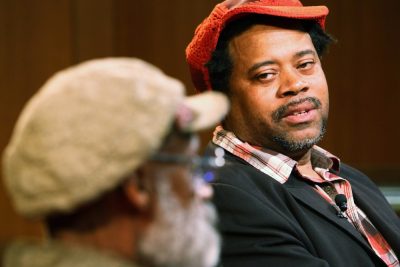 Music and cultural critic Greg Tate dead at 64. By Dennis Romero / NBC News
Greg Tate, a music and cultural critic who elevated hip-hop as a cultural phenomenon worthy of the kind of respect and admiration jazz has received, has died. He was 64. Tate began having an impact on popular music and criticism in the 1980s as a staff writer for New York's Village Voice, and he eventually contributed to The New York Times, The Washington Post and Vibe. He was a Louis Armstrong Visiting Professor at Columbia University's Center for Jazz Studies and lectured at the Museum of Contemporary Art in Los Angeles. The Source magazine called him "one of the godfathers of hip-hop journalism." Read more
Sports
---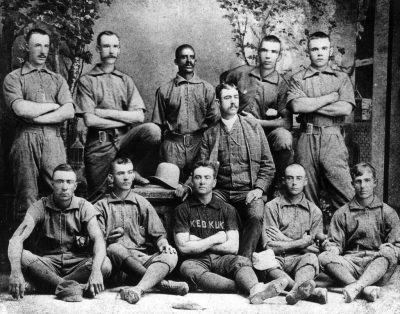 He Was a Black Star 60 Years Before Jackie. Now He's a Hall of Famer. By Benjamin Hoffman / NYT
Bud Fowler was far more than a curiosity. A professional player in the late 19th century, Fowler is considered by many to have been the first Black player to compete in organized baseball against white players. But many news media reports on his travels around various professional teams and leagues in those days made it clear that the two-way star, who pitched and played catcher in addition to his exploits as a fleet second baseman, was a player to be reckoned with regardless of his race. Read more 
---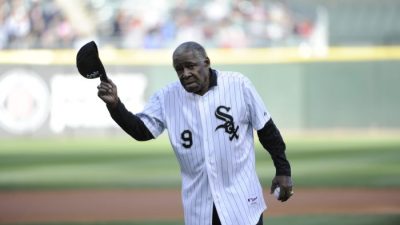 Minnie Miñoso was worthy of Cooperstown. So what took so long? By Justice B. Hill / The Undefeated

In a ballgame early in his MLB career, Minnie Miñoso homered off left-hander Hal Newhouser, a future Hall of Famer. Batting a couple of innings later, Miñoso took one of Newhouser's fastballs on his butt. The pitch broke Miñoso's sunglasses in his back pocket. "You n—–, you're not supposed to hit a homer," Newhouser yelled. For baseball circa 1950, Newhouser wasn't alone in throwing balls that thumped men like Miñoso, the game's first Black Cuban. White pitchers targeted him, just as they had targeted Jackie Robinson when he crossed the color line on April 15, 1947. "What can I say?" Miñoso was quoted as saying of his dustup with Newhouser. "I'm Black." Read more 
Related: Buck O'Neil is finally a Hall of Famer; tragic it came after his death. By Chris Bumbaca / USA Today
Related: Baseball's 'Court of Appeals' Adds Six New Hall of Famers. By Tyler Kepner / NYT
---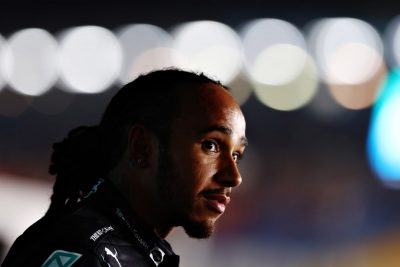 Lewis Hamilton could make history in riveting F1 season finale. By NBC News
Grand Prix racing, the world's pre-eminent motorsport, is potentially headed for an extraordinary moment: The last Formula 1 race of 2021 could firmly establish Lewis Hamilton as the greatest competitive driver of all time. On Sunday, Hamilton, the British star of team Mercedes-AMG Petronas, won the Saudi Arabian Grand Prix, tying Red Bull Racing Honda's Max Verstappen in championship points for the season and setting up a tiebreaker for the ages at the Abu Dhabi Grand Prix on Sunday, Dec. 12. Read more
Site Information
---
Visit our home page for more articles, book/podcast and video favorites. And at the top of this page register your email to receive notification of new editions of Race Inquiry Digest. Click here for earlier Digests.
About Race Inquiry and Race Inquiry Digest. The Digest is published on Mondays and Thursdays. 
Use the buttons below to share the Digest in an email, or post to your Facebook, Linkedin or Twitter accounts.