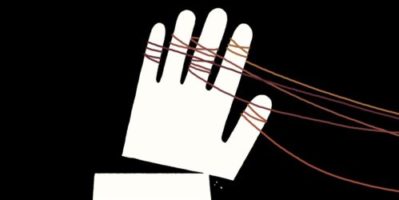 Featured – White identity in America is ideology, not biology. The history of 'whiteness' proves it. By Nell Irvin Painter / NBC News
The idea of one big white race did not just spring to life full-blown and unchanging, which is what most people assume — and white supremacists rely on. Whiteness is severely under theorized, leaving millions unaware of a history whose constant characteristic is change. Whiteness has changed over time, over place, and in the myriad situations of human ranking. Let me say it again: Whiteness has a history whose meanings change. Neither scholars nor ordinary people have been able to agree upon the definition of white people — who is white and who is not — nor on the number of races that count as white. Read more 
Related: The Many Forms of White Privilege. By Tom Junod / The Undefeated
Related: What's Happening Right Now in America Is a Start. But There's No Quick Fix for White Supremacy. By Damon Young / Time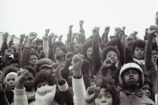 'It Is Time for Reparations.' By Nikole Hanna-Jones / NYT Magazine
Fifty years since the bloody and brutally repressed protests and freedom struggles of black Americans brought about the end of legal discrimination in this country, so much of what makes black lives hard, what takes black lives earlier, what causes black Americans to be vulnerable to the type of surveillance and policing that killed Breonna Taylor and George Floyd, what steals opportunities, is the lack of wealth that has been a defining feature of black life since the end of slavery. Read more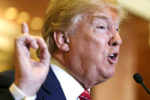 Donald Trump or America? By Leonard Pitts / The Miami Herald
Related: Can We Call Trump a Killer? There is no way to remove his culpability in the neglectful handling of the coronavirus. By Charles M. Blow / NYT
Related: How Trump and the Black Lives Matter Movement Changed White Voters' Minds. By Astead W. Herndon and Dionne Searcey / NYT
Related: Who Are the Key Voters Turning Against Trump? They're senior voters, and they could be Joe Biden's secret weapon. By Ruy Teixeira / NYT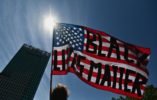 Black Lives Matter Wants to End Police Brutality. History Suggests It Will Go Much Further. By Jon Schwarz / The Intercept
In 2016 the Movement for Black Lives, made up of dozens of Black-led organizations, issued a six-part platform called "A Vision for Black Lives." The introduction stated, "Neither our grievances nor our solutions are limited to the police killing of our people," and much of it is devoted to economic issues. This year the MBL also released specific policy demands in response to Covid-19. The logic of history and the present time suggest that if the Black Lives Matter movement sustains itself, it will inevitably become about this larger agenda. Read more  
Related: Beyond 'White Fragility.' If you want to let freedom ring, hammer on economic injustice. By Jamelle Bouie / NYT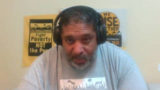 Repair & Revive: Rev. William Barber on Fighting Racism, Poverty, Climate Change, War & Nationalism. By Amy Goodman / Democracy Now
The Poor People's Campaign offered a counterpoint to President Trump's sparsely attended Tulsa campaign rally with a mass digital gathering that unveiled a policy platform to spur "transformative action" on five key issues of systemic racism, systemic poverty, ecological devastation, the war economy and the threat of religious nationalism. "We have to repair and revive," says Rev. Dr. William Barber, co-chair of the Poor People's Campaign. "That has to be a part of if we're truly going to ever be the democracy we claim to be on paper." Watch here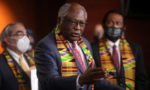 South Carolina congressman Jim Clyburn: 'If Biden doesn't win, US democracy will crumble.' By Daniel Strauss / The Guardian
In a wide ranging interview with the Guardian, Clyburn explained why he thinks the current protests on race relations are different, his thinking on Biden's pick for a running mate, and how large reforms need to be to the policing and justice system. Read more
Related: Cornel West on this moment of "escalating consciousness" and the need for radical democracy. By Chauncey DeVega / Salon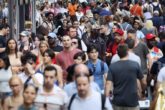 Census shows white decline, nonwhite majority among youngest Americans. By The Associated Press / NBC News

For the generation of Americans not yet old enough to drive, the demographic future has arrived. For the first time, nonwhites and Hispanics were a majority of people under age 16 in 2019, an expected demographic shift that will grow over the coming decades, according to figures released by the U.S. Census Bureau on Thursday. "We are browning from bottom up in our age structure," said William Frey, a senior fellow at The Brookings Institution. "This is going to be a diversified century for the United States, and it's beginning with this youngest generation." Read more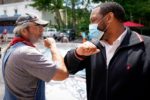 What Charles Booker's run tells us about the 2020 election. By Howard Fineman / Wash Post
Every big-time Kentucky Democrat told Charles Booker not to do it: Don't give up your legislative seat for the chance to face Senate Majority Leader Mitch McConnell (R-Ky.) this fall. "I told him it was too big of a risk," said Rep. John Yarmuth (D-Ky.). Even if Booker loses to McGrath when all the votes are counted, his future is bright. And if he wins, a race against McConnell would be a national sensation. Read more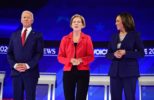 For Biden VP, Black Democrats are torn between Harris and Warren. By Sahil Kapur / NBC News
Joe Biden is under pressure to pick a Black woman as his vice presidential running mate. But polls suggest the most popular prospect among Black Democrats is white. In a CBS News poll last month, Warren topped the list of prospects that Democrats wanted Biden to consider, followed by Harris. Warren even led among Black Democrats — 72 percent said she should be considered, with 60 percent saying the same of Harris. Read more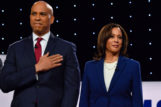 How Congress Can Save Black Lives. By Cory Booker and Kamala Harris / Rolling Stone
To Save Black Lives, and the Soul of Our Nation, Congress Must Act Boldly. We cannot settle on an inadequate middle ground that will simply nibble around the edges instead of making real change. For too long, Black people in America have been burdened with the unjust responsibility of keeping ourselves safe from police. Read more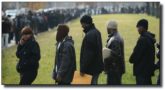 How racism became the essential tool for maintaining a capitalist order. By Richard D. Wolff / Salon
US. capitalism survived because it found a solution to the basic problem of its instability, its business cycles. Since capitalism never could end cyclical downturns and their awful effects, its survival required making those effects somehow socially tolerable. Systemic racism survived in the post-Civil War United States partly because it helped to achieve that tolerability. Capitalism provided conditions for the reproduction of systemic racism, and vice versa. Read more 
Related: The Black-White Wage Gap Is as Big as It Was in 1950. By David Leonhardt / NYT
Related: How businesses can help fix the racial wealth gap. By Aric Jenkins / Fortune



You Want a Confederate Monument? My Body Is a Confederate Monument. By Caroline Randall Williams / NYT

I have rape-colored skin. My light-brown-blackness is a living testament to the rules, the practices, the causes of the Old South. If there are those who want to remember the legacy of the Confederacy, if they want monuments, well, then, my body is a monument. My skin is a monument. Read more 
Related: How the Confederates Conquered America's "Home of the Infantry." By J. Davis Winkie / The New Republic
Related: Mississippi Takes First Step To Replace Its Confederate State Flag. By Sara Boboltz / Huff Post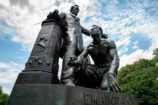 Yes, the Freedmen's Memorial uses racist imagery. But don't tear it down. By David W. Blight / Wash Post
The Freedmen's Memorial in Washington is not a Confederate monument. It famously exhibits a standing Abraham Lincoln seemingly giving freedom to a kneeling black man naked from the waist up, whose chains are being broken. It was and is a racist image. This is hardly the monument our culture would create today as a memorial of emancipation. But none of us can ultimately have our history or memory pure. Read more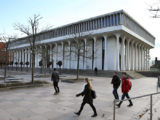 Princeton To Remove Woodrow Wilson's Name From Public Policy School. By Jason Slotkin / NPR
Princeton University will remove Woodrow Wilson's name from its public policy school over "racist thinking and policies" the former president had championed, the university says. The university's Board of Trustees approved the name change on Friday. In a letter, trustees said long-standing questions over Wilson's history of supporting segregationist policies were "made more urgent" by the recent high-profile killings of Breonna Taylor, Ahmaud Arbery, George Floyd and Rayshard Brooks. Read more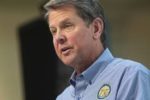 Georgia governor signs hate crime law following Ahmaud Arbery shooting. By Grace Hauck / USA Today
The new hate crime law – which imposes additional penalties for crimes motivated by a victim's race, color, religion, national origin, sex, sexual orientation, gender or disability – passed the state's General Assembly on Tuesday. The law also mandates data collection on hate crime incidents in the state. Read more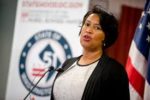 Why the lopsided House vote in favor of D.C. statehood was so historic. By Karen Tumulty / Wash Post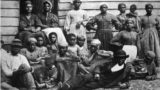 What PTSD tells us about the history of slavery. By Tyler D. Parry / Wash Post
U.S. history is rife with examples of oppression, but the institution of slavery was unique in its systematic denial of humanity to people of African descent based solely upon race. Formerly enslaved people have left narratives that provide vivid descriptions of the violent acts that caused them and their loved ones great trauma — trauma that didn't abate over time. Read more 
Related: Black Americans leave US to escape racism, build lives abroad. By Kim Hjelmgaard / USA Today
Related: George and Martha Washington enslaved 300 people. Let's start with their names. By Michele L. Norris / Wash Post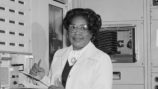 NASA's D.C. Headquarters Renamed For Mary W. Jackson, Depicted In 'Hidden Figures.' By Curtis M. Wong / HuffPost


The Theater Where Ella Fitzgerald Got Her Start. By Reggie Nadelson / NYT Magazine
On Nov. 21, 1934, Ella Jane Fitzgerald appeared at the Apollo. It was the Harlem theater's first amateur night, and Fitzgerald was just 17. In a raggedy dress and workman's boots, Fitzgerald, who was then homeless and living on the streets of Harlem, looked out at the 1,500-seat theater with its glittering chandeliers and glamorous crowd. Designed by the American architect George Keister, the neo-Classical music hall was built for burlesque performances in 1914, when Harlem was largely white and African-Americans were not allowed in, but in 1933, Mayor Fiorello La Guardia cracked down on burlesque, and the following year the theater was transformed into a venue for variety revues. Read more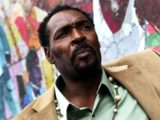 Spike Lee's 'Rodney King' to stream on Netflix. By Marianne Garvey / CNN

Netflix will make the Spike Lee directed "Rodney King" available to stream for free, as part of its Black Lives Matter collection of films, TV shows and documentaries. The film, which stars Roger Guenveur Smith, portrays King, whose 1991 videotaped beating by the Los Angeles police led to riots when the officers were acquitted. Watch official trailer here.
Visit our home page for more articles, book/podcast and video favorites. And at the top of this page register your email to receive notification of new editions of Race Inquiry Digest. Click here for earlier Digests.
Use the buttons below to share the Digest in an email, or post to your Facebook, Linkedin or Twitter accounts.