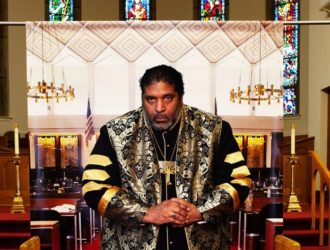 Featured – How William Barber II Uses His Faith to Fight for Justice. By Mary C. Curtis / Time 
For 27 years, the Rev. William J. Barber II has been the pastor at a church in the small city of Goldsboro, N.C. But on a recent afternoon, he could be found at a hotel in Raleigh, about an hour away from home. His work as an activist takes him to the state capital often enough that he's well known there. Not long after, he'd move on to an event in Charleston, S.C., and then to Iowa, where he'd lead a march demanding a presidential debate on poverty. Barber is ever in motion, and he's still picking up momentum. He's hardly stopped since he attracted national attention as the leader of the Moral Mondays protests held at the North Carolina capitol in Raleigh beginning in 2013. Read more and watch here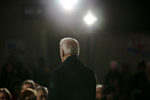 Fear Powered Joe Biden's South Carolina Victory. By Zak Cheney-Rice / NY Mag
The costs of racist demagoguery in South Carolina have long been the steepest for black people; the legacies of the lynching era, Jim Crow, and an ongoing mass incarceration crisis all attest to this. For a population with such a rich history of supporting Democrats since the parties realigned in the 20th century — and facing a Republican president who exhibits many of the same ideological and temperamental traits they've come to associate with all manner of racist violence — Biden's recognizability was the likeliest channel for their partisanship and survivalist risk aversion, especially in such a cluttered field. Read more  Also see, Voters of color will decide if Bernie Sanders or Joe Biden prevail.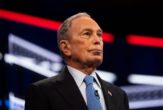 Bloomberg, the Mayor Who Menaced Blackness. By Charles M. Blow / NYT

I know that Michael Bloomberg isn't on the primary ballot in South Carolina, but he was on the debate stage there. And he was using it to talk beyond the state to the swarm of states that will vote on Super Tuesday, states in which he has spent an absolutely obscene amount of money on ads that amount to propaganda. In South Carolina he painted a sunny picture of success governing a diverse city. But the reality was far from what he made it seem. For black people in particular, Bloomberg's mayoralty was more thorns than roses. Read more  Also see, The New York police under Michael Bloomberg scarred me and my family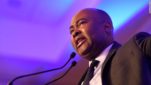 Jaime Harrison: Meet the Democrat riding the Lindsey Graham backlash. By Katie Lobosco / CNN
About 200 people came out last week to Harrison's campaign event at Emmanuel Baptist Church of James Island in Charleston, where the smell of pluff mud — a thick sludge from the state's coastal marshes — hung in the air. Many in attendance were staunch Democrats, there to hear Harrison, a Yale-educated former aide to South Carolina Democratic Rep. Jim Clyburn, talk about the dangers posed by President Donald Trump. Read more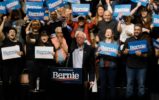 Can Latinos seal the deal for Sanders on Super Tuesday? By Suzanne Gamboa / NBC News

Bernie Sanders is heading into the 14-state primary contest on Tuesday having dominated the Latino vote in the first three states to vote, including Nevada, giving him the early lead in the delegate race. Now there is potential for Latino voters in California and Texas, which rank first and second in the number of Latinos eligible to vote, to bolster and widen that lead. Read more  Also see,  Don't tell cable pundits that Bernie Sanders is leading nationally among Black voters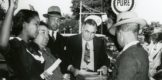 How one man fought South Carolina Democrats to end whites-only primaries – and why that matters now. By Bobby J. Donaldson / The Conversation
A rusting chain-link fence represents a "color line" for the dead in Columbia, South Carolina. In Randolph Cemetery, separated by the barrier from the well-manicured lawn of the neighboring white graveyard, lies the remains of George A. Elmore. A black business owner and civil rights activist, Elmore is little remembered despite his achievement. But a granite monument at his grave attests to the "unmatched courage, perseverance and personal sacrifice" that saw him take on the South Carolina Democratic Party of the 1940s over its whites-only primaries – and win. Read more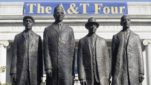 The A&T Four gave me a richer understanding of my black history. By East L. Dockery / The Undefeated

The meaning of black history was truly revealed to me once I went to North Carolina A&T in Greensboro, North Carolina. On the first day of February, N.C. A&T holds an event called February One. The purpose of this event is to honor the A&T Four. These four men not only made A&T history but American history. On Feb. 1, 1960, four A&T freshmen – Ezell Blair Jr. (now Jibreel Khazan), Franklin McCain, Joseph McNeil and David Richmond – walked to downtown Greensboro and sat at the whites-only lunch counter at the F.W. Woolworth store. Read more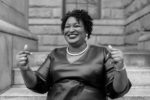 Stacey Abrams Is Building a New Kind of Political Machine in the Deep South. By Tessa Stuart / Rollling Stone

Dozens of Democratic heavies descended on the summit that morning, including Michael Bloomberg, who has donated $5 million to Fair Fight. "Voter suppression efforts are happening across the country," Bloomberg tells Rolling Stone, "and there is no one better to lead the counterattack than Stacey." The billionaire former mayor of New York is the latest in a string of high-profile presidential candidates to seek a sit-down with Abrams in the past year. "Those meetings went unremarked upon until I met with the [former] vice president," Abrams sighs. "And then there was a rumor started." Read more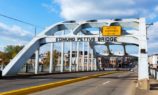 In Selma, 55 years after Bloody Sunday, concern rises over voting rights. By Ankita Rao and Sam levine / The Guardian
In a heated presidential primary, millions of Americans are getting ready for Super Tuesday. Several presidential candidates were in the city on Sunday, due to speak at events and march across the Edmund Pettus Bridge, a site of historical violence. Read more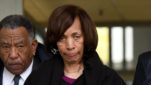 Ex-Baltimore mayor sentenced to 3 years in prison for children's book scam. By David K. Li / NBC News
Former Baltimore Mayor Catherine Pugh was sentenced Thursday to three years in prison for a children's book scam that funneled money into her personal accounts and campaign coffers. Read more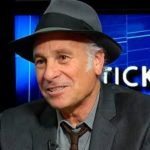 Investigative journalist Greg Palast: How Trump will steal the 2020 election. By Chauncey DeVega / Salon
In this conversation, Palast explains how Donald Trump, the Republican Party and their agents will try to steal the 2020 presidential election from the American people at the ballot box. Palast also warns that the Democratic Party's leadership will try to stop Sen. Bernie Sanders by sabotaging the vote in the upcoming California primary. He also details the connections between Roger Stone, the 2000 Florida presidential election "recount" fiasco and the rise of Donald Trump. Read more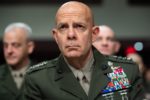 Top General Orders Removal of All Confederate Paraphernalia From Marine Bases. By Elliot Hannon / Slate
The Marine Corps took a welcome step toward modernizing after the service's top general ordered the removal of all Confederate paraphernalia from all Marine installations around the world. The directive from Commandant Gen. David Berger came last week, shortly after a congressional hearing on the rise of the racist ideology of white nationalism in the military. Read more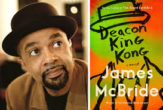 Fate and Fury in James McBride's "Deacon King Kong." By Jonathan Dee / The New Yorker
Some novels about city life are poems of alienation, interior portraits of the existentially isolate, but James McBride's vision of New York is one of overwhelming human profusion. His new novel, "Deacon King Kong" (Riverhead), set in what appears to be a fictionalized version of the Brooklyn housing project where McBride grew up, is crowded with characters whose backstories are crowded with more characters, all of their fates connected, in ways they know about and in ways they don't. Read more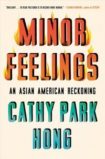 In 'Minor Feelings,' Asian American Racial Trauma Is Laid Bare. By Elise Hu / NPR

Halfway through her debut essay collection, Minor Feelings, author and artist Cathy Park Hong makes clear her mission: "I have some scores to settle … with this country, with how we have been scripted." The "we" here are Asian Americans and how we're seen in this country in a time when the us-versus-them dynamic can feel overpowering. In Minor Feelings, the author asks us to reconsider the effects of racism against Asian Americans and how it persists. Read more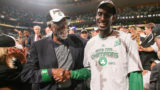 From Russell to KG to today's Celtics: Being a black player in Boston. By Marc J. Spears / The Undefeated
Fairly or unfairly, Boston has long been viewed as the largest American city in which African Americans are not welcome. A haunting photo taken by Stanley Forman in 1976 captured the ugly tension in Boston as a white man lunges at a black man with the sharp point of a pole with the American flag during an anti-busing protest after public schools were ordered to desegregate. Four decades later, a national survey commissioned by The Boston Globe in 2017 reported that of eight major cities, black people ranked Boston as the least welcoming to people of color. Read more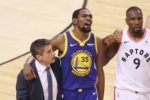 Through painful injury and rehabilitation, the Kevin Durant show goes on. By Ben Goliver / Wash Post
One minute, Kevin Durant was on center stage, staking his claim as the NBA's best player. The next, his push for a third consecutive title and Finals MVP award with the Golden State Warriors was sidetracked by a calf injury and then derailed by an Achilles' tear. But there is no hiding for a modern superstar such as Durant, who has banked more than $200 million in salary, accumulated more than 18 million Twitter followers and launched Thirty Five Ventures, an umbrella company that oversees his investments, philanthropic efforts and interest in technology and media endeavors. Read more 
Visit our home page for more articles, book/podcast and video favorites. And at the top of this page register your email to receive notification of new editions of Race Inquiry Digest. Click here for earlier Digests.
Use the buttons below to share the Digest in an email, or post to your Facebook, Linkedin or Twitter accounts.